Donald Trump on Thursday addressed the barrage of new allegations that he engaged in sexually aggressive and inappropriate conduct in a supremely Trump way: First, he went out of his way to blame anyone but himself; then he attacked the alleged victims; and finally, he recast himself as a martyr.
Speaking at a rally in West Palm Beach, Florida, the GOP presidential nominee began by lashing out at The New York Times. On Wednesday, the newspaper published an article in which two women accused Trump of groping them.
"These vicious claims about me of inappropriate conduct with women are totally and absolutely false," Trump said. "These claims are all fabricated, they're pure fiction and they're outright lies."
A global conspiracy led by his Democratic opponent, former Secretary of State Hillary Clinton, helped perpetuate these lies, Trump claimed.
"With control over our government at stake, and trillions of dollars on the line, the Clinton machine is determined to achieve the destruction of our campaign," Trump said. "And the most powerful weapon deployed by the Clintons is the corporate media, the press."
As a candidate, Trump has held that the media is secretly plotting against him ― a claim that sounds bizarre at times, coming from a reality TV star who has avidly courted press coverage his entire life.
Trump told his supporters in Florida that the press was determined to elect Clinton "at any cost, at any price, no matter how many lives they destroy. For them, it's a war, and for them, nothing at all is out of bounds."
This appeared to be a not-so-subtle reference to The Washington Post publishing leaked audio from 2005 last week, in which Trump can be heard bragging about grabbing women's genitals without their consent. In Trump's view, the villain in that story seems to be the reporter who published his words.
"Many of my friends and many political experts warned me that this campaign would be a journey to Hell, but they're wrong," he said. "It will be a journey to Heaven, because we will help so many people that are so desperately in need of help."
Not content to blame simply the media, the Clintons and the global elite for his collapsing poll numbers, Trump pivoted to attacking the integrity of the women who spoke out in the press.
"These events never, ever happened, and the people that said them fully understand that. You take a look at these people," Trump told the adoring crowd, "you study these people and you'll understand, also."
As is typical for Trump, he offered no evidence as to what anyone might be able to tell from looking at either of the women who told their stories in The New York Times: Jessica Leeds, 74, or Rachel Crook, who is in her 30s.
Trump went on to claim that he has "substantial evidence to dispute these lies, and it will be made public in an appropriate way and at an appropriate time, very soon." He said a lawsuit against the paper would also mention another article written by the two reporters behind Thursday's story ― earlier this year, they wrote a piece quoting a number of women talking about Trump behaving cruelly or inappropriately toward them.
Hours after the publication of the new Times story, Trump's lawyers sent the newspaper a letter demanding a retraction on the grounds that the piece damaged the GOP nominee's reputation.
The Gray Lady wasn't Trump's only target, however. He also viciously attacked Natasha Stoynoff, a writer for People magazine who alleged in an essay published Wednesday that Trump forced himself on her while she was interviewing him and his wife in 2005.
"Trump shut the door behind us," she wrote. "I turned around, and within seconds he was pushing me against the wall and forcing his tongue down my throat."
On Thursday, Trump gave the rally crowd a series of excuses for why he couldn't possibly have done what Stoynoff said he did. Firstly, Trump said, he had taken her to a public space with "people all over the place." Secondly, he implied that Stoynoff wasn't attractive enough for him to have groped. "Take a look, you take a look, look at her, look at her words, you tell me what you think," he told his supporters. "I don't think so. I don't think so."
Trump then parroted a common method of discrediting women who report sexual harassment years after it happened.
"Why wasn't [the harassment] part of the story that appeared 12 years ago? Why didn't they make it part of the story?" Trump asked the crowd, indicating it must not have happened if it hadn't been reported at the time.
"These people are horrible people. They're horrible, horrible liars," Trump said, before repeating all of his excuses in a stream-of-consciousness manner. "This is a room that everybody can see in. It's got glass walls, can you believe this? Why wasn't it in the story [12 years ago]? Biggest story of the year?"
Having already blamed the perceived left-wing conspiracy against him and discredited his alleged victims, Trump needed only to make himself out to be a hero.
"They would stop at nothing to try to stop me, but I never knew, as bad as it would be, I never knew it would be this vile," Trump told his fans. "Nevertheless, I take all of these slings and arrows gladly for you. I take them for our movement so we can have our country back. Our great civilization here in America and across the civilized world, has come upon a moment of reckoning."
"I knew these false attacks would come. I knew this day would arrive, it's only a question of when. And I knew the American people would rise above it and vote for the future they deserve," he continued.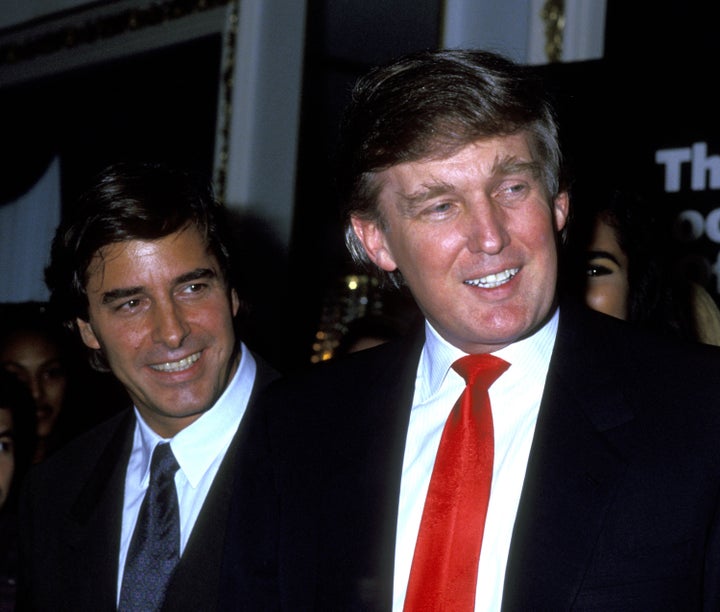 Even as the GOP nominee was busy playing the role of a savior in a Florida expo center, still more women were coming forward with stories of having been demeaned and sexually violated by him.
Trump asked for a group of women to parade before his table, then "stuck his head right underneath their skirts" and told everyone whether they were wearing underwear, and what their vaginas looked like, Boyne said.
"It was the most offensive scene I've ever been a part of," she said.
HuffPost confirmed the events of the evening with three separate attendees. A spokeswoman for the Trump campaign, however, denied the account, saying, "Mr. Trump would never do that."
Popular in the Community