Trump said Comey's decision is proof that things in Washington are "rigged" in Clinton's favor.
"Right now, she is being protected by a rigged system. It's a totally rigged system," Trump told supporters in Michigan. "You can't review 650,000 new emails in eight days. You can't do it, folks."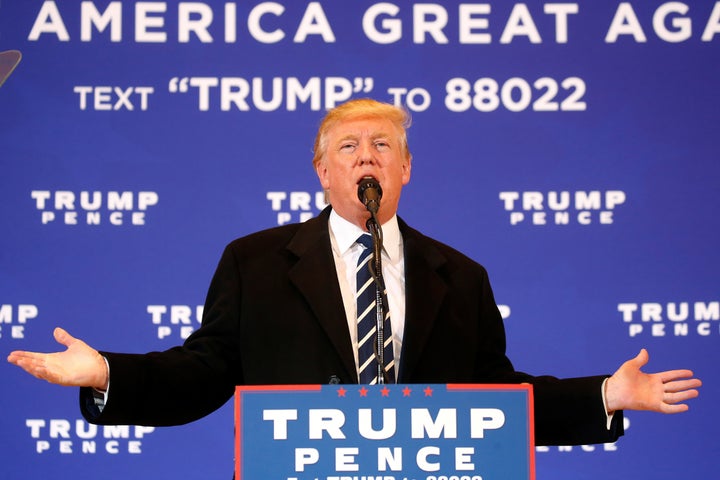 Last week, Comey caused a shock wave in the presidential race when he announced the discovery of new emails connected to the investigation of Clinton's use of a private email server while secretary of state.
Most of the new emails, found on the computer of disgraced former Rep. Anthony Weiner (D-N.Y.), the estranged husband of top Clinton aide Huma Abedin, were duplicates of emails the agency had already reviewed, according to NBC News.
But Trump, who has seized upon Clinton's email scandal to argue that she is corrupt and unqualified to be president, said Comey's announcement is evidence that the system is "rigged" against him.
"Hillary Clinton is guilty. She knows it, the FBI knows it, the people know it," he said. "And now it is up to the American people to deliver justice at the ballot box on November 8."
"It's unbelievable, unbelievable what she gets away with," he added.
"We don't want it taken away from us," Trump later said of the election. "We don't want it taken away."
Trump surrogates also criticized Comey, claiming that the agency could not have reviewed the full number of emails in so short a time. GOP leaders, meanwhile, used the news to continue to attack Clinton.
"Hillary Clinton is the most corrupt person ever to seek the office of the presidency of the United States," Trump said on Sunday. "The investigations into her crimes will go on for a long, long time." 
Calling all HuffPost superfans!
Sign up for membership to become a founding member and help shape HuffPost's next chapter
BEFORE YOU GO
PHOTO GALLERY
Best 2016 Election Photos