Donald Trump became the presumptive Republican nominee with Tuesday's win in Indiana and the departure of Texas Sen. Ted Cruz. Assuming Hillary Clinton sews up the Democratic nomination, we can turn to the general election. So what would a Trump vs. Clinton race look like?
If the general election was tomorrow, Trump would get trumped. HuffPost Pollster's polling average shows him losing to Clinton, 47 percent to 40 percent, with 9 percent undecided.
So we're looking at Trump vs. Clinton. HuffPost Pollster has been tracking the matchup since the first poll testing these two candidates against each other in May 2015. The early polls meant nothing -- Trump hadn't even announced his candidacy yet -- but it's there on our chart, with Clinton leading 50-32.
Fortunately, there have been 26 Clinton vs. Trump polls since April 1. So, even assuming that polls before then were meaningless, we have a lot of data.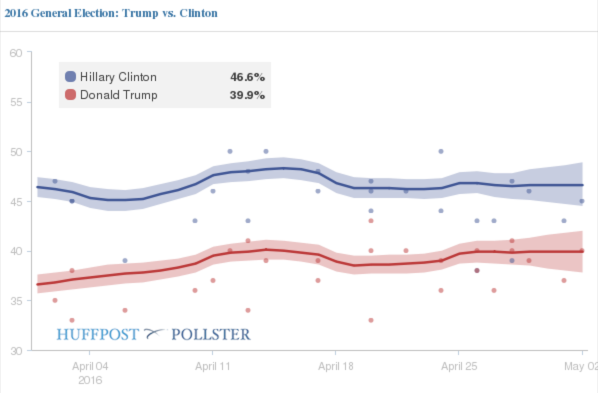 Trump hasn't come close to Clinton in those polls. The shaded bands around the trend lines mean that 95 percent of the time, that candidate's share would be within the shaded range. Those bands don't overlap, so we can be pretty certain that Clinton leads in the polling average.
Only one poll shows Trump ahead of Clinton, and one other shows them tied. Both were conducted by the same pollster -- Rasmussen -- so hardly evidence of a changing trend, despite Trump's claims on Tuesday night. In the other 24 polls, Clinton leads by as little as 3 points and as much as 12 points. As it stands now, in early May, Clinton looks strong. But the election isn't in early May.
The landscape has shifted. Now we have a presumptive nominee and an assumed nominee. That will change how people answer these polls -- the matchup isn't hypothetical anymore. It's real. And both candidates are extremely unpopular among Americans. How will voters react?
We'll know when the next batch of polls start rolling in. Don't worry -- it won't be long.
Popular in the Community