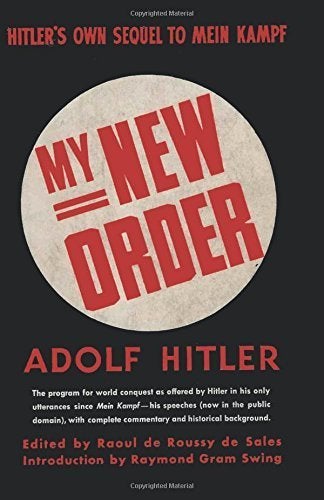 The publisher of a re-released collection of Adolf Hitler's speeches is hoping that Donald Trump's alleged affinity for the Nazi dictator's work will boost sales.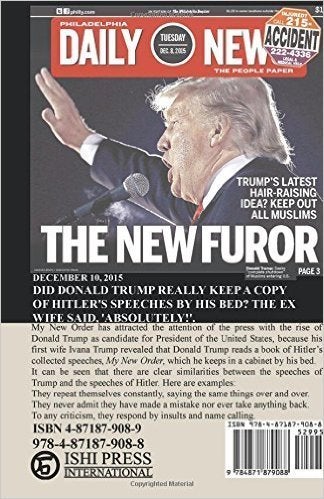 Below the photo, Ishi Press International writes: "Did Donald Trump really keep a copy of Hitler's speeches by his bed? The ex wife said, 'Absolutely!'"
Trump's former wife Ivana had told her lawyer that the real estate mogul kept a book of Hitler's speeches in a cabinet by his bed and would read it on occasion, according to a 1990 Vanity Fair article. His friend, the late Paramount CEO Marty Davis, confirmed to the magazine that he had given Trump the book as a gift.
"If I had these speeches, and I am not saying that I do, I would never read them," Trump told Vanity Fair at the time.
The GOP nominee has one solid piece of evidence on his side: He is well-known not to read much of anything, preferring to get his news from television. Tony Schwartz, who wrote The Art of the Deal for Trump, has speculated that Trump never read "a book straight through in his adult life."
When My New Order was first published in 1941, there was "nothing on the back cover," according to Sam Sloan, the head of Ishi Press International's U.S. operations. "So I decided to use that empty space for an advertisement for the book," he said.
The back cover of the August re-release also notes some unflattering similarities between Hitler and the GOP nominee.
Trump's campaign, replete with explicitly racist rhetoric and proposals, has excited white nationalists, who had been limited to the shadows of American life. Former Ku Klux Klan leader David Duke and others of his ilk have effusively praised the nominee's immigration policies. And the Trump-backing internet trolls of the "alt-right" have taken to tormenting Jewish journalists on social media.
Trump's campaign did not respond to a request for comment on the matter.
Calling all HuffPost superfans!
Sign up for membership to become a founding member and help shape HuffPost's next chapter
BEFORE YOU GO