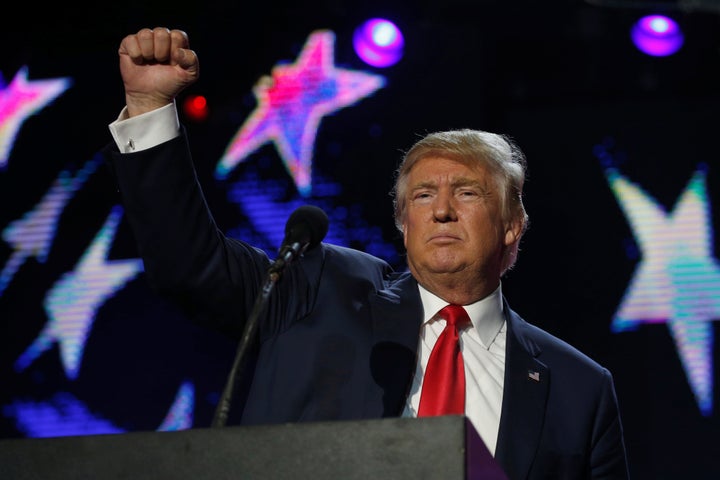 Back in June 2016, Sen Lindsey Graham, the jocular South Carolina Republican known for his colorful quotes, delivered one such memorable line about the status of the campaign of his party's nominee, Donald Trump.
At the time, Trump had just performed his latest act of apparent self-immolation, publicly questioning whether a Mexican-American judge could objectively adjudicate a case involving his get-rich-quick seminars, because Trump had been so critical of illegal immigration.
No one took that ramp. But exactly four months later, Graham's prescience seems indisputable.
On Friday night, video surfaced of a hot-mic moment Trump suffered from 2005, in which he talked about having sex with married women, the benefits wealth and fame bestow on his attempts at fornication, and the physical act of grabbing female genitalia without consent. It was vulgar stuff ― not just for a presidential candidate who, somehow, maintains the support of the evangelical community, but for society at large.
Virtually every Republican running for office promptly criticized Trump. Republican National Committee Chairman Reince Priebus, who has seemed at times to suffer from Stockholm syndrome when around the nominee, said no women should be subjected to such verbal abuse. Ryan disinvited Trump from an event in Wisconsin where the two were supposed to appear on Saturday.
But amid all the noise, only a handful of officials rescinded their endorsements and they were mainly Utahans: current Gov. Gary Herbert (R), Rep. Jason Chaffetz (R) and former Gov. Jon Huntsman. For longtime critics of the GOP nominee, this reluctance is the latest in a long series of indignities that the party has endured, courtesy of its standard-bearer.
"The question is: how far do you go to keep enabling him?" asked Katie Packard, Mitt Romney's former deputy campaign manager. "If you endorse him you own this." 
John Weaver, another Trump critic and a top strategist for Ohio Gov. John Kasich (R-Ohio), encouraged the party to turn the latest fiasco into an opportunity. "[They] still they have a moment now, right now, to do the right thing," he said "If not now, they will have shame for a lifetime."
But for others in the party, the notion that Republicans can gain any moral redemption by abandoning Trump at this point in time is far-fetched; the days of accessible off-ramps have passed.
"Once they got in bed with Trump, they got infected with the virus, and I don't know any antidote for that virus," said Matt Dowd, President George W. Bush's former communications director.
The GOP has limited, if any, options to replace Trump on the ballot and they all depend on him actually choosing to quit. But regardless of what happens, it cannot cleanse itself of his stench. At least not yet.
In all likelihood, a cleanse wasn't available even by the time that Graham urged his fellow Republicans to jump ship. After all, when the South Carolina Republican made that plea, Trump had already called Mexican immigrants rapists, proposed a full ban of Muslims entering the United States, and had a well-known reputation as a misogynist. To have taken an off-ramp then would have been to imply that those prior moments didn't rise to the status of disqualifying.
Since Graham's comments, it's been only more of the same. Trump publicly started a fight with a Gold Star family (questioning whether the mother of a fallen soldier had been forbidden from speaking because of her religion). He retweeted a blatantly anti-Semitic image. He accused the current president of founding the so-called Islamic State, suggested that gun enthusiasts take out Hillary Clinton, and called a Miss Universe winner fat ― and then later defended himself by saying that she was indeed fat. It was revealed he had likely not paid federal income taxes for 18 years and he publicly stoked the birther conspiracy theory before delivering a half-hearted disavowal.
In prior campaigns, each of these moments would have individually proved catastrophic. But if Trump showed one political gift, it was in his ability to move on from calamity, even if it meant stepping into the next. When elected Republicans didn't withdraw their endorsements, they not only helped normalize this behavior, they weaved it into the party's image. By the time they got around to expressing horror at his hot-mic moment, it rang painfully hollow.
After all, long before Trump was caught using the terminology of a sexual harasser, he brought Roger Ailes onboard to help his campaign. The former Fox News head is embroiled in a sexual harassment crisis of his own. But few ― if any ― Republicans will object when he huddles with Trump on Saturday for debate prep. 
That stench? It's not new. You just couldn't smell it anymore.
HUFFPOST READERS: What's happening in your state or district? The Huffington Post wants to know about all the campaign ads, mailers, robocalls, candidate appearances and other interesting campaign news happening by you. Email any tips, videos, audio files or photos to scoops@huffingtonpost.com.
REAL LIFE. REAL NEWS. REAL VOICES.
Help us tell more of the stories that matter from voices that too often remain unheard.