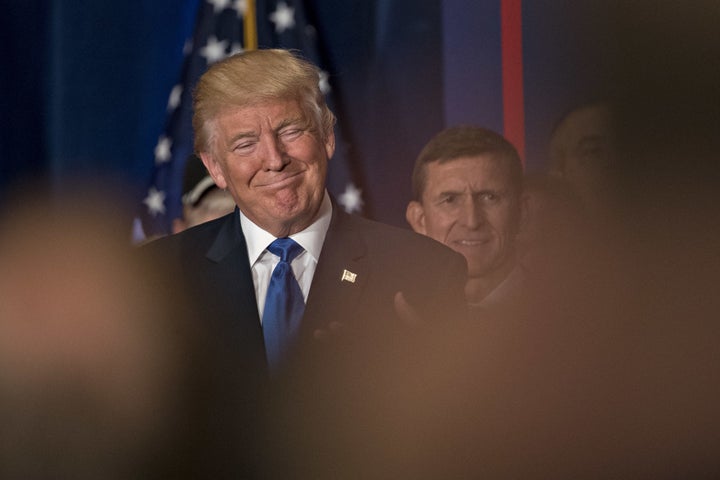 The major television networks refused Friday to use or distribute footage of Donald Trump's "press" tour of his new Washington, D.C., hotel because the Republican nominee didn't allow reporters to attend.
Trump had just finished playing the cable networks, luring them into carrying 20 minutes of praise from veterans before finally admitting that President Barack Obama was born in the United States. That very brief admission came after he had fueled the lie of birtherism for the past five years. Trump then left the stage without taking questions that journalists surely had about that long-running crusade and his repeated false claim that Hillary Clinton had started the racist birther movement.
The Republican nominee next led a tour of his new hotel without his press pool, the small group of journalists designated to follow the candidate at an event and provide details for the larger press corps. The campaign allowed visuals of the hotel tour by permitting a photographer and a cameraperson to come along. But they didn't allow the designated print reporter or ABC News' Candace Smith, who was physically prevented from fulfilling her role as the TV pool reporter.
The Trump campaign's refusal to allow a reporter to attend what had essentially become a photo-op violated the understanding it has with the networks that are handling such events. As a result, the network bureau chiefs convened Friday and decided not to use or distribute the footage, according to a source familiar with the decision.
Fox News Washington bureau chief Bryan Boughton, who currently serves as chair on behalf of the television pool, explained in a statement why the networks balked at the arrangement.
"The Television pool members chose not to participate in a tour of the Trump Hotel in Washington D.C. today because our editorial team member was barred from going on the tour with a videographer," Boughton said. "The TV Pool traditionally doesn't participate in events that our reporters or producers are not allowed to attend."
The day before, Trump had mocked reporters who arrived late to his rally in Laconia, New Hampshire. Trump is the only candidate who doesn't fly with his traveling press corps, which (as is the practice) relies on the campaign to arrange a charter plane to get them to events on time. But he gleefully refused to wait a half hour for the press to get there.
On Friday, Trump himself was an hour late to his hotel event, thereby ensuring maximum media hype.
Several journalists applauded the bureau chiefs' decision, with New York Times reporter Ashley Parker tweeting that "NOTHING will change until TV cameras stop covering Trump blindly and take a stand in solidarity."
Popular in the Community