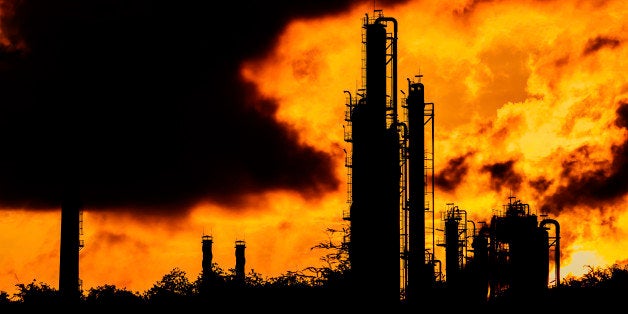 It's a simple elephant-in-the-room question that Donald Trump and the rest of the field of Republican presidential candidates have yet to address: How will you transition America to a low-carbon economy?
A global sea change in the world economy was triggered in Paris last week that may soon unleash a flood of financial activity flowing away from traditional fossil fuels toward wind, solar, biomass and other low-emitting, clean-energy alternatives. Hundreds of leaders from nations, cities and financial institutions were convened by various conferences, all focused on a collaborative effort between policymakers and investors to accelerate the pace of transitioning the U.S. and other participating nations toward a global low-carbon economy.
AL GORE SPEAKS TO GLOBAL INVESTORS
"Mobilizing financial resources is the critical piece in combating the warming of our planet," Gore told conference attendees. "We have the chance to be part of the greatest investment opportunity of our generation."
More than 150 blue-chip global investors, representing more than $1 trillion in assets under management, were convened by a collaboration of organizing partners led by the Next World Group and Amplifier Strategies.
"The gathering of investment practitioners to discuss the tools and strategies around moving capital toward climate change in a fiduciary manner is a new thing," Next World Group founder Sabastien Lépinard said. "Investment managers need to integrate climate change into their fiduciary duties, given both the consequences and opportunities that the low-carbon economy presents."
LOW-CARBON ECONOMY IMPERATIVE
While some of the Republican Party presidential candidates express skepticism over issues related to climate change, there's no debate over the fact that a strong wind is blowing institutional capital investments toward growth and acceleration of a new low-carbon economy.
Last week, the New York State Pension Fund, which is third-largest in the nation, partnered with Goldman Sachs to shift $2 billion of its holdings toward emerging opportunities in the low-carbon economy. In the same week, the San Francisco Employees Retirement System board voted to divest all of its coal holdings and refocus the capital toward renewable energy investments. Overall, it plans to dip its toe in the water of the low-carbon economy starting with more than $120 million.
The inaugural Climate & Capital Conference, a brainchild of Lepinard who is also founder of the Erol Foundation, represents the initial success in organizing substantial investment capital across a global, national and regional scale. Acceleration in the movement of capital will be a strong driving force propelling the transition of financial markets toward efficiency and clean energy. This movement is important to urban economic development planning and improving regional competitiveness outcomes, such as job growth and wealth creation. Pension beneficiaries will reap the rewards of responsible investing into this growing landscape. And their children and grandchildren will inherit the rewards of a sustainable environment.
ACCELERATING THE ECONOMIC SHIFT
The big question in Paris is how fast can countries make the shift as leaders in climate policy and financial markets collaborate to lower industry emissions enough to reduce the rise in global temperature to less than 2 degrees Celsius?
This is the question that leaders of nearly every country were thinking about when 195 leaders of nations, including President Barack Obama, participated in the 2015 Paris Climate Change Conference last week (a.k.a. COP21 or 21st Council of Parties).
Transitioning to a low-carbon economy is also a priority issue for mayors of large cities across the U.S. and around the world. Former New York City Mayor Michael Bloomberg led a convening of hundreds of city leaders at the Compact of Mayors Conference in Paris to co-sign on the policy agreement anticipated between countries. They pledged that the collective impact of their commitments would result in more than half of the world's carbon emission reductions by 2020.
BERNIE SANDERS LEADS ON CLIMATE CHANGE
Bernie Sanders last week released his climate change plan, vowing to significantly reduce carbon emissions while creating 10 million new jobs. He even offered details of how his plan will impact local regions. Since climate change policy is implemented at the local level, cities are concerned with the impact upon their residents.
Trump receives more media coverage, by far, than any other GOP contender. His national poll numbers among Republican Party voters eclipses all party competitors. And GOP leaders worry that he just might continue to float atop the presidential contenders all the way to the RNC convention next year.
Still, Trump and the entire field of GOP presidential candidates have yet to offer a vision and strategy regarding the U.S. economy. The only Republican leader attending the massive assembly of global policymakers and investors and investors in Paris was former California Governor Arnold Schwarzeneggar. And he has led the charge toward common-sense environmentally conscious investing for years. Today, leaders across nations, regions, cities, markets and industries are targeting new policy goals in an unprecedented collaboration worldwide to reduce global carbon emissions.
It would be helpful to American voters, regardless of political ideology, to fully understand the position of all the presidential candidates on climate change and transitioning financial markets toward investing in a low-carbon economy future. Perhaps the prohibitive GOP frontrunner can lead the field of candidates in responding to the question of how America will accelerate such activity.
"It's clear that private capital has a significant role to play in creating a low-carbon economy," Amplifier Strategies CEO and founder Allison Duncan said. "Time is of the essence."
Calling all HuffPost superfans!
Sign up for membership to become a founding member and help shape HuffPost's next chapter