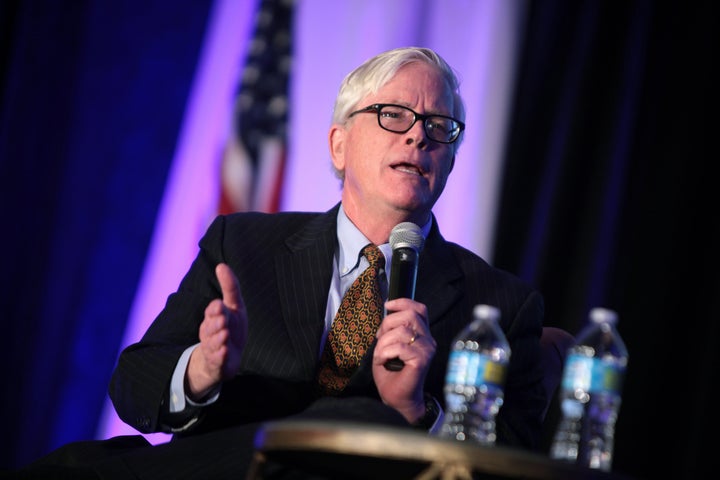 NEW YORK -- Conservative radio host Hugh Hewitt said Friday that Donald Trump's dismissal of him as a "third-rate radio announcer" won't affect his plans for the Sept. 16 Republican debate on CNN.
"His critique won't change my debate questions or prep," Hewitt told The Huffington Post.
The Trump-Hewitt spat offers another subplot for the much-anticipated debate and comes on the heels of the real estate developer's quarrel with the previous debate's co-moderator, Fox News host Megyn Kelly.
Hewitt's employer, Salem Media Group, is partnering with CNN on the debate and he'll be asking a few questions along with CNN correspondent Dana Bash. CNN anchor Jake Tapper will moderate the debate, which is broken up among first and second-tier candidates. Trump, the front-runner, will of course be a major prime-time attraction for a network hoping to break all-time ratings records.
A longtime conservative host and author, Hewitt emerged this election cycle as a go-to inquisitor for Republican candidates willing to engage in substantive foreign policy and national security issues.
During a Thursday radio interview, Trump stumbled when he appeared unable to distinguish between Iran's Quds forces and the Kurdish people. Trump also suggested it didn't matter to him at this point what the difference is between Hezbollah and Hamas. Trump, who claimed Hewitt was asking "gotcha" questions, said he'd know more than the host within 24 hours of becoming president.
On MSNBC's "Morning Joe" on Friday, Trump again dismissed Hewitt's "gotcha" questions. "Every question was, 'Do I know this one and that one,'" Trump said. "It was like, he worked hard on that."
The line of inquiry Trump labels as "gotcha" questions is no different from what Hewitt has been asking the entertainer-turned-candidate and other presidential contenders throughout the year.
For instance, Hewitt asked Trump in February if he'd read The Looming Tower, Lawrence Wright's masterful book on the roots of Al Qaeda and the Sept. 11 attacks. It's a question Hewitt asks nearly everyone who appears on the show, including Jeb Bush, who appeared the same February afternoon as Trump. Neither man had read it.
During those February interviews, Hewitt also asked both Trump and Bush about funding the Ohio Class nuclear submarines, a topic that's known among journalists as another of the host's obsessions. When Chris Christie mentioned the Ohio Class submarines during last month's Fox News debate, Time's Zeke Miller tweeted that the New Jersey Governor was "gunning" for the Hewitt vote.
In an email Friday, Hewitt pointed out that he interviewed Trump four times in the past 30 days and would be happy to sit down again. "He's a terrific interview and I'd still lead every show with him if and when he is willing," Hewitt said.
Hewitt also noted that he's put similar questions to several candidates this week, including Christie, Sen. Marco Rubio (R-Fla.), former Arkansas Gov. Mike Huckabee (R) and Sen. Lindsey Graham (R-S.C.). Former Hewlett-Packard CEO Carly Fiorina deftly handled Hewitt's foreign policy questions in a Thursday interview.
"They all get pointed, hard questions I think a presidential candidate should be ready to answer," Hewitt wrote. "Sometimes, as when Jeb Bush didn't know about Ohio Class submarines, they say so and promise to study up. Other times they just candidly admit they don't know. I don't ask gotchas though DT disagrees. A gotcha is a quiz on an irrelevant or obscure subject -- the president of Niger for example. But I think yesterday's question set was fair. Obviously DT disagrees. That said, I hope he comes back on often."
In March, Hewitt told HuffPost that issues like Ohio Class submarines would be the type he plans to raise at the CNN debate. He reiterated those plans in an interview this week with Politico, suggesting that some foreign policy and national security issues didn't get "much of a workout in the first debate."
Related
Popular in the Community