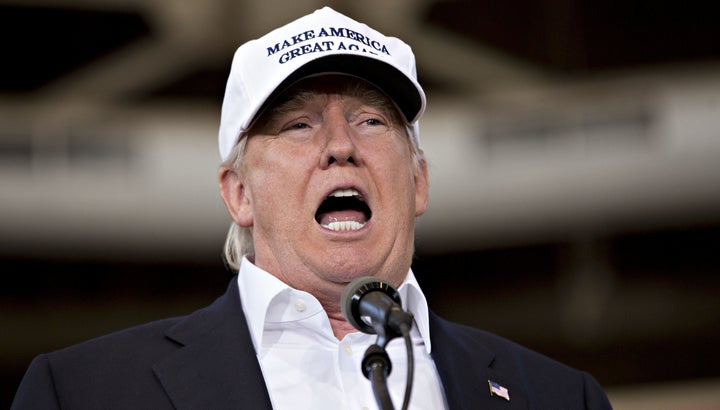 Donald Trump suggested in an interview Monday that top Hillary Clinton aide Huma Abedin may have ties to terrorism.
Former Rep. Anthony Weiner (D-N.Y.), Abedin's husband, was caught in yet another sexting scandal this week. Abedin announced in a statement the couple was separating. On Monday, Trump called Weiner a "pervert" and "a very sick guy," but he also went after other members of Abedin's family. From his interview with KIRO's Dori Monson:
You know, by the way, take a look at where she worked, by the way, and take a look at where her mother worked and works. You take a look at the whole event.

But in the case of Anthony Weiner, she's married to a guy that is uncontrolled and uncontrollable. He's a sick person. And she has access to classified information. Huma Abedin has access to classified information. How Hillary got away with that one, nobody will ever know. But to think that it's very likely that much of this information Anthony Weiner would know about. And I think it's something that was terrible.
Abedin has long been the subject of conspiracy theories among conservatives, and Trump is putting out yet more coded language to his followers.
In July, Breitbart News chairman Steve Bannon hosted longtime Trump friend Roger Stone on his radio show, where they discussed Abedin.
"It's very, very hard to understand because of her ties to the Muslim World League." Stone replied. "And the league's ties to extremism and to terrorism, to an organization, a trust, which funded the actual attack on America on 9/11, are inexorable. This is a fact; this isn't fiction. And Hillary continues to dodge all of these questions."
Bannon is now Trump's campaign chairman.
In an interview with CNN on Aug. 23, Trump supporter Rep. Sean Duffy (R-Wis.) also asked, "Why aren't we talking about Huma [Abedin] and her ties to the Muslim Brotherhood? Why aren't we talking about the fact that she was an editor for a Sharia newspaper?"
As The Washington Post noted, Abedin was indeed listed as an assistant editor from 1996 to 2008 for an academic journal called the Journal of Muslim Minority Affairs, which was founded by her late father and edited by her mother. According to experts on Islam, it's far from radical.
"I wouldn't consider it 'radical.' Quite the contrary," Noah Feldman, director of the Julis-Rabinowitz Program on Jewish and Israeli Law at Harvard Law School, told The Washington Post. "That doesn't mean there aren't plenty of articles expressing conservative viewpoints, of course. But I've never seen anything in any way radical."
Trump's circle is not the first to try to smear Abedin. In 2012, a group of lawmakers led by then-Rep. Michele Bachmann (R-Minn.) sent a letter to five federal agencies warning that the Muslim Brotherhood may be infiltrating the U.S. government. One of their examples was Abedin.
At the time, some Republican lawmakers spoke out about the attacks on Abedin, with Sen. John McCain (R-Ariz.) going to the Senate floor to defend her.
Popular in the Community