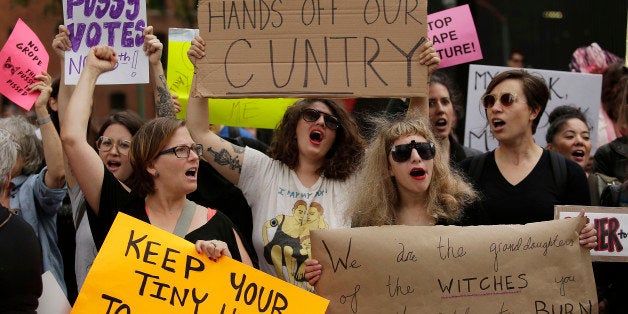 No one deserves humiliation, especially by women, more than Donald Trump. He has spent his entire life in pursuit of money and the power it gives him to humiliate women.
On Tuesday, women of all political persuasions can humiliate Donald Trump. To do so, they need to vote, and vote in droves, and put their party affiliation second, in order to make sure:
1. Hillary Clinton wins the presidency. Losing, and losing to a woman, will wound Trump. But, he already has developed the story-line to rescue his pathetic ego.
2. Trump loses by more than Mitt Romney and John McCain did. That way, Trump will become the worst Republican candidate since Barry Goldwater in 1964.
3. Democrats sweep the Senate. In addition to running up the score for Hillary, voting for the Democrat in Illinois, New Hampshire, North Carolina, Florida, Pennsylvania, Wisconsin, Missouri, Indiana, Nevada, Ohio, Iowa, Arizona, will humiliate Trump still further.

4. Democrats win back the House, despite the gerrymander. The ultimate humiliation of Donald Trump will be for him to have dragged down the House for Republicans as well.
If women want to send a clear, unambiguous message that, as Elizabeth Warren (D-MA) said, "We have had enough of people like you, Donald Trump," a surge of women voting on Tuesday to achieve each and every step of Trump's very well-earned humiliation will do it.
Tuesday, November 8, 2016, women have power over Donald Trump.
Calling all HuffPost superfans!
Sign up for membership to become a founding member and help shape HuffPost's next chapter