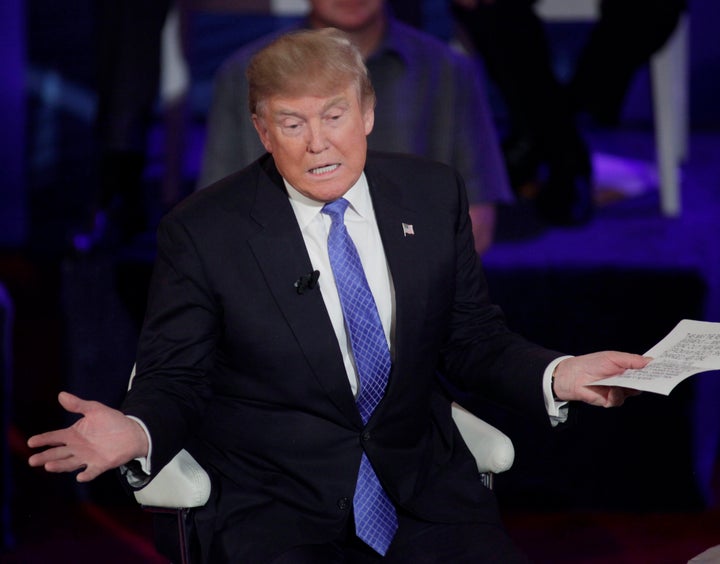 Voters' impressions of Donald Trump are getting worse as the primary season progresses. Bernie Sanders) is gaining on Hillary Clinton in national polls, but over half of states have already voted. And polling on the British referendum to leave the European Union shows a divided populace, but the surveys could have problems. This is HuffPollster for Wednesday, March 30, 2016.
TRUMP'S FAVORABLES ARE DROPPING - Steven Shepard: "[N]early two-thirds of Americans view [Donald] Trump unfavorably — and his image rating has declined since Republican voting began in February. His declining popularity is taking a toll on his standing in the 17 states that will hold primaries between now and the end of the process in early June. Losing some of these states — or even winning fewer delegates in proportional states — makes it more difficult for Trump to secure a pre-convention majority of 1,237 delegates. That's where Trump's horrific poll numbers could haunt him again: If Trump misses the threshold to win the nomination outright in bound delegates, it will be more difficult to persuade unbound delegates to put him over the top if they see him as a general election disaster-in-the-making due to his high unfavorability ratings among all voters….Among Republicans, Trump's numbers aren't stellar, but they have been durable — even as the other GOP candidates have trained their fire on him. Polls earlier this month from CNN/ORC and Quinnipiac University show Trump's overall favorability rating tanking, but the figures are virtually unchanged among Republicans." [Politico]
Net favorable rating has dropped by 14 points in two months - According to the HuffPost Pollster chart, at the end of January Trump's net favorability among registered and likely voters was -15 points. About 39 percent of voters viewed him favorably, while 54 percent had unfavorable opinions. His rating is now down to -29 points, with only 32 percent of registered and likely voters viewing him favorably and 61 percent rating him unfavorably.
Adding Trump's name to statements causes significant polarization among voters - Quinnipiac: "Voters are divided on many of Donald Trump's statements, such as his call to "take out" the families of terrorists, and the polarization increases when Trump's name is attached to these statements. To measure this 'Trump Effect' on voter attitudes, the independent Quinnipiac University Poll asked half of the voters surveyed whether they agree or disagree with a statement or policy, with no name attached. The other half of the voters surveyed were asked the same question, with the Trump name attached…. 'In politics, as in business, the Trump name has an impact,' said Quinnipiac University Poll Director Douglas Schwartz, PhD.  'Even on Donald Trump's most infamous quotes, attaching him to the statement affects voters' opinions. Simply reminding voters that these are Trump's policies and statements increases positive effects among his supporters and negative effects among non-supporters.'" [Quinnipiac]
PREDICTION MARKETS SHOW PEOPLE THINK A CONTESTED CONVENTION IS GETTING MORE LIKELY - Lance Fortnow: "According to Predictwise the probability that a [R]epublican candidate gets a majority of the delegates has dropped from 50% to 38%. The odds that the convention goes into at least a second round has increased from 42% to 55%. Meanwhile the probability of Trump's nomination has stayed relatively steady, dropping slightly from 78% to 76%." [PredictWise]
SANDERS CLOSING IN ON CLINTON IN NATIONAL POLLS - Hannah Hartig, John Lapinski and Stephanie Psyllos: "While Clinton maintains a very large lead in the delegate contest, national support in our most recent NBC News|SurveyMonkey Weekly Election Tracking Poll shows a race that has dipped to only a 6-point difference between the candidates among registered Democrats and Democratic-leaners. This is the smallest gap since the beginning of the tracking poll in late December. National support for Clinton now stands at 49 percent down from 53 percent last week. Sanders support is at 43 percent up slightly from 41 percent last week. These results are according to the latest data from the NBC News|SurveyMonkey Weekly Election Tracking Poll conducted online from March 21 through March 27 among a national sample of 6,521 adults, including 5,741 who say they are registered to vote." [NBC]
Gap between Sanders and Clinton narrows to 10 points in HuffPost Pollster average - The national polling average puts Sanders within 10 points of Clinton. Sanders has gained on Clinton since entering the race, but it's likely too late to matter at this point. Over half of the states have held their primaries or caucuses, so movement in the national polls at this point might not be indicative of what's happening on the state level. For primary outcomes, it's still best to look at the polls for individual states.
POLLING SHOWS BRITONS SPLIT ON STAYING IN THE EUROPEAN UNION - William James and Kate Holton: "The campaign to keep Britain in the European Union saw its lead over the rival 'out' campaign fall sharply in the last month, according to a telephone opinion poll by Ipsos MORI. Britons will vote on June 23 on whether to remain a member of the EU...The survey showed 49 percent would vote to remain in the EU at the referendum, 5 percent less than in a similar poll in February. The poll said 41 percent of respondents would vote to leave, up from 36 percent last month...[T]he reduction in the 'In' campaign's lead adds to other recent polling evidence showing that public opinion is moving in favour of an exit from the 28-country trading bloc." [Reuters]
But polling issues from 2015 still persist - Pollsters missed the results of the May 2015 UK elections, and an inquiry showed that there were considerable sample problems. These issues might not have been resolved. George Arnett and Alberto Nardelli: "Matt Singh of Number Cruncher Politics, working with James Kanagasooriam of polling company Populus, examined the discrepancy between phone and online surveys, and concluded that relying on internet polling overstates the level of support for those who want to leave. Phone polls show a solid lead for the remain camp of about 15-20 percentage points when the report's analysis was carried out in February, although the gap has dropped to closer to 10 points more recently. Online polls point to a very close contest. The two say that phone polls are more effective at compelling respondents to choose between the options on that will appear on the ballot paper – remain or leave – and more closely align with the demographic make-up and social attitudes of the electorate. Most online surveys explicitly include an extra option, don't know." [Guardian]
HUFFPOLLSTER VIA EMAIL! - You can receive this daily update every weekday morning via email! Just click here, enter your email address, and click "sign up." That's all there is to it (and you can unsubscribe anytime).
WEDNESDAY'S 'OUTLIERS' - Links to the best of news at the intersection of polling, politics and political data:
-Margie Omero (D) says the Republican gender gap could become a gender canyon by November. [CNBC]
-Geoffrey Layman explains Donald Trump's appeal to a certain kind of evangelical voters. [WashPost]
-Derek Thompson thinks a 2011 survey predicted Trump's rise. [The Atlantic]
-Ezra Klein argues the presidential race is helping President Obama's approval rating. [Vox]  
-The Onion provides a sober explanation of the polling process. [The Onion]
REAL LIFE. REAL NEWS. REAL VOICES.
Help us tell more of the stories that matter from voices that too often remain unheard.