CLEVELAND ― Donald Trump's pronouncement last year that Mexico was sending criminals and rapists to the U.S. had a small positive remark at the end. "Some, I assume, are good people," he said at a June 2015 speech announcing his candidacy.
More than a year later, in spite of pleas for him to tone down his rhetoric, the idea that even some undocumented immigrants are good people has fallen by the wayside.
Trump's speech on Thursday to the Republican National Convention was dominated by talk about immigration, none of it positive. It was exclusively based on fear: of mothers and children fleeing violence in Central America, refugees leaving Syria, and undocumented immigrants already here who, in Trump's world, are only mentioned as killers.
"Nearly 180,000 illegal immigrants with criminal records, ordered deported from our country, are tonight roaming free to threaten peaceful citizens," he said. "The number of new illegal immigrant families who have crossed the border so far this year already exceeds the entire total from 2015. They are being released by the tens of thousands into our communities with no regard for the impact on public safety or resources."
He talked about multiple people killed by undocumented immigrants: Sarah Root, Dominic Durden and Brandon Mendoza, who were struck by drunk drivers; and Kate Steinle and Jamiel Shaw Jr., who were fatally shot. Trump blamed President Barack Obama for their deaths.
"One more child to sacrifice on the altar of open borders," Trump said of Root.
Not everything Trump said was wrong. Those six people did die (PolitiFact has more on their stories here). The number of families apprehended at the border is up from last year ― although most of them are women and children seeking asylum in the U.S. from violence in Central America. Government officials did tell Congress that nearly 180,000 undocumented immigrants with criminal convictions are in the U.S. after deportation orders, although the administration also said that some were not removable and others had minor offenses.
Trump came closer to a straight-out lie when he discussed refugees and his promise to "immediately suspend immigration from any nation that has been compromised by terrorism until such time as proven vetting mechanisms have been put in place."
"We don't want them in our country," he said, before talking about Clinton's call to accept more Syrian refugees. "She proposes this despite the fact that there's no way to screen these refugees in order to find out who they are or where they come from. I only want to admit individuals into our country who will support our values and love our people."
There is vetting for refugees, with additional screening for Syrian refugees. The talking point conservatives bring up most often, that FBI director James Comey said the U.S. cannot vet Syrian refugees, is a misrepresentation of his actual words: that "there is no risk-free" system but that they were better at screening than before.
Trump again promised a wall between the U.S. and Mexico, and although he didn't straight-out say "mass deportation," his words sounded a lot like a threat.
"Tonight, I want every American whose demands for immigration security have been denied ― and every politician who has denied them ― to listen very closely to the words I am about to say," he said. "On January 21st of 2017, the day after I take the oath of office, Americans will finally wake up in a country where the laws of the United States are enforced."
In Trump's version of America, refugees from one of the most dangerous countries on the planet couldn't be simply wanting peace here. Central American women and children couldn't be seeking safety, and undocumented immigrants couldn't be looking for a better life. Killers are the rule, not the exception. Foreigners are here to take our jobs and do us harm.
Not even some of them are good people.
Before You Go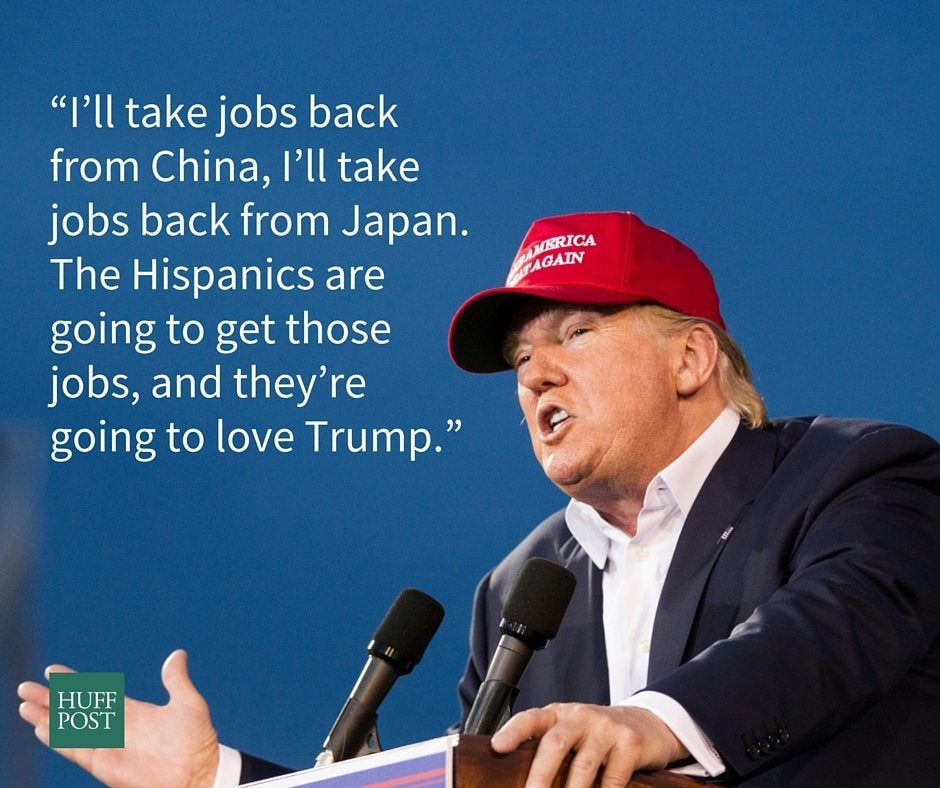 9 Other Absurd Things Donald Trump Has Said About Latinos
Popular in the Community