WASHINGTON ― Republican presidential nominee Donald Trump on Monday proposed that the United States administer an ideological test to visa applicants before allowing them to enter the country. The test amounts to an expansion of Trump's controversial plan to ban Muslims from traveling to the United States ― blocking people from certain countries and anyone whose views are deemed un-American.
Under the framework Trump laid out in a speech in Youngstown, Ohio, anyone applying for a visa to enter the United States would be subjected to what Trump called "extreme, extreme vetting."
"In the Cold War, we had an ideological screening test. The time is overdue to develop a new screening test for the threats we face today," Trump said. "I call it extreme, extreme vetting. Our country has enough problems. We don't need more. And these are problems like we've never seen before.
"In addition to screening out all members or sympathizers of terrorist groups, we must also screen out any who have hostile attitudes toward our country or its principles ― or who believe that Sharia law should supplant American law."
Trump also called again for a temporary suspension of "immigration from some of the most dangerous and volatile regions of the world that have a history of exporting terrorism."
His plan for a ban on certain individuals has shifted over time. In December, he said he would temporarily block all Muslims, but he said last month that he would instead keep out people from countries "compromised by terrorism." By making admittance subject to ideology and country of origin, he could try to accomplish both.
But it's unclear which countries would be affected by Trump's plan. Many Western countries, such as France and Belgium, have been compromised by terrorism, but he talks almost exclusively about the Middle East when referencing his idea. Those countries are also inhabited by people of other faiths, so a regional ban would keep out Christians and religious minorities in addition to Muslims.
He skirted over details on that, saying he won't know which "regions of the world" will fall under this immigration ban until after he is elected president and takes office.
"Only those who we expect to flourish in our country ― and to embrace a tolerant American society ― should be issued visas," Trump said.
Millions of non-citizens come to the U.S. each year. About 181 million people entered as tourists, business travelers, students or on another temporary basis in 2014, according to the Migration Policy Institute. More than 1 million foreign nationals became lawful permanent residents that year.
Trump did not elaborate on how he plans to overcome the enormous logistical challenge of issuing ideology tests to millions of would-be visitors and residents. Trump repeatedly said his "extreme, extreme vetting" would apply to visas in general, and not just to applicants for residency. A policy adviser for Trump did not respond to questions from The Huffington Post about how far Trump's vetting would go.
In 2001, Trump pointed to poor visa vetting as being partly responsible for the 9/11 attacks. "The 9/11 hijackers had fraud written all over their visas," he said. Those visas, however, were student, business and tourist visas.
He also warned of the danger of refugees and said he plans to welcome no more Syrians to the U.S., failing to mention that more than half of the Syrian refugees admitted to the U.S. this fiscal year have been under the age of 18.
Much of Trump's speech focused on how he planned to combat the so-called Islamic State group. Apart from the ideological test, the specifics in Trump's plan mirrored many of the same tactics currently being practiced by the Obama administration. Trump called for an emphasis on human intelligence, liberal use of drone strikes, targeted killing of terrorists and leaders of groups such as the Islamic State group and al Qaeda, and the continued use of the detention center at Guantanamo Bay, Cuba.
It's unclear how exactly Trump's plan would differ from that of the current president when it comes to the Islamic State, and Trump's campaign did not respond to requests for clarification.
Jessica Schulberg contributed reporting.
Before You Go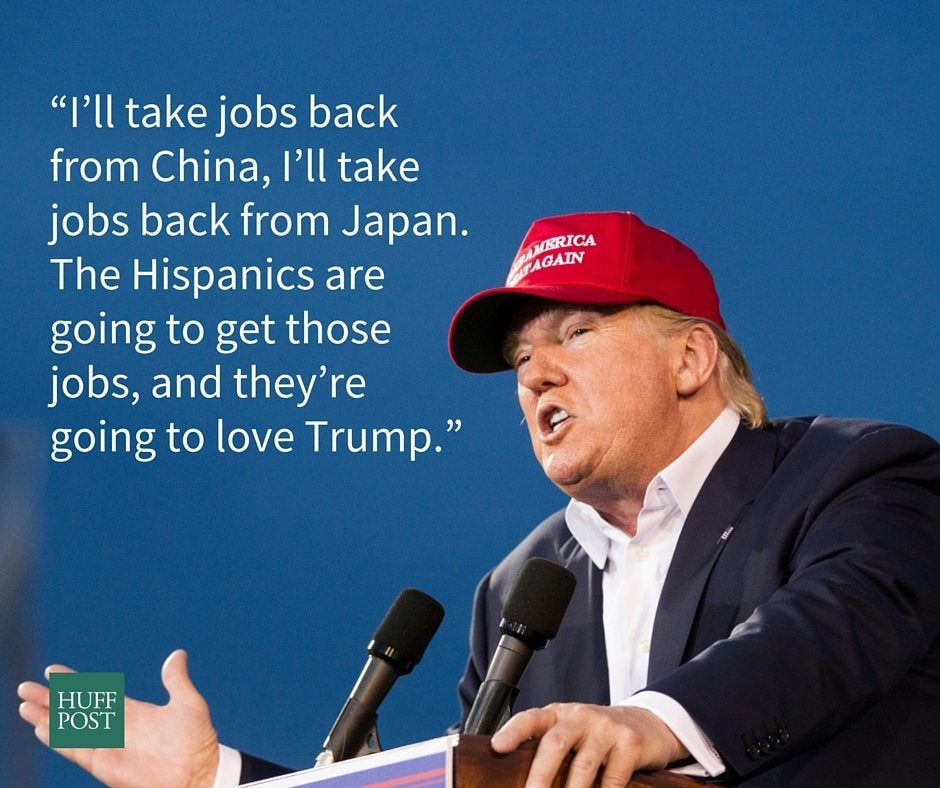 9 Other Absurd Things Donald Trump Has Said About Latinos
Popular in the Community