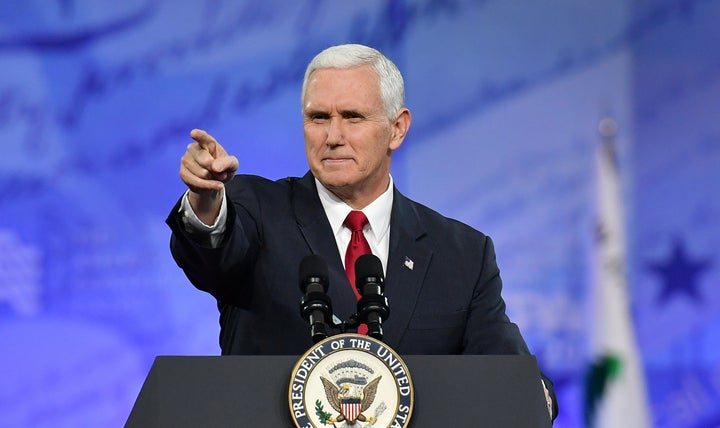 WASHINGTON ―For Republicans on Capitol Hill, Vice President Mike Pence was supposed to be the calm, steadying hand in the White House, the seasoned former Indiana governor and congressman who would be their ears and mouth in the neophyte Trump administration.
Then Pence went on national television last month, before Donald Trump was even sworn in, to assure America that the man selected to be the national security adviser, Michael Flynn, never discussed sanctions against Russia with the Russian ambassador.
It wasn't true, of course. But Pence didn't know that it was false, and that Flynn had discussed sanctions with the ambassador the very day the Obama administration leveled them in retaliation for Russia's attempts to manipulate the U.S. election.
Pence and his many GOP supporters didn't find out he'd been misled until mid February, although other top officials in the White House were warned of Flynn's dishonesty weeks earlier, in late January. Flynn was forced to resign.
Now, imagine being a Republican on Capitol Hill, and learning that sequence of events involving the man the GOP establishment sees as a sort of safety blanket in the volatile administration.
"Um," said Sen. Roger Wicker (R-Miss.), pausing a full five seconds before offering an uncomfortable laugh and trying to answer whether he was reassured that Pence was not part of the deception, or concerned that the GOP's voice in the White House was entirely out of the loop.
"Let me say, I think Mike Pence is very much in the thick of things, and policy, in the administration," Wicker said.
He never really answered whether he was reassured or concerned. But he was clear that he still had confidence in Pence, who served with Wicker when they were both members of the House.
Indeed, all the Republicans HuffPost spoke to just before Congress went on its current recess expressed similar strong support for Pence, while struggling with the implications of a White House that kept him in the dark for two weeks.
"Um... Well…," said Sen. John Boozman (R-Ark.), another former House colleague of the vice president, who professed he was not up to speed on the reports of Pence being left out.
Still, it didn't sound good, in theory, to Boozman.
"As a general rule, you'd always want the vice president in the middle of what's going on," Boozman said ― especially Pence.
"He's a strong personality, he's a thoughtful guy, he understands Congress, so he really is a natural in regards to going forward," Boozman said. "I've got all the confidence in the world in him. So I'd like very much for him to be a major part of the decision-making process, whatever it is."
"Mike Pence has been the indispensable player. Yeah, he's a huge value added for us."

Senate Majority Leader Mitch McConnell
Some Republicans who have been critical of Trump in the past were willing to express alarm.
"Of course it's concerning," said Sen. John McCain (R-Ariz.), chairman of the Senate Armed Services Committee.
"We don't know what was going on in the White House, as far as the decision-making process is concerned," McCain added. "When we have things like the immigration order ― and we have the vice president saying things, given information, telling the American people ― that are not true, there is a certain lack of coherence there."
One thing they all agreed on ― Pence is not the problem.
"Mike obviously is a good guy and a good friend," said Sen. Jeff Flake (R-Ariz.). "I'm kinda glad he wasn't part of it, but I'm sure he's not seeking to be excluded. He'll be fine. and I'm sure they'll correct the issues they have."
Perhaps the White House will correct the dysfunction, but over the past week, fresh reports have highlighted Russian ties to Trump's campaign.
One report revealed a possible attempt to blackmail  former Trump campaign manager Paul Manafort, who resigned after documents surfaced suggesting he was secretly paid millions by Russia-backed Ukrainians.
Other reports revealed that Trump White House officials attempted to influence the FBI, which is investigating aspects of Russian influence on the election. The officials, including Chief of Staff Reince Priebus, tried to get officials in the agency ― as well as overseers on Capitol Hill ― to deny news that Trump campaign contacts with Russian intelligence officials were near constant for a year.
Whether the federal or congressional investigations end up implicating Trump or any of his aides in attempts to collude with a foreign power to sway an American election is not a question that can be answered yet.
But for all the talk of chaos in the White House for the first month of Trump's reign, Senate Republicans were clear in expressing confidence in the person who would be first in line to replace the president.
"He's been actively involved in the political process and also the governmental process of making political decisions, but also the how-do-you-govern-day-to-day," said Sen. Mike Rounds (R-S.D.). "So that's something that's very valuable."
Asked directly if the administration had treated Pence well in cutting him out of the loop on Flynn, Senate Majority Leader Mitch McConnell (R-Ky.) made clear the value Republicans see in Trump's No. 2.
"Mike Pence has been the indispensable player," McConnell told reporters just before the recess, which ends Monday. "Yeah, he's a huge value added for us. We all know him. He has, I think we'll all stipulate, a very different kind of personality from the president."
Calling all HuffPost superfans!
Sign up for membership to become a founding member and help shape HuffPost's next chapter
BEFORE YOU GO