Real estate mogul and reality television star Donald Trump on Sunday tweeted a chart of racist and wildly inaccurate crime statistics, just a day after supporters physically assaulted a Black Lives Matter protester at one of his rallies.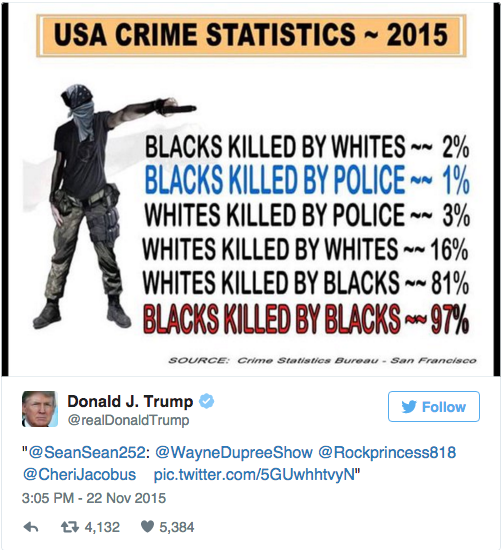 The statistics, purported to be gathered by a Crime Statistics Bureau in San Francisco this year, appear to be fabricated. The Crime Statistics Bureau cited in Trump's tweet does not exist. The FBI, which does gather official crime statistics for the U.S., has not yet released them for this year.
Last year's FBI statistics show that the numbers in Trump's tweet are incorrect and appear to be aimed at perpetuating racist myths about black people and crime.
In 2014, about 82 percent of murders involving white victims were committed by other white people, while only 14 percent were committed by black people, according to the FBI.
Among murders involving black victims, just under 90 percent were committed by other black people, while 7 percent were committed by white people.
Crime experts have concluded that homicides are most likely to occur among people of the same race because people are usually murdered by someone they already know, and most people primarily know people of their own race.
Trump's anti-immigrant and racist rhetoric is a hallmark of his presidential campaign and has incited racism from his supporters. At a Trump rally in Birmingham, Alabama, on Saturday, some of his supporters kicked and punched a Black Lives Matter protester, with Trump reportedly yelling: "Get him the hell out of here!"
Trump subsequently defended the incident, calling the protester "a very obnoxious guy who was a troublemaker and he was looking to make trouble."
"Maybe he should have been roughed up," he said on Sunday.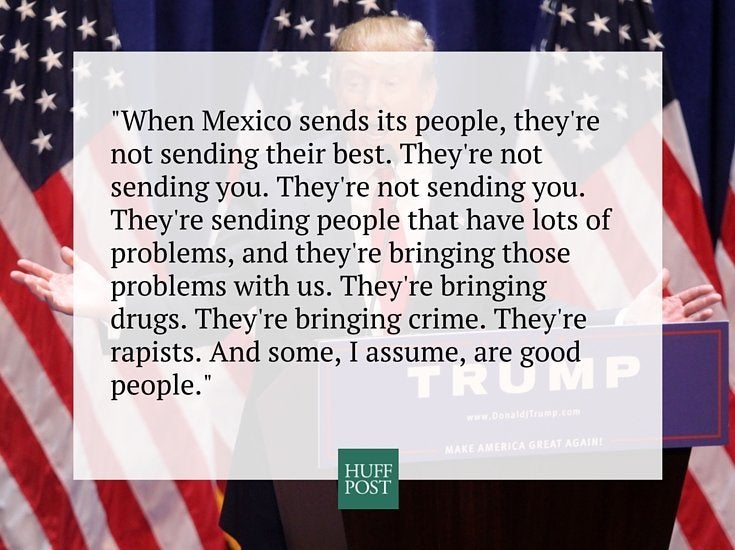 9 Outrageous Things Donald Trump Has Said About Latinos
Popular in the Community