WASHINGTON ― More than 60 Democratic members of Congress are planning to skip President-elect Donald Trump's inauguration on Jan. 20, many saying they can't bring themselves to welcome a man to the White House who ran such a divisive and prejudiced campaign ― and insulted their colleague, Rep. John Lewis (D-Ga.).
(An updated list of the lawmakers who won't attend the inauguration is below.)
"I will not be celebrating or honoring an incoming president who rode racism, sexism, xenophobia and bigotry to the White House," Rep. Barbara Lee (D-Calif.) said Thursday.
"He called women 'pigs,' stoked Islamophobia and attacked a Gold Star family. He mocked a disabled reporter and appealed to people's worst instincts. I cannot in good conscience attend an inauguration that would celebrate this divisive approach to governance," Lee said. "On Inauguration Day, I will not be celebrating. I will be organizing and preparing for resistance."
Similarly, Rep. Luis Gutierrez (D-Ill.) is skipping the ceremony and planning to take part in a massive protest against Trump the next day, the Women's March on Washington. He said it's not about being a sore loser because a Republican won the presidency. It's more personal.
"I went to George Bush's inauguration, and I work with Republicans all the time," Gutierrez said Tuesday on the House floor. "But this is different. I never thought George Bush was trying to make my own country hostile toward me, personally. To my wife. To my daughters."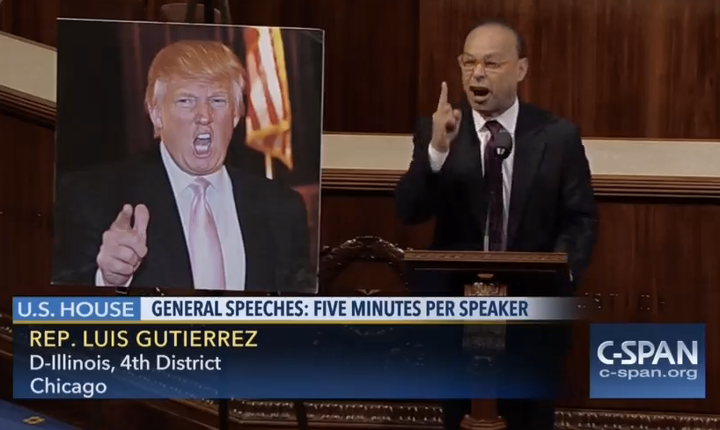 Lewis, a civil rights icon who said he hasn't missed an inauguration since he came to Congress in 1986 (although it appears he boycotted President George W. Bush's inauguration in 2001), said Friday that he will boycott this year's event and that he does not view Trump as a "legitimate president."
"You cannot be at home with something that you feel is wrong," he told NBC News.
When Trump responded on Twitter, calling Lewis, "All talk, talk, talk ― no action," more members announced they would boycott the inauguration.
Rep. Yvette Clarke (D-N.Y.) tweeted Saturday that she would not attend, citing Trump's criticism of Lewis. And Rep. Mark Pocan (D-Wis.) said Sunday that he was originally going to go, but after Trump insulted Lewis, he changed his mind.
"I was planning on attending the Inauguration on Friday out of respect for the office of President, while still making it back home on Saturday to attend the Women's March in Madison," Pocan wrote on Facebook. "However, after long consideration based on reading the Classified document on Russian hacking and the Trump candidacy on Thursday, the handling of his conflicts of interest, and this weekend's offensive tweets about a national hero Rep. John Lewis, I am no longer attending the event."
Others sitting out Trump's ceremony include Rep. Jared Huffman (D-Calif.), who wrote on Facebook that he cannot "sit passively and politely applaud" as the country enters "a dark and very dangerous political chapter," and Rep. Katherine Clark (D-Mass.), who told her local paper it doesn't sit right with her to celebrate Trump.
"I support the peaceful transition of power," Clark said, "but I don't feel that I need to attend the pageantry associated with and for this president."
Here's the list of House Democrats planning to skip the inauguration in protest or, in a handful of cases, for vague reasons. So far, no senators have said they plan to boycott it.
*These lawmakers aren't going to the inauguration, but say it's not in protest.
This article has been updated with comments from Lewis and Trump, as well as to note additional lawmakers not attending inauguration.
Before You Go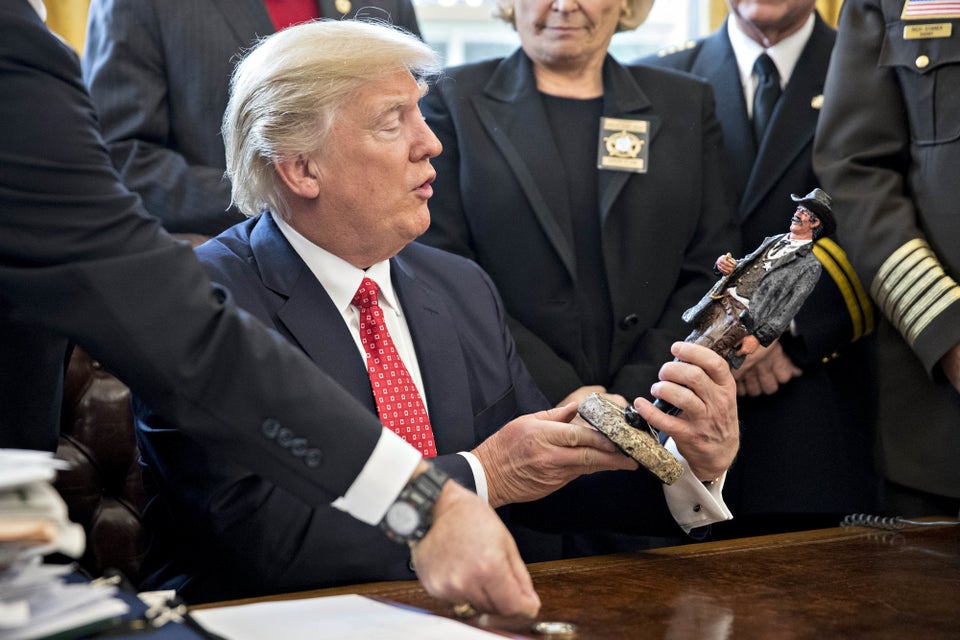 Donald Trump
Popular in the Community