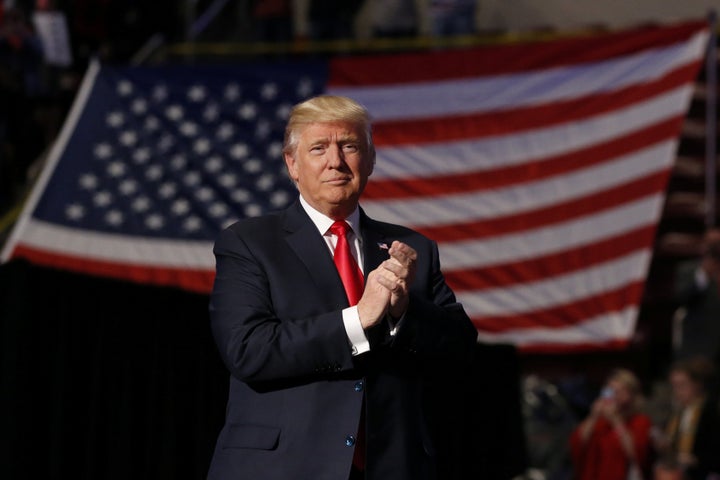 In a frantic bit of cleanup on Tuesday, Donald Trump's transition team downplayed what appeared to be a pay-for-play scheme surrounding the upcoming inauguration.
A spokesperson for the president-elect said that, contrary to reports, Trump's two eldest sons were not offering access to their father during next month's inauguration weekend in exchange for $1 million donations to conservation charities. The foundation that had cooked up the scheme (which included hunting and fishing expeditions) was just floating an "initial" concept of an idea, the spokesperson said. Beyond that, neither Eric Trump nor Donald Trump Jr. were "involved in any capacity," nor was the president-elect "aware of the event or the details pertaining to it.''
Nevertheless, the episode still rubbed government ethicists the wrong way, and not just because Eric Trump remained on the board of directors of the charity behind the proposal. For these ethicists, the concern is that the Jan. 20 Trump inauguration writ large has become a vehicle for those willing to pay the right price to gain access to the top echelons of the incoming administration.
Even as the conservation charity idea appeared to crash before takeoff, the official inaugural committee was offering an underwriter benefits package that allowed well-heeled donors an audience with the president and his team. For $1 million, for example, a donor received benefits including access to an "exclusive event" with Cabinet appointees and House and Senate leadership, along with an "intimate dinner" with Vice-President-elect Mike Pence. Even those just willing to dole out $250,000, the gift was "an intimate policy discussion and dinner with select Cabinet appointees" among other goodies, including an opportunity to meet "the ladies of the first families" and "an elegant dinner in Washington, D.C., with special appearances" by the Trumps and Pences.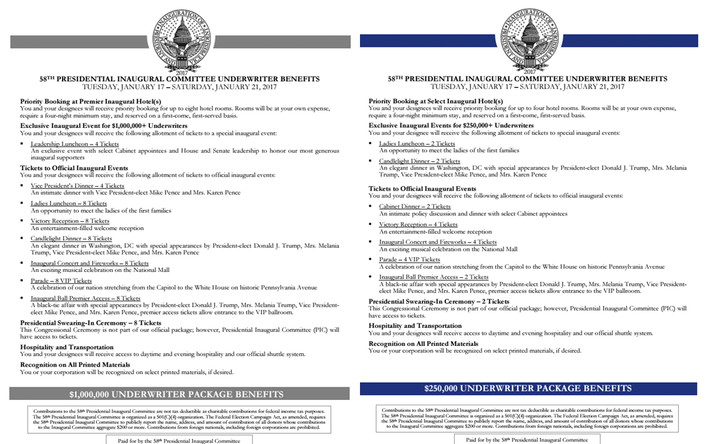 Richard Painter, the chief White House ethics lawyer from 2005 to 2007, called the Trump inauguration benefits package an example of "paying for access." So too does his colleague at the organization Citizens for Responsibility and Ethics in Washington, Norman Eisen, who served as Chief Ethics Counsel for President Barack Obama.
"But this is not just a Trump problem, this is the problem of big money in politics," Eisen said. "Both parties raise big money around the Inauguration― and around everything else as well. The system has run amok."
A spokesperson for the Trump inauguration committee defended the benefits packages as a chance for the president-elect to thank those who ponied up the $65 million to $75 million they are aiming to raise to run an inauguration. Far from settings ripe for influence-peddling, they represented "a chance to thank our underwriters, whose generosity is helping bring the inauguration to life for all Americans, while honoring the diverse and qualified leaders the president-elect has appointed to various positions within government," the spokesperson said.
Still, it appears that the Trump team is pushing the ethical envelop more than its immediate predecessor. In 2008, Obama's inaugural committee unilaterally restricted individual contributions to $50,000 and prohibited corporations from giving. Four years later, the president's team loosened the restrictions ― wary that they would have trouble raising the cash needed to host an inauguration. Corporations gave. And individuals wrote checks far exceeding $50,000.
But the benefits they received for those checks fell short of the elegant "candlelight dinners" that Trump is now offering. A fundraising appeal obtained by The Associated Press noted that premium donors ($250,000 for individuals and $1 million for corporations) got four tickets to the inaugural ball, seats in the bleacher for the parade, tickets to a children's concert and a meeting with the president's finance team to discuss "the road ahead."
"Trump is exacerbating the problem with his refusal to address his conflicts or even release his taxes so we know what the conflicts are."
"We did not do anything that was 'come meet policy leaders' as a quid pro quo for giving the inauguration committees," said an official who worked on the 2013 inauguration but was not authorized by his current employer to discuss the matter. "If anything we tried to keep those two streams as clean as possible."
"The thing you need to realize is that the main check you have on what you can take is really perception," the official added. "There are no rules for inaugurations. It is the wild west in terms of fundraising. It is about what signal you want to send out as you put together the first major public event of your presidency. But it is a hard line to walk because you also have to raise a lot of money very fast."
In going further than Obama in trying to lure donors to his inauguration, Trump risks eroding his promise to "drain the swamp" once in power. That being said, his own allies have begun admitting that "drain the swamp" was more a slogan than an actual ethos.
"I'm told he now just disclaims that. He now says it was cute, but he doesn't want to use it anymore," former Speaker Newt Gingrich said of the rally cry. "I've noticed on a couple of fronts, like people chanting 'lock her up,' that he's in a different role now and maybe he feels that as president, as the next president of the United States, that he should be marginally more dignified than talking about alligators in swamps."
Beyond the sense that Trump isn't all that invested in government ethics, watchdogs are also concerned about the sheer number of possibilities for the incoming president to blur ethical lines. On the underwriter benefits document, for example, the Inaugural Committee says that those buying packages would receive "priority booking" at "premier" or "select" inaugural "hotel(s)."
Which hotel these donors will get is left unmentioned, but it raised the possibility that some of the funding meant for the inauguration could end up going toward booking rooms in the Trump International Hotel Washington, D.C. A spokesperson didn't return a request for clarification. But the larger point wasn't lost on Eisen.
"Trump is exacerbating the problem with his refusal to address his conflicts or even release his taxes so we know what the conflicts are," he said in an email. "That sends a message of anything goes in the dark which seems to be making things worse."
Want more updates from Sam Stein? Sign up for his newsletter, Spam Stein, here.
Popular in the Community