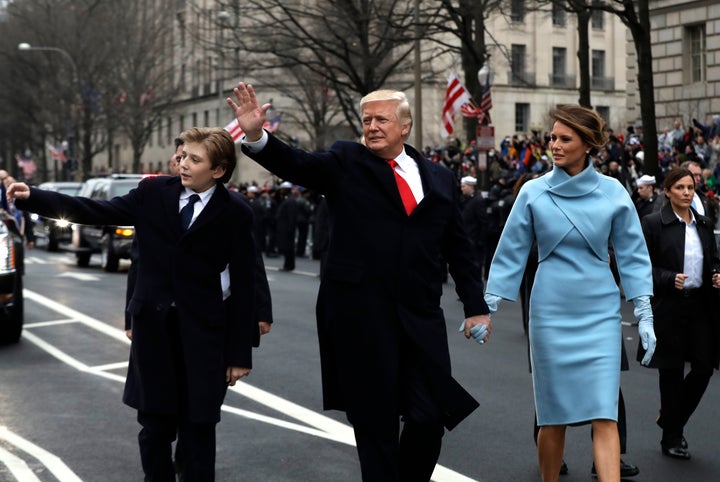 Most Americans who tuned into President Donald Trump's inauguration on Friday give him positive marks for his address, according to a new HuffPost/YouGov poll, although doubts and deep partisan divides remain.
Fifty-five percent of Americans who watched or listened to the inauguration ceremonies, or who consumed later news reports about it, say Trump's speech was excellent or good. Fourteen percent say it was just OK, and 26 percent say it was poor or terrible. (Gallup, which asked the same question in a one-night survey following the speech, found that 53 percent rated it excellent or good, 22 percent OK and 20 percent poor or terrible. Those results are significantly less positive than reactions to former President Barack Obama's first inauguration in 2009, but on par with Americans' feelings about the 2005 and 2013 inaugurations.)
A 54 percent majority of those who saw at least news reports about the event say that they feel the inauguration was meant for people like them, while 33 percent didn't feel similarly included. Fifty-one percent say Trump's inauguration makes them feel more hopeful about the next four years, 27 percent say it makes them feel less hopeful, and 16 percent say it makes no difference to them.
While media reactions widely characterized Trump's speech as grim due to its references to "rusted-out factories scattered like tombstones" and "American carnage," people who watched the inauguration or later coverage of it are more than twice as likely to consider the event "optimistic" rather than "pessimistic."
Trump, to some extent, was preaching to the choir. Just as presidential State of the Union addresses are disproportionately watched by members of the president's party, the audience for the inauguration leaned more heavily toward the new president's supporters. Eighty-nine percent of voters who supported Trump say they consumed news reports about the inauguration or watched or heard the ceremony itself, while just 61 percent of people who voted for Hillary Clinton, and 56 percent of nonvoters, say the same.
Americans as a whole are less positive in their reactions to the inauguration. They split about evenly, 39 percent to 38 percent, on whether it was meant for people like them or not. Just 36 percent say the event left them feeling more hopeful about the course of Trump's presidency, while 49 percent say they feel less hopeful or haven't changed their minds.
Trump voters are 73 points more likely than Clinton to say the inauguration made them feel more hopeful, 81 points likelier to feel it was geared toward people like them, and 80 points likelier to consider it optimistic.
Yet, some of Trump's populist rhetoric resonates with the public as a whole.
Most Americans, 57 percent, say they agree with Trump's statement that "we've made other countries rich while the wealth, strength, and confidence of our country has disappeared over the horizon." Sixty-five percent, including a near-majority of Clinton voters, agree that "for too long, a small group in our nation's capital has reaped the rewards of government while the people have borne the cost."
And 61 percent of Americans approve of Trump's declaration that "from this moment on, it's going to be America first" ― a slogan rooted in anti-Semitic propaganda that has been condemned by the Anti-Defamation League.
Reactions to Trump's inauguration also stand out as notably more positive than the reaction to his transition, or, by some metrics, the public's expectations for his future behavior as president. Most Americans expect Trump to govern similarly to the way he ran his campaign ― and few consider that to be a positive. By a more than 2-to-1 margin, 55 percent to 23 percent, they expect Trump to act the same way as president as he did while a candidate. And by a comparable margin, 50 percent to 28 percent, they say that his continuing to do so would be a bad thing, rather than a good one.
The HuffPost/YouGov poll consisted of 1,000 completed interviews conducted Jan. 21-23 among U.S. adults, using a sample selected from YouGov's opt-in online panel to match the demographics and other characteristics of the adult U.S. population.
The Huffington Post has teamed up with YouGov to conduct daily opinion polls.You can learn more about this project and take part in YouGov's nationally representative opinion polling. Data from all HuffPost/YouGov polls can be found here. More details on the polls' methodology are available here.
Most surveys report a margin of error that represents some, but not all, potential survey errors. YouGov's reports include a model-based margin of error, which rests on a specific set of statistical assumptions about the selected sample, rather than the standard methodology for random probability sampling. If these assumptions are wrong, the model-based margin of error may also be inaccurate. Click here for a more detailed explanation of the model-based margin of error.
REAL LIFE. REAL NEWS. REAL VOICES.
Help us tell more of the stories that matter from voices that too often remain unheard.