WASHINGTON ― Donald Trump's haphazard storage of sensitive documents at his Florida country club could have endangered the lives of American intelligence officers as well as their foreign sources, according to experts and legal filings, contrary to the claims by some Republicans that the withheld papers posed a minimal threat to national security.
As the former president and his allies complain about Trump's unfair "persecution" by the Department of Justice, getting lost in the noise are the potentially grave consequences that may have already been suffered by actual human beings working abroad on behalf of the United States.
"When I look at the complaint, I don't just see an itemization of particular documents. I see the people who gather this information in the U.S., our allies, our intelligence assets who put their lives at risk," said Norm Eisen, a former ambassador who held a top security clearance and who, as a White House lawyer in Barack Obama's administration, also helped draft classification rules.
"The notion that Donald Trump could store those in ballrooms and bathrooms, where these secrets might spill onto the floor, as depicted in one photo, is horrifying to anyone who has any national security experience," Eisen said.
It's difficult to draw firm conclusions regarding the damage caused by Trump's brazenly careless handling of the documents, stored in disorganized cardboard boxes left on a ballroom stage, in a storage room and in a bathroom. The legally mandated secrecy of the intelligence community's work, and a reluctance by President Joe Biden's administration to fully engage on the matter, leaves many questions about what the easily accessible documents may have ultimately done to American national security. However, experts say what we do know is alarming.
One former top Trump White House official, speaking on condition of anonymity, said the language in the indictment unveiled last week led him to believe actual humans have already been put at risk by Trump's actions. "It's a very good conclusion. And it's logical, but I don't think it's certain," he said.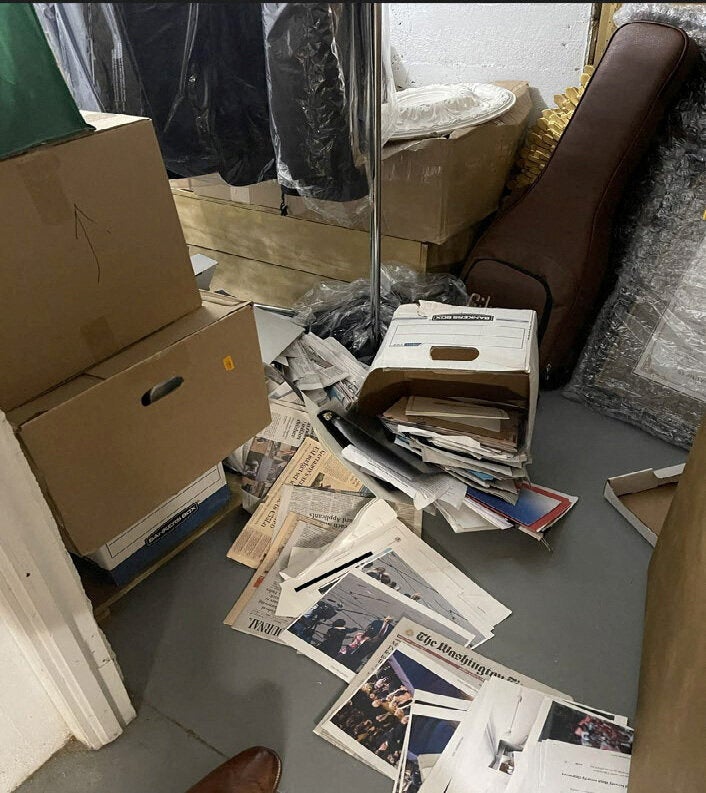 Biden's White House and administration have repeatedly declined to detail if information and human sources were compromised and had to be abandoned or even extracted after the material recovered from Trump, both before and after the Aug. 8, 2022, search of Mar-a-Lago, had been analyzed.
And though administration officials briefed Senate Intelligence Committee members earlier this year about what the FBI found during searches of Mar-a-Lago and Biden's private homes and offices, the leaders of the committee ― Mark Warner (D-Va.) and Marco Rubio (R-Fla.) ― have complained the session was horribly inadequate.
Members of the House and Senate intelligence committees said this week they were unsure if the administration would further brief them following Trump's indictment.
Asked if the documents stored at Mar-a-Lago had affected any ongoing operations, Rep. Brian Fitzpatrick (R-Pa.), a member of the House Intelligence Committee, said it was unclear.
"We're going to want to know that," he said, noting the classification codes mentioned by the Justice Department in relation to the raid often have subsets of varying severity. "We've never really got an answer as to what exactly was included."
Rubio blasted out of the gate on Monday, downplaying the threat in an interview with CBS News.
"There's no allegation that there was harm done to the national security," Rubio said, referring to the criminal indictment. "There's no allegation that he sold it to a foreign power or that it was trafficked to somebody else or that anybody got access to it."
Trump's campaign did not respond to HuffPost queries about his handling of the secret documents. Ever since the FBI search of Mar-a-Lago, he has falsely claimed he had the right to take any and all documents with him when he left the White House in January 2021, which he repeated in a speech Tuesday night at his country club in Bedminster, New Jersey.
But neither he nor his campaign has addressed the potential damage his retention of those files in various locations at his Palm Beach resort may have inflicted on U.S. national security and on individual people.
Mar-a-Lago has hundreds of dues-paying members ― a great number of whom joined after Trump was elected president in November 2016 ― and 150 or so employees.
Peter Strzok, once the head of the FBI's counterintelligence section, said if he had been running a foreign intelligence service, he would have made it a priority to recruit a source at Mar-a-Lago. (Strzok became a target of Trump's ire and lost his job at the FBI after an investigation discovered he sent text messages disparaging Trump while leading the investigation into his 2016 campaign's dealings with Russia. He has sued for reinstatement to the bureau.)
"Would I expend a lot of resources to get this information? One hundred percent. I would drop millions and millions of dollars for access, to have someone go through this," said Strzok. "It's worth millions and millions of dollars to get someone inside Mar-a-Lago. That's what people need to understand."
Sen. Bill Cassidy (R-La.), who has also been critical of Trump, cited the threat of foreign nationals gaining access to the material at the social club.
"When you're showing war plans and things that are apparently incredibly sensitive to people that don't have a security clearance, and apparently Chinese nationals are trying to break into the place, that's all concerning," Cassidy said.
The Human Beings Behind The Acronyms
The gravity of Trump's actions was spelled out in an extraordinary sentence in last week's indictment filed in U.S. District Court in Miami: "The unauthorized disclosure of these classified documents could put at risk the national security of the United States, foreign relations, the safety of the United States military, and human sources and the continued viability of sensitive collection methods."
Strzok has noted that of the 34 "top secret" documents recovered either through a June 2022 subpoena or in the August FBI search, only 21 were charged in the indictment, making him wonder if the remaining 13 were simply too sensitive, even a year later, to make public during a trial.
Though much of the public discussion in Trump's document case has used the easily understood terminology of "secret" and "top secret," in the indictment itself are the more obscure acronyms "TS/SCI" and "HSC-P." The latter refers to "human intelligence," or information derived from actual people, as opposed to spy satellites or listening posts, while "secure compartmented information" typically means that the document in question could provide clues as to the source of the information it contains and is therefore limited to an even smaller circle of people.
The difficulty of cultivating foreign sources, which can take years, and the risk they face of arrest, imprisonment or even execution underlies the seriousness behind preventing public disclosure of that information.
That seriousness is instilled into anyone who receives a clearance for classified information, as both the consequences for national security as well as the personal consequences for someone who discloses it are drilled into the recipient.
Some critics have long suggested the United States has an over-classification problem, unnecessarily marking some documents as secret or only doing so to prevent government embarrassment. Those complaints, however, are less likely to apply to documents based on human intelligence or dealing with the U.S. nuclear program or plans for a theoretical attack on another country, to name three types of documents the indictment accused Trump of keeping.
The former Trump White House official said his briefing for his TS/SCI clearance came from a former special forces officer. "They bring you into the Situation Room, into a SCIF," he said, referring to the shielded rooms used for reading and sharing classified material. "This isn't like a memo you're getting. We're doing this in the most secure area imaginable."
Strzok pointed out that two of the documents cited in the indictment were both top secret and based on human intelligence. "That information would be helpful to a foreign counter-intelligence agency trying to identify who a source or sources are providing information to the U.S. or others," he said.
A History Of Recklessness
Unsurprisingly, the first of Trump's 2024 presidential rivals to condemn him over the indictment are the two former U.S. attorneys in the Republican primary race: former New Jersey Gov. Chris Christie and former Arkansas Gov. Asa Hutchinson. Subsequently, those with familial ties to military service members ― whose lives can also be imperiled by sloppy intelligence practices ― stated they could not defend Trump's behavior.
"If this indictment is true, President Trump was incredibly reckless with our national security," former South Carolina Gov. Nikki Haley, another 2024 rival, told Fox News. Her husband is about to deploy to Africa with the National Guard.
"This indictment contains serious charges, and I cannot defend what is alleged," former Vice President Mike Pence, whose son is in the Marine Corps, said during an appearance on CNBC.
Trump, with his multiple bankruptcies and foreign financial entanglements, would have had great difficulty obtaining a security clearance on his own, according to multiple experts and even Trump White House officials. But because he was elected president, he did not require a clearance to receive classified information. He had full access to all information thanks to Article II of the Constitution.
And during his four years in office, Trump on multiple occasions showed a disregard for normal practices for the use and dissemination of classified material, foreshadowing his post-presidential attitude on display today.
Within four months of entering the White House, Trump boasted to the Russian foreign minister and the Russian ambassador visiting the Oval Office that the U.S. was receiving intelligence from a source within an Islamic State terrorist cell. Because Russia was and is an ally of Iran, Israel was forced to assume that its source had been compromised.
Two years later, Trump taunted Iran for a launch-pad rocket explosion in a Twitter post. He included an image showing the damage ― a high-resolution image that revealed to the whole world the capability of the latest generation of U.S. photo reconnaissance satellites that cover most of the planet from an altitude of about 200 miles.
Asked about his decision to include the photo, Trump told reporters: "We had a photo and I released it, which I have the absolute right to do."
Trump was arraigned Tuesday on 37 felony counts in the secret documents indictment, the most serious of which carry 20-year maximum prison sentences. He is also under Department of Justice investigation for his coup attempt that culminated in the Jan. 6, 2021, assault on the U.S. Capitol by a mob of his followers, and he faces a separate Georgia investigation for his attempt to overturn his election loss there.
A Manhattan grand jury in April indicted him on charges that he falsified business records in part to hide a $130,000 hush-money payment to a porn star in the days before the 2016 election.
He is, nevertheless, the leading candidate in the Republican race for the presidential nomination, and the prospect of him winning that and winding up back in the White House has serious implications for the nation's intelligence gathering capability, Strzok said.
Strzok said he could imagine a scenario where a CIA case officer identifies a Russian intelligence officer who, whether it's because of dissatisfaction with Russian President Vladimir Putin or a desire to come to the United States someday, is considering becoming a source.
"That person is going to sit there and say: 'I want to, but I'm literally putting my life in your hands. They're going to give me a quick trial, line me up on a wall and shoot me.' They're deciding whether to trust CIA officers," Strzok said. "But also in the back of their mind: What happens if Trump is back in the presidency?"
Given Trump's carelessness with intelligence products, the potential recruit is fully aware that as president, he could easily let it slip or even release it. "Russia gets a hold of it and reads it. They'll know where it's coming from."
Arthur Delaney and Igor Bobic contributed reporting.