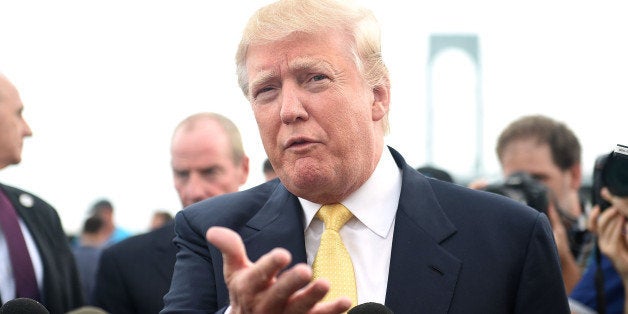 Donald Trump lets everybody know when he doesn't like the way an interview is going.
In a tense appearance with NBC's Katy Tur on Wednesday, the 2016 GOP presidential hopeful fired back at the reporter when she asked questions about guns, China and his infamous comments on Mexican immigrants being rapists and criminals.
Trump, the celebrity hotelier and reality TV star, took offense to Tur asking if he had used a gun, calling it "none of your business."
TRUMP: I have the license to have a gun, yes, I do.
TUR: Do you own one?
TRUMP: Yes, I do.
TUR: Do you use it? Gun range?
TRUMP: That's none of your business. It's really none of your business. I have a license to have a gun.
TUR: Gun control?
TRUMP: What are you talking about?
TUR: Or stronger background checks?
TRUMP: Yes, I have a gun and, yes, I have a permit to have a gun.
When Tur asked Trump whether he might "piss off" foreign governments with divisive comments, like those he made about Mexico, he scolded her and asked her to use television-appropriate language.
TUR: International diplomacy is a delicate thing. You have to watch what you say. How can anybody expect that you're going to be able to get into the White House and watch your mouth when you are so widely panned for these Mexico comments? How are you going to be able to hold your tongue and not piss off other countries?
TRUMP: Do you want to change the word? Are you allowed to use that word on television?
TUR: And not anger other countries?
Trump repeatedly lambasted Tur as inept at her job.
TUR: Why wouldn't you keep your manufacturing here? Your ties, your suits.
TRUMP: Because China so manipulates their currency that it's very hard to find companies that can do business in the United States.
TUR: You're a billionaire though. Why would you not move it here just for having it in America?
TRUMP: Because I'm a businessman. Let me just tell you something, and it's very interesting. You're not bringing up anything new. You're acting like you're the great reporter, blah blah blah.
When Tur mentioned that Pew research contradicted Trump's views on immigration, he snapped.
TRUMP: Don't be naive. You're a very naive person.
TUR: Pew research says that there are, for immigrants on the whole, create --
TRUMP: Come on, get it out. Try getting it out.
TUR: I'll get it out.
TRUMP: I mean, I don't know if you're going to put this on television, but you don't know what you're talking about. Try getting it out. Go ahead.
Trump accused Tur of focusing on negative comments that have been made about him when she brought up his conservative critics, such as Charles Krauthammer.
"Are you going to mention the ones that do like Trump?" he asked. "You don't do that, do you?"
REAL LIFE. REAL NEWS. REAL VOICES.
Help us tell more of the stories that matter from voices that too often remain unheard.
BEFORE YOU GO
PHOTO GALLERY
Donald Trump