WASHINGTON ― The American Civil Liberties Union has slowed down the Trump administration's plan to deport 114 Iraqis, most of them Christians, who were arrested in Michigan last weekend and were expected to face deportation starting Friday.
After the ACLU filed a class-action petition and a motion for a temporary restraining order on behalf of the Iraqis on Thursday, the government set a hearing for Wednesday afternoon and confirmed that deportations would not be allowed to begin until next Friday at the earliest, Rana Elmir, the deputy director of the ACLU of Michigan, told HuffPost.
At the hearing next Wednesday, the detainees will have a chance to tell a judge their fears about what they could face in the war-torn nation, including torture and violent religious persecution, and the judge will have the opportunity to halt the deportations pending further legal proceedings.
The rights group believes President Donald Trump's move to begin the deportations was illegal.
"Not only is it immoral to send people to a country where they are likely to be violently persecuted, it expressly violates United States and international law and treaties," said Kary Moss, the executive director of the ACLU of Michigan, in a Thursday afternoon statement.
"We are hoping that the courts will recognize the extreme danger that deportation to Iraq would pose for these individuals," she added. "Our immigration policy shouldn't amount to a death sentence for anyone."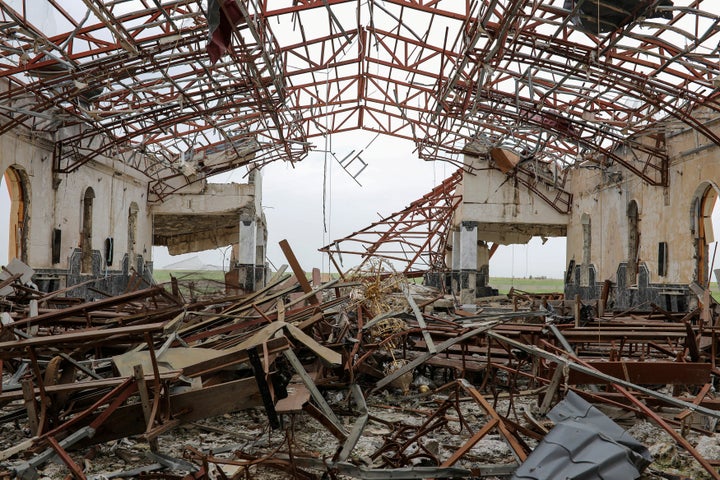 Both the Obama and Trump administrations, along with Congress, have declared the persecution of Christians in Iraq a "genocide" ― suggesting the U.S. has some responsibility to help.
Advocates like Nathan Kalasho, an activist who runs a popular charter school in the area, discussed the feeling of betrayal but avoided drawing sectarian lines: "This is not just a Christian matter," Kalasho told HuffPost on Wednesday.
Shiite Muslims and members of the small Yazidi community ISIS has targeted were among those arrested in Michigan and other states, the ACLU statement said.
The ACLU petition named seven individuals: five Christian Iraqis who were brought to the U.S. as children and two Shiite Muslims, one of whom arrived here as a refugee at age 19. It blasts ICE for holding the petitioners in Ohio, miles from their families.
Most members of the detained group entered the U.S. legally and then lost their legal status because of criminal convictions. Despite receiving removal orders, they remained in the United States because Iraq declined to issue travel documents for most Iraqis who received orders of deportation, the ACLU's petition noted.
On March 12, however, Iraq agreed to start taking back more Iraqi nationals living in the U.S. so it could be dropped from the list of Muslim-majority countries affected by President Donald Trump's travel ban. (The ban policy also invalidated Trump's promise to help Middle East Christian refugees: Decreasing the overall intake of refugees would reduce the number of Christians allowed in.)
"Our immigration policy shouldn't amount to a death sentence for anyone."
ICE does not comment on pending litigation, press secretary Gillian Christensen told HuffPost in an email on Thursday. An earlier statement from ICE said the arrested individuals had already gone through court proceedings and that their previous criminal records posed a "very real public safety threat."
But many of the detained people had their troubles with the law years ago, some for lower-level offenses, according to activists and the ACLU. Since then, they complied with their orders of supervision by periodically checking in with immigration authorities.
"Petitioners, Christian and Muslim alike, cannot be removed to Iraq without being afforded a process to determine whether, based on current conditions and circumstances, the danger they would face entitles them to protection from removal," the petition read.
Activists say the Trump administration move should show the Middle East Christian community in Michigan and around the country that their hopes were misplaced.
"Every move [Trump has] made in the Middle East has been an unmitigated disaster for Christians in the region, and now he's brought his 'Midas touch' to our community in Michigan," Steve Oshana, executive director of A Demand For Action, which works on Middle Eastern Christian issues, wrote in a Thursday email.
Wisam Naoum, a volunteer attorney whose own parents came to the U.S. to escape conflict between Iraq and Iran, said the community now feels trapped between multiple threats.
"Since 2014, our community has been fighting [the Islamic State]. All of our resources have been going to our internally displaced people in the homeland, to galvanizing support for our militias, to getting a political solution," Naoum told HuffPost on Wednesday. "And now in 2017, our war against ISIS has opened up into a two-front war: against ISIS and the Trump administration."
This story has been updated throughout.
Popular in the Community