President Donald Trump said that he is still deciding whether to move the Embassy of the United States in Israel from Tel Aviv to Jerusalem, suggesting he is open to abandoning a controversial campaign promise.
"I'm thinking about it. I'm learning the issue and we'll see what happens," Trump told the Israeli newspaper Israel Hayom, Haaretz reported. "It's not an easy decision. It's been discussed for so many years. No one wants to make this decision, and I'm thinking about it seriously."
As a candidate, Trump repeatedly promised to recognize Jerusalem as Israel's capital and move the U.S. embassy, including in a meeting with Israeli Prime Minister Benjamin Netanyahu in September.
Since his inauguration, however, Trump has been more equivocal on the matter.
There is ample precedent for American presidents reneging on campaign promises to move the U.S. embassy to Jerusalem. Presidents Bill Clinton and George W. Bush both vowed to make the move, but decided in office that it would undermine peace negotiations between Israel and the Palestinians.
The international community largely views the Palestinian areas of East Jerusalem as occupied territory. Few countries recognize Jerusalem as Israel's capital.
Although Israel maintains that Jerusalem is its capital, Palestinians living under Israeli occupation have long sought to make Jerusalem their capital as well, making it a key sticking point in Israeli-Palestinian peace negotiations.
Palestinian Authority President Mahmoud Abbas has warned Trump that moving the embassy would be "disastrous." And Jordan's King Abdullah told the House Foreign Affairs Committee that even Israeli intelligence officials are concerned about the implications of the decision, BuzzFeed News reported.
In the interview with Israel Hayom, Trump also indicated that he is critical of Israeli expansion of settlements in the occupied West Bank.
"I want Israel to act reasonably in the peace process − and that it will finally happen after so many years. And maybe there will even be a possibility of a bigger peace than just Israel and the Palestinians. I want both sides to act reasonably, and we have a good chance at that," Trump said.
"There is limited remaining territory. Every time you take land for a settlement, less territory remains," he added. "I'm not someone who believes that advancing settlements is good for peace. But we are examining a number of options."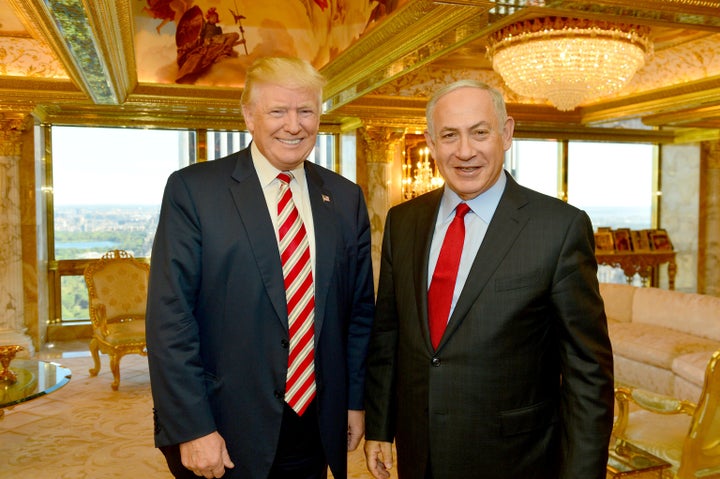 Trump's comments are the strongest suggestion to date that he will adhere to the decades-long U.S. policy of pushing for a two-state solution that involves land concessions by Israel. Last week, White House press secretary Sean Spicer said in a statement that "the construction of new settlements or the expansion of existing settlements beyond their current borders may not be helpful in achieving" peace.
On Monday, however, the Israeli parliament passed a law retroactively legalizing major settlement blocs built on private Palestinian land. The enactment suggests that many right-wing Israeli politicians feel emboldened by Trump's election.
Some of those same lawmakers expressed alarm at Trump's Israel Hayom interview on Friday. Bezalel Smotrich, a member of parliament from the right-wing Jewish Home party, which is in the governing coalition, called the interview "very disturbing."
Israel HaYom is a free daily newspaper bankrolled by American billionaire and Republican donor Sheldon Adelson. It is so well known for its pro-Netanyahu slant that it has earned the nickname "Bibi-ton," a Hebrew portmanteau meaning "Bibi-paper." (Netanyahu is commonly known as "Bibi," a diminutive for Benjamin.)
There is evidence that Trump's interview had Adelson's official blessing. Trump dined with Adelson on Thursday evening at the White House.
On the campaign trail, Trump pleased Adelson and other right-wing supporters of Israel with his strong rhetoric praising the Middle Eastern nation and promises to undo Obama administration policies that were tougher on the Israeli government. Trump notably indicated that the U.S. would be more protective of Israel at the United Nations after former President Barack Obama effectively allowed the U.N .Security Council to pass a resolution in December condemning Israeli settlements in occupied Palestinian territories.
Trump has nominated as U.S. Ambassador to Israel, David Friedman, a supporter of Israeli settlements in the West Bank who has compared those who are part of the liberal Israel advocacy group J Street to Jewish concentration camp guards, implying members of the organization are equivalent to Nazi collaborators. The Senate Foreign Relations Committee plans to hold a confirmation hearing for Friedman as early as next week, Haaretz reported.
Before You Go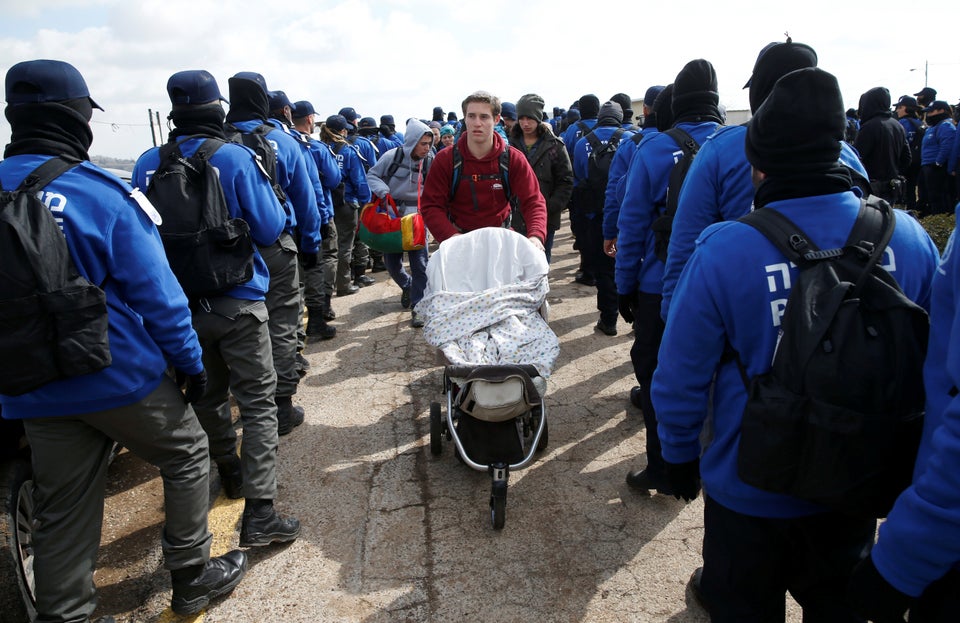 Israeli Settlers Removed From West Bank Outpost
Popular in the Community