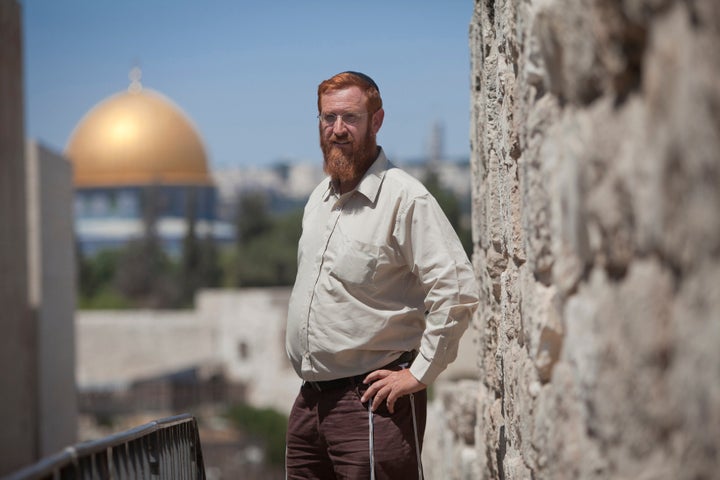 OTNIEL, West Bank — When Rabbi Yehuda Glick received an invitation to attend the inauguration of President Donald Trump, he was shocked. He had never attended such a historic event.
It wasn't just a first for Glick. Trump's inauguration marked the first time an American president invited a member of Israel's parliament or a resident of an Israeli settlement to his swearing-in. Glick is both.
Glick described the experience as a deeply religious one in an interview at his home in the West Bank settlement of Otniel, which overlooks the lush green hills surrounding the biblical town of Hebron.
"The whole time I was praying," Glick said. "Here we have the potential for something great to happen, but at the same time, it's like holding a diamond in your hands that can fall and get lost. It was a very strong feeling of being part of a very historical event on the one hand and not knowing where it could lead. I'm still praying."
Glick became a member of Israel's parliament, the Knesset, just last year, but he was already a controversial figure in the country before entering politics. In 2014, he narrowly survived an assassination attempt in Jerusalem, after delivering a speech calling for Jewish prayer on the Temple Mount, a sacred site for both Jews and Muslims, though only Muslims are permitted to pray there. As Glick approached his car afterward, a Palestinian man shot him point blank in the neck, chest, stomach and hand, declaring him an "enemy of Al-Aqsa," the mosque that sits atop the Temple Mount.
Now a member of parliament for Prime Minister Benjamin Netanyahu's right-wing Likud party, Glick continues to advocate for Jewish prayer on the religious site. He is also a champion of the Israeli settlement movement, calling for the expansion of settlements in the Palestinian territories and the integration of those areas under a single Israeli state. Due to the threats that continue to follow him, Glick has a 24-hour armed body guard stationed in a metal hut on his front yard.
President Barack Obama's administration wouldn't have been caught dead associating with Israelis such as Glick. Yet in a sign of the many global shifts that have taken place since Trump's election, the new administration is treating Glick and those like him quite differently.
Glick was among five Israeli lawmakers and settler leaders invited to attend Trump's inauguration. During his visit to Washington, he spent Shabbat with Jason Greenblatt, Trump's lead envoy for Palestinian-Israeli negotiations, and Greenblatt's family.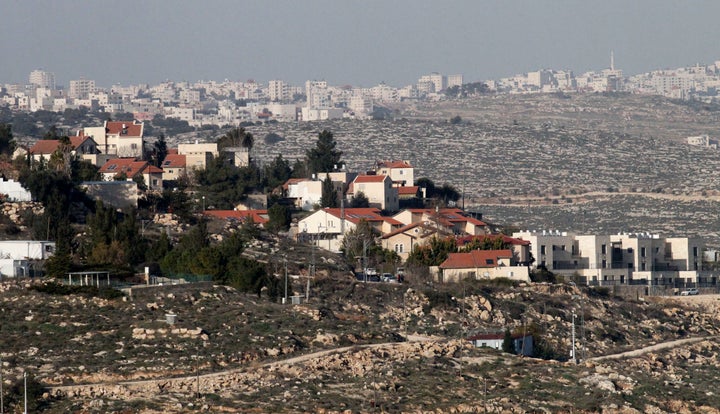 In the months leading up to the inauguration, Trump had made overtures to Israel's right wing, making sweeping promises to recognize Jerusalem as the undivided capital of Israel and move the U.S. embassy there.
Trump nominated David Friedman as U.S. ambassador to Israel. The bankruptcy lawyer previously headed American Friends of Bet El, a West Bank settlement, and has helped raise millions of dollars for other settlements. Greenblatt, whom Trump tapped to lead negotiations, is a real estate lawyer and an Orthodox Jew who attended a religious school in a settlement in the West Bank.
Once Trump was in office, the Israeli government didn't hesitate to act. The transition of power in the U.S. resulted in an almost immediate shift in Israeli political calculations. The day after Trump's election, Israel's powerful right-wing education minister, Naftali Bennett, declared Trump's victory "an opportunity for Israel to immediately retract the notion of a Palestinian state."
Less than two weeks after the inauguration, Prime Minister Netanyahu announced plans for the first new settlement in 25 years, in addition to more than 5,000 new units in existing settlements. Days later, the government passed a law to retroactively legalize settlements that were illegally built on privately owned Palestinian land. A week later, Trump hosted Netanyahu at the White House for one of his first meetings with a foreign leader. Ever since that meeting, the White House home page has been stamped with a link declaring "President Trump Stands with Israel."
Large parts of the Israeli public seemed to share the view of Trump as a staunch ally of Israel. A January Jerusalem Post poll found that 79 percent of Israelis surveyed viewed Trump as pro-Israel, compared with 12 percent who said the same of Obama.
For many settlers, "the election of President Trump was a kind of miracle," said retired Israeli Brig. Gen. Shlomo Brom, a former peace negotiator who now works at Israel's Institute for National Security Studies. "Everyone predicted that Clinton would be elected, so for them this is something that was done by God, which means that God supports them."
Glick himself has compared Trump to Cyrus the Great, the biblical king who issued an edict for the building of the Second Temple in Jerusalem. "I believe we're living in a biblical era," Glick said at his home in Otniel.
Yet Glick hadn't always been supportive of the billionaire-turned-politician. Born in Brooklyn, Glick had to give up his American citizenship when he became a member of the Knesset. He wasn't able to vote in the November 2016 election for that reason, and he declined to support either candidate during the presidential race.
During the campaign, he expressed fierce criticism of Trump's rhetoric and of some of his past choices. When a 2005 recording of Trump bragging about grabbing women emerged last October, he tweeted "When at every corner you see that the man is a savage, I tried to ignore and believe despite it all. I was wrong! Mr Trump go home. Enough is enough! Yuck."
But Glick says that once Trump was elected, he felt the need to put his weight behind the new president. "Yes, I spoke out about his style of speech, but now that he's president, we have to pray that he succeeds," Glick explained. "I believe that if he became president, then God wants him to be president. And if God wanted him to be president, then we can only hope that he chooses to do the right things."
Glick believes that with Trump in the White House, Israel will no longer be forced to agree to a two-state solution to the Palestinian-Israeli conflict, the option U.S. administrations have championed since the emergence of the conflict. Rather, Glick and many other settlers want to drastically expand the Israeli settlements in East Jerusalem and the West Bank despite fierce opposition from the Palestinians and much of the international community. Eventually, they want to see Israel annex those areas.
Last month, Trump indeed indicated that he would not predicate peace on the establishment of a separate Palestinian state. "I'm looking at two-state and one-state, and I like the one that both parties like ... I can live with either one," the president said at a joint news conference with Netanyahu.
"Trump said he's open to any deal, and that's already a good beginning," Glick praised the president. One of the biggest obstacles to peace in the past, Glick added, had been that "for many years people said there's only one solution, there's only a two-state solution."
"I think now is the time to think out of the box," Glick said.
Joel Copeland, who lives near Glick and is the chairman of Otniel, echoed Glick's assessment that the U.S. will be a stronger partner under Trump. The political barriers to building in the settlements are now receding, Copeland said. The Palestinians, on the other hand, "realize that they don't have the U.S. as a partner to cry to anymore."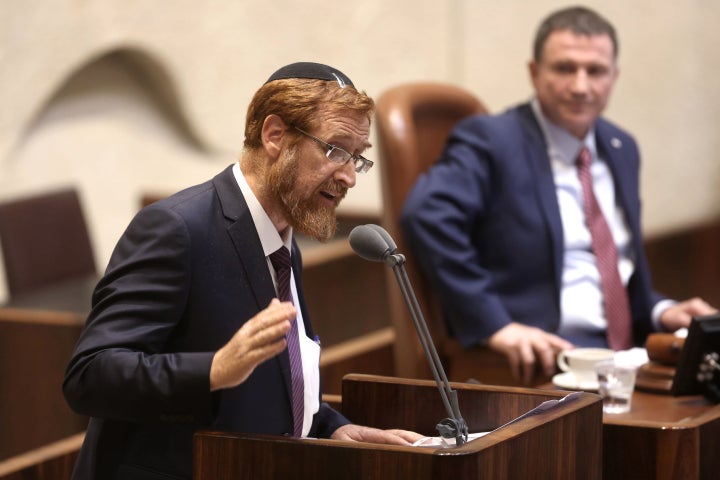 While Trump's hints at his willingness to depart from the two-state-solution policy are encouraging to settlers, he has yet to develop an official policy on Israeli settlements. Some of the president's latest remarks on the topic were more critical.
Even amid their friendly meeting in Washington in February, Trump told Netanyahu, "I'd like to see you hold back on settlements for a little bit."
While Glick wasn't pleased with Trump's request, he also didn't take it very seriously, chalking it up to politics. "I understand that right now he's under very strong pressure," he said.
Many settlers remain optimistic and point at the radical difference between their non-relationship with the Obama administration and their rapprochement with Trump and his Mideast policy team.
When Greenblatt visited the region earlier this month, he met with Netanyahu, Palestinian President Mahmoud Abbas, Jordanian King Abdullah and community groups from all sides. Greenblatt also met with settlement leaders, something Obama administration officials never did.
For Oded Revivi, the mayor of the settlement of Efrat and the chief foreign envoy for the Yesha Council, a leading settlement advocacy group, the mere fact that the meeting took place represented a sea change. Revivi was in that meeting and was one of the settlement leaders invited to attend Trump's inauguration.
"This administration is more open-minded than previous administrations in that they don't come here and say, 'We know what the answer is,'" he said. "They're in the process of hearing from everyone involved, examining and analyzing, and then I assume they will come back with some sort of initiative."
Related
Popular in the Community