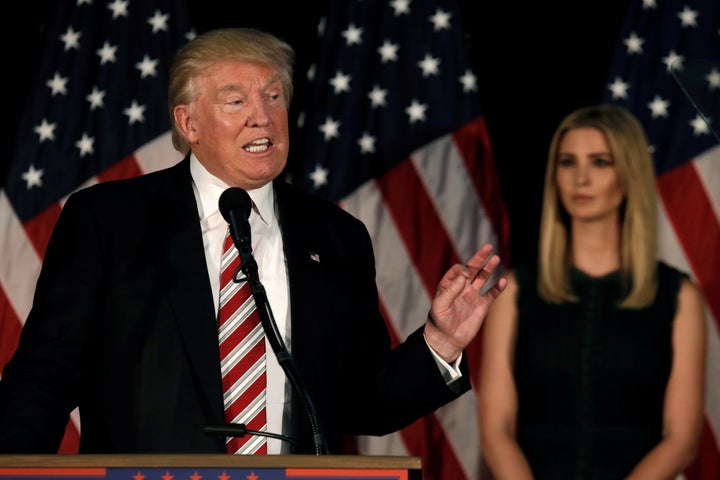 Gay fathers would not get any paid time off under the parental leave plan proposed by Donald Trump.
On Tuesday, the Republican presidential nominee presented a policy offering new mothers six weeks of maternity leave, but the details were murky. The campaign told The Huffington Post that fathers wouldn't be included, but did they actually mean to exclude gay men who adopt? Or women who adopt? Would same-sex couples get the benefit at all?
Ivanka Trump danced around these questions in an interview with Cosmopolitan magazine on Wednesday. When asked if her father's plan would cover gay couples in which both partners are men, she didn't answer. Instead, Trump emphasized the plan was intended to give women time to physically recover from childbirth.
When pressed on the question of same-sex couples, she again dodged the issue. "The policy is fleshed out online, so you can go see all the elements of it," she told Cosmo. "But the original intention of the plan is to help mothers in recovery in the immediate aftermath of childbirth."
When asked to confirm that gay men would not be included, Trump laughed ― it's not entirely clear why. Read for yourself: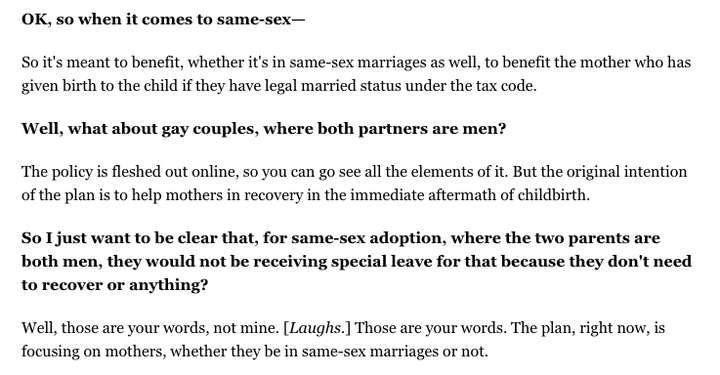 The Trump campaign's website confirms that only new birth mothers would get the six weeks off: "The Trump plan will enhance Unemployment Insurance (UI) to include 6 weeks of paid leave for new mothers so that they can take time off of work after having a baby."
The Trump campaign claims online that its plan is similar to one in place in California; however, that state's plan covers all new parents ― including foster parents and those who adopt. Connecticut, New Jersey and Rhode Island all have paid parental leave that is inclusive of adoptive and foster parents.
It's not unusual for birth mothers to get more paid time off to care for a child than adoptive parents ― gay or straight. Some states fund maternity leave through disability insurance, which kicks in only for those who have a medical birth. For this reason, birth mothers may often wind up entitled to more leave than men or women who adopt.
However, a public leave policy that completely ignores adoptive or foster parents is extremely unusual in the U.S.
Current federal law provides 12 weeks unpaid time off for some full-time workers at large companies to care for a new baby or a seriously ill family member. The Family and Medical Leave Act, signed by Bill Clinton, makes no distinction between birth mothers and adoptive parents.
The U.S. is the only developed country in the world that does not offer paid maternity leave to its citizens.
Hillary Clinton's paid leave proposal would offer 12 weeks of time off to new parents, including adoptive ones, as well as workers who need to care for seriously ill family members.
Donald Trump has a mixed history on gay rights. He's said in the past that he would appoint judges who would overturn marriage equality, and has given his support to North Carolina's passage of a bill that discriminates against LGBTQ people.
Yet he also told the audience at the Republican National Convention this summer, "As your president, I will do everything in my power to protect our LGBTQ citizens from the violence and oppression of a hateful foreign ideology, believe me."
Popular in the Community