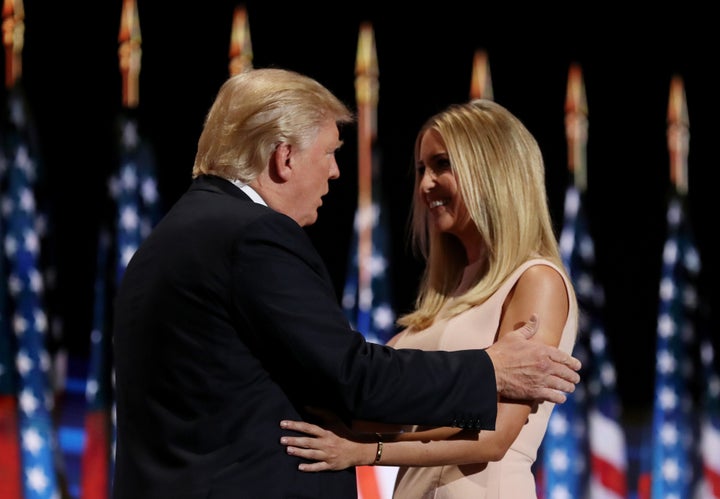 WASHINGTON ― Multiple female Fox News employees have offered detailed, horrifying accounts of sexual abuse by former Fox chief Roger Ailes. But Republican presidential nominee Donald Trump remains skeptical of their allegations, and said last week that if his daughter Ivanka were sexually harassed at work in the way these women describe, he hopes she would simply find another job.
Eric Trump echoed his father's remarks Tuesday, telling "CBS This Morning" that, "Ivanka is a strong, powerful woman" who "wouldn't allow herself to be subjected to it."
Later in the day, Ivanka Trump herself weighed in, telling Fox News' Greta van Susteren that "sexual harassment is inexcusable in any setting."
"I think harassment in general, sexual or otherwise, is totally inexcusable," Ivanka Trump said. "And if it transpires, it needs to be reported and it needs to be dealt with on a company level. We have a very strong HR team at the Trump Organization who is equipped to deal with these issues if they arise, and you hope they never arise. You hope you have a culture in which they don't arise. But when they do, it needs to be dealt with swiftly."
"I can tell you that some of the woman that are complaining, I know how much he's helped them. And even recently," Trump said. "And when they write books that are fairly recently released, and they say wonderful things about him. And now, all of a sudden, they're saying these horrible things about him. It's very sad."
What is even more sad is Trump's failure to realize that when men with authority abuse their power, it too often entrenches a culture of fear, silence and powerlessness.
This article has been updated to include comments from Eric Trump and Ivanka Trump.
Popular in the Community