WASHINGTON — For the third time in four months, Donald Trump was dragged into a courtroom Thursday and charged with felonies that could bring him years in prison, this time for his schemes to remain in power despite having lost the 2020 election that culminated in his violent Jan. 6, 2021, coup attempt.
The former president, technically under arrest yet again while the judge set the conditions of his release, pleaded not guilty to four counts of conspiring to defraud the United States, conspiracy to obstruct an official proceeding, obstructing an official proceeding and unlawfully depriving voters of their civil rights.
Trump stated his name, his age, told the magistrate judge that he had not taken any medication that would affect his ability to understand the proceedings, and then listened to her explain that he could face a cumulative 55 years if convicted on all four counts. He then stood and pleaded not guilty to all the charges.
Judge Moxila Upadhyaya then warned Trump not to speak about the case with other witnesses, before informing him that he would not be required to appear personally at his next court date, Aug. 28. That hearing will be before the U.S. District Judge Tanya Chutkan, who has earned a reputation for handing out stiff sentences to Jan. 6 insurrectionists who have been convicted in her courtroom.
As he has for each of the previous indictments against him, Trump remained defiant and claimed prosecutors were only charging him to hurt his campaign. "I AM NOW GOING TO WASHINGTON, D.C., TO BE ARRESTED FOR HAVING CHALLENGED A CORRUPT, RIGGED, & STOLEN ELECTION. IT IS A GREAT HONOR, BECAUSE I AM BEING ARRESTED FOR YOU. MAKE AMERICA GREAT AGAIN!!!" he wrote on his social media platform early Thursday afternoon.
The arraignment took place at the E. Barrett Prettyman federal courthouse on Constitution Avenue, just eight blocks from the White House, where Trump is accused of having carried out crimes with at least six as-yet-unnamed co-conspirators, but whose identities likely include advisers such as lawyers Rudy Giuliani and John Eastman.
The courthouse is also just four blocks from the Capitol, where a mob of Trump's followers, incited by a rally where he continued pushing his lies that the 2020 election had been "stolen" from him, assaulted police officers to enter the building in an attempt to stop the congressional ceremony to certify Democrat Joe Biden's win.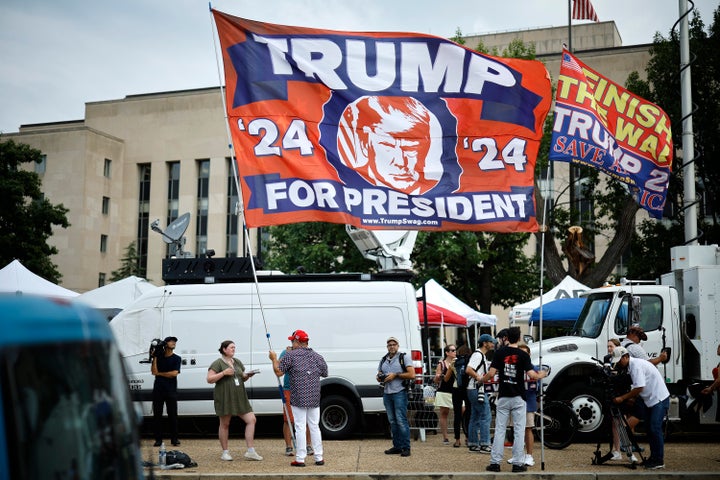 The conspiracy to defraud and obstruction charges are based on Trump's plan to get Republicans in seven states Biden won to submit fake slates of electors to the National Archives and the U.S. Senate, with the goal of using these forged certifications to coerce then-Vice President Mike Pence into awarding Trump a second term. The civil rights charge is based on the argument that Trump disenfranchised millions of voters in those states by attempting to have their votes nullified.
"This is a very sad day for America," Trump said in a 45-second statement on the tarmac at Reagan National Airport just before he boarded his personal 757 jetliner to return to his golf course in central New Jersey. "This is a persecution of a political opponent. This was never supposed to happen in America."
Trump further said: "It was also very sad driving through Washington, D.C., and seeing the filth and the decay, and all of the broken buildings and walls and the graffiti. This is not the place that I left."
It was unclear why Trump lied about "seeing" the state of the capital, as his motorcade was on Interstate 395, which is surrounded by concrete walls and then runs underground beneath the National Mall for all but the final three blocks to and from the airport in Arlington, Virginia.
The new indictment, unsealed Tuesday, follows another federal indictment in June that charged Trump with illegally retaining secret documents at this Florida country club and then trying to hide them from authorities seeking their return. He was also indicted in New York City in April for falsifying business records to conceal a $130,000 hush-money payment to a porn star in the days leading up to the 2016 election.
A fourth indictment against Trump is possible in Georgia, where the Atlanta-area district attorney is presenting evidence to a grand jury that Trump attempted to coerce state officials into overturning his loss to Biden in that state.
Trump would, if convicted in the cases to date, face decades in prison. But if he succeeds in regaining the White House in next year's election, he would have the authority to end the federal prosecutions against him entirely and would likely be able to persuade state courts to suspend criminal cases against him for the duration of his presidency.
Despite all the criminal cases against Trump, though, his Republican rivals, with few exceptions, have been unwilling to criticize him for his actions that led to the charges, choosing instead to attack the prosecutions as politically motivated. Possibly as a result of this, Trump dominates the GOP field in polling for the 2024 nomination, with massive leads in national surveys and double-digit leads in the early-voting states.
Material from The Associated Press was used in this report.
Support HuffPost
The Stakes Have Never Been Higher
Popular in the Community