Republican presidential candidate Donald Trump couldn't say definitively that he wouldn't have voted in favor of Japanese internment during World War II, since war involves making difficult decisions.
"I would have had to be there at the time to tell you, to give you a proper answer," he told TIME. "I certainly hate the concept of it. But I would have had to be there at the time to give you a proper answer."
Countries must implement questionable policies in order to win wars, he continued. "It's a tough thing. It's tough," he conceded. "But you know war is tough. And winning is tough. We don't win anymore. We don't win wars anymore. We don't win wars anymore. We're not a strong country anymore. We're just so off."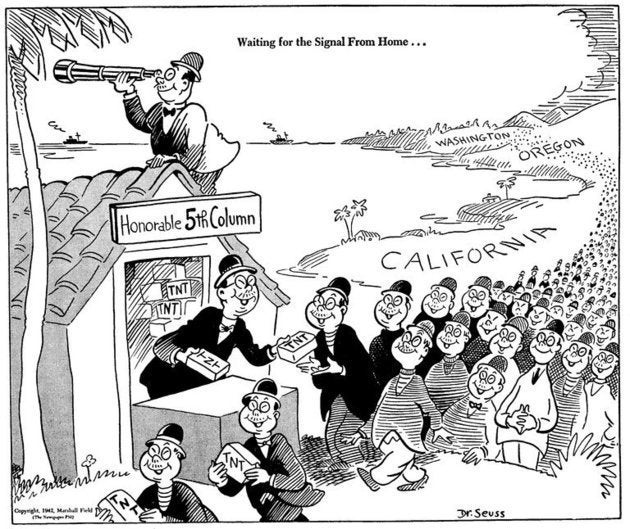 But Al Baldasaro (R-N.H.), a co-chair of Trump's New Hampshire campaign, said Trump is "100 percent right."
"What he's saying is no different than the situation during World War II, when we put the Japanese in camps," Baldasaro, a Marine veteran, said. "The people who attacked innocent people in Paris came through open borders. From a military mind standpoint, all Donald Trump is saying is to do what needs to be done until we get a handle on how to do background checks."
In the wake of Japan's attack on Pearl Harbor on Dec. 7, 1941, President Franklin Delano Roosevelt issued an executive order forcibly removing 120,000 people of Japanese descent from their homes and imprisoning them in so-called "internment camps." The centers were dismantled at the end of World War II.
Trump is not the first candidate to allude to Japanese-American internment in the wake of the recent terror attacks in Paris and San Bernardino, California. David Bowers, the Democratic mayor of Roanoke, Virginia, claimed recently that Syrian refugees pose as large a threat to the U.S. as "Japanese foreign nationals after the bombing of Pearl Harbor."
Calling all HuffPost superfans!
Sign up for membership to become a founding member and help shape HuffPost's next chapter