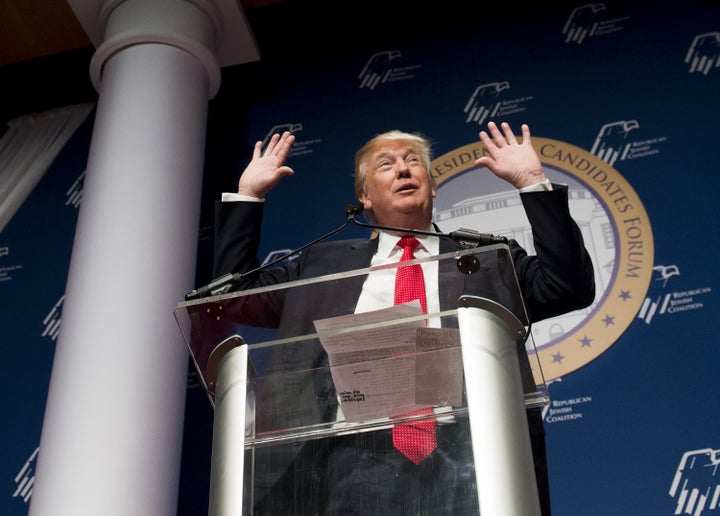 It might be ironic to see Charles Spies, lawyer for Bush's Right to Rise super PAC, file a complaint against another candidate after Right to Rise has been the subject of multiple FEC complaints and a referral for investigation by the Department of Justice, but the allegation is worth considering nonetheless.
At issue is Trump's reliance on Alan Garten, the counsel paid by his Trump Organization, to threaten other political organizations running negative advertisements against Trump with a "multi-million dollar lawsuit" if they do not cease and desist. 
The complaint leveled against Trump, his campaign and his company alleges that Garten's letters threatening retribution are in fact an in-kind corporate contribution. Federal political candidates are banned from receiving corporate contributions whether direct or in-kind. Spies' complaint further argues that Trump is in violation of the 2002 Bipartisan Campaign Reform Act's ban on the solicitation and use of funds that exceed candidate contribution limits, also known as "soft money."
Trump's campaign has claimed that Garten is simply providing his services on a volunteer basis, something allowed by law. However, the fact that his legal threats are communicated on official Trump Organization letterhead is a seeming indication that they carry the full weight of the corporation.
The outcome of this complaint will likely not be known for sometime as the FEC generally takes years to fully investigate serious violations of campaign finance law. Even then, those investigations can often end with no determination of a violation if the commissioners deadlock on a vote to find any wrongdoing or impose any penalty.
In the meantime, the actions that spurred the complaint do provide a preview of the kinds of conflicts that could emerge from a Trump presidency. As The Huffington Post has reported, many important conflict of interest ethics laws do not apply to the presidency, which would allow Trump to maintain control of the Trump Organization while also occupying the presidency.
Even if Trump handed off control of the corporation to his children, as he maintains he would do if elected, its lawyers could still pursue legal action, backed by the company's treasury, against critics making negative remarks, running negative advertisements or speaking negatively about Trump in the press.
Read the FEC complaint against Trump and the letter Spies sent to Trump's lawyer below:
REAL LIFE. REAL NEWS. REAL VOICES.
Help us tell more of the stories that matter from voices that too often remain unheard.