President Donald Trump suggested he will grant Joe Arpaio, the controversial former sheriff of Maricopa County in Arizona, a pardon for criminal contempt.
During a campaign-style rally in Phoenix on Tuesday, Trump signaled a pardon could come soon.
"I'll make a prediction: I think he's going to be just fine, OK?" Trump said. "But I won't do it tonight because I don't want to cause any controversy."
White House Press Secretary Sarah Huckabee Sanders had initially told reporters earlier Tuesday there would be "no discussion of that today at any point."
Fox News reported on Aug. 14 that the president was "seriously considering" pardoning Arpaio, a strong Trump supporter who was convicted of criminal contempt for violating a 2011 court order in a racial profiling case. Arpaio has been scheduled to be sentenced Oct. 5 and faces a maximum penalty of six months in jail and a fine, according to Reuters.
In 2013, a federal judge ordered Arpaio to halt his department's practice of routinely stopping Latino drivers because they might be undocumented immigrants, ruling it amounted to racial profiling. Arpaio had his officers conducting what he called "saturation patrols" in an attempt to find people who had entered the country illegally.
Arpaio, 85, later publicly acknowledged he violated that judge's order but argued that his action were "not intentional."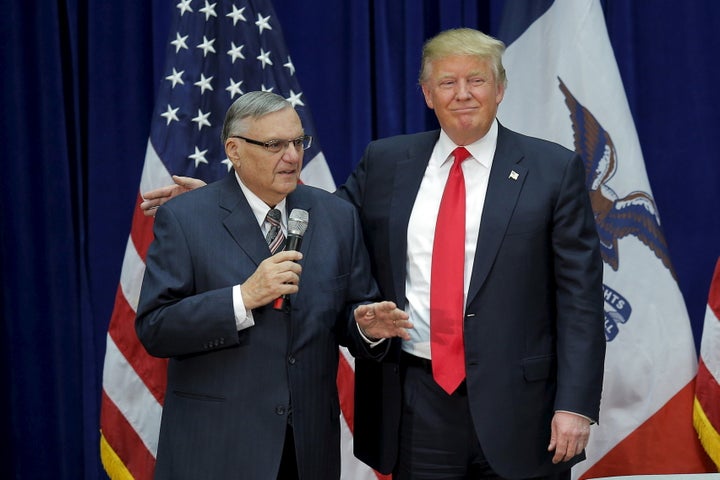 While speaking with Fox News, Trump called Arpaio "a great American patriot."
"I hate to see what has happened to him," Trump said.
After Trump broached the prospect of a pardon, the American Civil Liberties Union bluntly criticized such a move in a series of tweets. "Make no mistake," one said. "If Trump pardons Arpaio, this would be an official presidential endorsement of racism.
Arpaio was a leader in the birther movement that questioned whether former President Barack Obama was a natural-born U.S citizen, which cast doubt on his legitimacy to serve as president. Arpaio led a years-long investigation into Obama's birth certificate, which the then-president released in April 2011, showing he was born in Hawaii on Aug. 4, 1961.
Trump also spent years touting birther conspiracies. He didn't acknowledge Obama was born a U.S. citizen until September 2016, less than two months before Trump won the presidency. Even after he held a press conference on the issue ― during which he said, "President Barack Obama was born in the United States. Period." ― Arpaio floated the idea that Trump might still doubt the legitimacy of Obama's birth certificate.
"He didn't say the document was legitimate. He didn't go that route," Arpaio told Politico in September.
Amid this controversy, Arpaio in November lost his re-election bid to Democrat Paul Penzone. Arpaio had served as Maricopa County sheriff since 1993.
Arpaio dubbed himself "America's toughest sheriff," and gained national notoriety for a variety of his practices. Along with his hard-line stance on undocumented immigration, he sparked criticism for setting up a "tent city" jail for some prisoners in an area where summer temperatures often exceed 100 degrees. He also made inmates wear pink underwear and uniforms featuring stars and stripes.
Support HuffPost
The Stakes Have Never Been Higher
Before You Go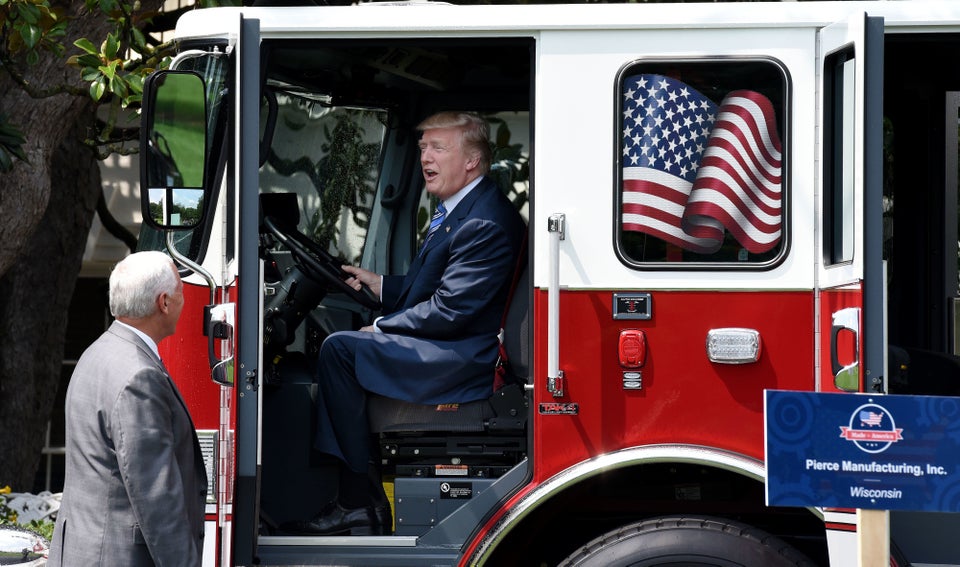 Trump's 'Made In America' Week
Popular in the Community