Turkish officials say they have evidence that Khashoggi was murdered by a group of Saudis who arrived by plane the morning of his disappearance. The growing likelihood that a U.S. resident was murdered inside the consulate of a purported ally has caused a major international crisis for Saudi Arabia and its powerful crown prince, Mohammed bin Salman.
The president's son retweeted an exchange between Patrick Poole, a terrorism correspondent for the conservative website PJ Media, and Sean Davis, co-founder of The Federalist, a conservative news site. 
On Friday morning, Poole tweeted an image of a 1988 news article with Khashoggi's byline that identifies the journalist holding a rocket-propelled grenade in a photo with mujahedeen in Afghanistan. The article has been cited in a book on Osama Bin Laden by CNN national security analyst Peter Bergen and another book on wars in Afghanistan by researcher Barnett R. Rubin, suggesting it is authentic.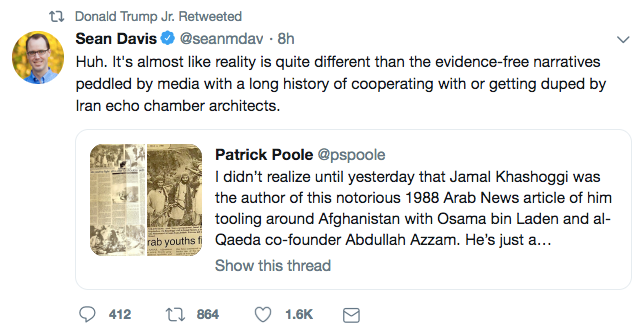 What Trump Jr., Poole and Davis conveniently ignore is that when Khashoggi wrote the article, the United States government (and Osama bin Laden) also backed the Afghan fighters in their conflict with the Soviet Union.
"He's just a democrat reformer journalist holding a RPG with jihadists," Poole tweeted of Khashoggi.
"Huh," Davis tweeted at Poole. "It's almost like reality is quite different than the evidence-free narratives peddled by media with a long history of cooperating with or getting duped by Iran echo chamber architects."
Trump Jr. retweeted Davis' response.
Khashoggi, who had written critically of the Saudi government in recent years, was living in a self-imposed exile in Washington, D.C. He went missing after entering the Saudi consulate in Istanbul on Oct. 2, and the Saudi government has denied involvement in his disappearance.
"This took place in Turkey and to the best of our knowledge, Khashoggi is not a United States citizen," Trump told "Fox & Friends" on Thursday.
U.S. Secretary of State Mike Pompeo urged Saudi leaders to be supportive and transparent about an investigation into Khashoggi's disappearance.
Calling all HuffPost superfans!
Sign up for membership to become a founding member and help shape HuffPost's next chapter