Donald Trump Jr. tweeted Tuesday morning at 11 a.m. that he wanted to be "totally transparent" after facing several days of questions about news stories of a June 2016 meeting he had with a Russian lawyer and his reported interest in learning potentially compromising information about Democratic challenger Hillary Clinton from the meeting. 
President Donald Trump later in the day applauded his son's "transparency." 
But Trump Jr.'s decision to release emails related to the meeting only came after the New York Times informed him it already had the goods.
On Tuesday morning, the Times asked Trump Jr. to respond by 11 a.m. to new details it had learned from emails about the meeting, according to deputy managing editor Matt Purdy. Given the possibility Trump Jr. would try to get out in front of the story, the Times had a version of it ready to go. Shortly after Trump Jr.'s 11 a.m. tweet, the Times published its initial story, followed by a more comprehensive version soon after. 
The reporters wrote Tuesday about how Trump Jr. received an email before the June 2016 meeting from an intermediary who had promised "very high level and sensitive information" that is "part of Russia and its government's support for Mr. Trump." Trump Jr. quickly emailed back: "If it's what you say I love it especially later in the summer." Six days later, Trump Jr., then-campaign-chairman Paul Manafort, and son-in-law and top adviser Jared Kushner met with Kremlin-connected lawyer Natalia Veselnitskaya at Trump Tower.
As President Donald Trump and his supporters repeatedly malign the news media, attempting to portray any scrutiny of the administration's policies and behavior as "fake news," the Times and other major news outlets have continued digging into questions of whether Trump allies colluded with Russia as part of that country's efforts to interfere with the 2016 election in support of the Republican candidate.
The Times' Tuesday scoop is the latest example of the press nudging administration officials or family members to reveal details about their interactions with Russian officials or individuals linked to the Kremlin.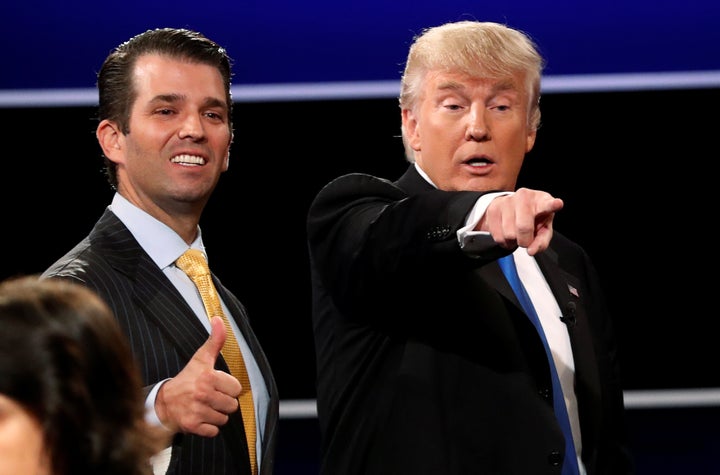 Trump Jr. could have released the emails on Saturday, when the Times began asking him about the June 2016 meeting. Instead, he portrayed the discussion to the Times as being "primarily" about adoption of Russian children. He acknowledged Sunday that he had expressed interest in potentially damaging material from the Russians about Clinton ― after the Times informed him of plans to reveal it.
That night, Apuzzo, Becker, Goldman and Times White House correspondent Maggie Haberman revealed Trump Jr. had learned in an email prior to the meeting that Russia sought to aid his father's presidential campaign. 
Fox News' pro-Trump primetime hosts downplayed the major news break as it was being covered on rival networks Monday night. Reliably supportive Breitbart News, which was previously run by chief White House strategist Steve Bannon, led Tuesday morning with a story noting that Times reporters had not actually seen the emails (they had never claimed to).
Breitbart News dismissed the report as "only the latest effort by the Times to bring down President Donald Trump that relies on documents it has not seen and verified."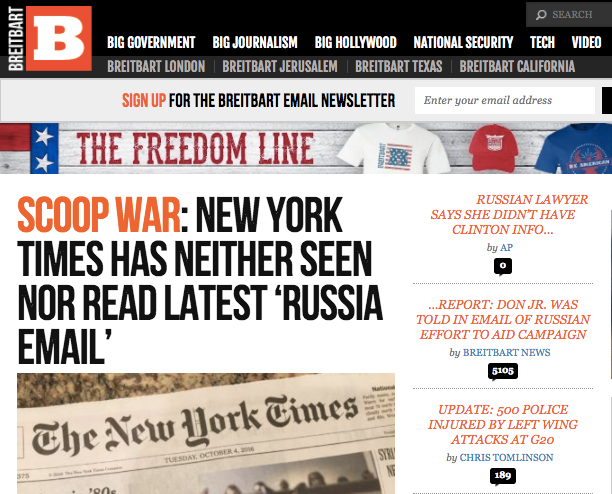 But around the same time the pro-Trump site questioned the Times' scoop, the paper's reporters, now having knowledge of the contents of the emails, were pressing Trump Jr. for comment.
Instead of replying directly to the Times, Trump Jr. ― who is popular among the president's base of supporters for staunch defenses of his father and attacks on the news media on Twitter― utilized the social media platform to briefly get ahead of the Times' story. 
However, journalists saw the press as the catalyst for this act of transparency.
"Reminder: These disclosures are not happening out of any action of good will," Boston Globe deputy Washington bureau chief Matt Viser tweeted. "They're happening because investigative reporters are digging."
One of those investigative reporters, the Times' Goldman, expressed a similar sentiment. 
The Times' recent stories on Trump Jr. followed the paper's reporting in April on Kushner initially omitting his meetings with Russians, and other foreign government officials, on security forms he submitted to gain top-secret clearance at the White House. The 2016 meeting was only recently disclosed to government investigators, the Times noted in Saturday's initial story.
Learning about the meeting "got us pulling at the string," said Purdy. For several days afterward, he said, journalists in New York and Washington worked round-the-clock to confirm more details about what transpired at Trump Tower a little over a year ago. Indeed, Goldman tweeted just after 11 p.m. on Monday that he was "still reporting."
Purdy said the Times, like other news organization, is "spending a lot of resources" in looking into ongoing questions about Trump ties to Russia.
"Certainly the activities and actions on all sorts of issues by administration officials and people connected to the administration are important to public knowledge and an important target for journalism," he said. 
And Goldman indicated Tuesday afternoon on Twitter that he and his colleagues' work isn't over. 
"I am still reporting," he said.
REAL LIFE. REAL NEWS. REAL VOICES.
Help us tell more of the stories that matter from voices that too often remain unheard.