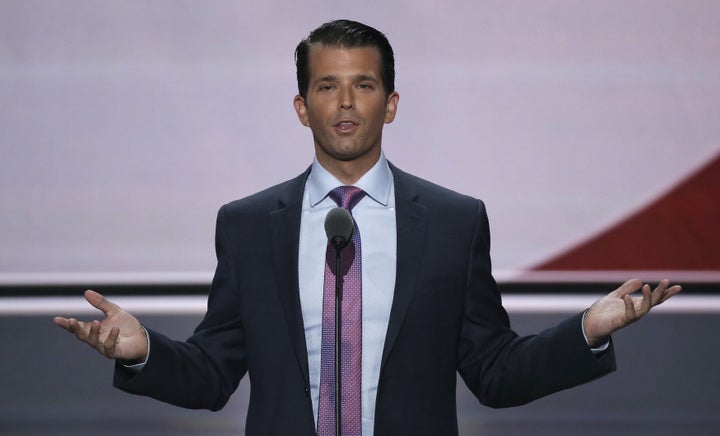 It was a difficult argument for the son of the billionaire presidential candidate to make. Then, shortly after Trump Jr. delivered his speech, a Twitter user named @kept_simple resurfaced this 2012 tweet:
The term greenskeeper generally refers to a person responsible for taking care of a golf course.
It's not clear if this tweet was meant to be a joke. Even if it was, the sentiment behind it is not a good look for Trump Jr., who used his platform at the GOP convention to speak reverently about his father's support for regular, working people ― the kinds of people who might be overlooked because they didn't attend "fancy colleges." 
The tweet seems to demonstrate a bit of cluelessness when it comes to the decisions some people have to make when it comes to work and family. Valuing someone's "loyalty" because they skipped an important family event hardly seems to qualify as supportive. Most of us want a boss who allows us to have a life outside of work.
Unlike many rich-and-famous young people, the Trump kids are known for working hard and not embarrassing themselves by overtly flaunting their wealth.
Still, Trump Jr. earned a bachelor's degree from the University of Pennsylvania's Wharton School ― one of the most prestigious business schools in the world. He attended a private boarding high school. His childhood was not like that of the average working-class person, to be sure.
"If you're from New York, you go to Peter Luger, Le Cirque, Jean Georges and Daniel," he told BlackBook in a 2010 interview, referring to some well-known, expensive restaurants in the city. "Growing up in a household like ours, we had chefs, and as a child, I didn't like the idea of people working for me because I didn't think I earned it, so I watched the chefs we had, and I'd duplicate it. Now, my wife and I cook all the time."
Growing up in the public eye wasn't always easy on Trump Jr., particularly when he was young and his parents were going through a bitter, well-publicized divorce. He was primarily raised by his mother, Ivana. He has worked for the Trump Organization since 2001. 
As a kid, Trump Jr. apparently was put to work on family construction sites during the summers.
"I was there with him by his side on job sites, in conference rooms from the time I could walk," he said during his convention speech. 
It is unclear if he missed any family events due to work demands.
Calling all HuffPost superfans!
Sign up for membership to become a founding member and help shape HuffPost's next chapter