President Donald Trump's son, son-in law, and campaign chairman met secretly in June 2016 with a woman they'd been told was a Russian government attorney who could provide documents that, as part of "Russia and its government's support for Mr. Trump," would "incriminate" Hillary Clinton, according to emails released by Donald Trump Jr. on Twitter Tuesday morning.
The emails, which were also obtained by The New York Times and which were released by Trump Jr. shortly before the Times published its scoop, blow up the Trump team's longtime story that they were unaware of Russian support for his campaign and did not seek it.
But that's not all that's noteworthy about the news. Here are the highlights:
1. The emails explicitly refer to "Russia and its government's support for Mr. Trump" and show Trump Jr. agreeing to a meeting with a "Russian government attorney" to obtain documents from the Russian government.


The Trump administration and the president himself have repeatedly denied that anyone from his campaign had any contact with Russian officials. It's not clear whether Natalia Veselnitskaya, the Russian lawyer, actually works for the Russian government. She has denied it. But the most important bit here isn't her actual status — it's what the Trump aides believed her status was.
The email explicitly claims that Veselnitskaya is a Russian government attorney who would be providing "official documents" that "incriminate Hillary" via a Russian government prosecutor. Trump Jr. and other top Trump advisers agreed to meet with her anyway.
2. Rob Goldstone, the British publicist who set up the meeting, offered to send information directly to Donald Trump via Trump's secretary, Rhona Graff.

The entire context of the emails demonstrates the extent of Goldstone's pre-existing relationship with the Trumps. He casually referred to Donald Trump's secretary by her first name. He had Don Jr.'s email address. Don Jr. responds to his emails. And Goldstone casually refers to contacting the presidential candidate directly, but says he'll refrain because the matter is "ultra sensitive."
3. Trump Jr. forwarded the emails to Trump's then-campaign chairman Paul Manafort and his son-in-law and close adviser Jared Kushner.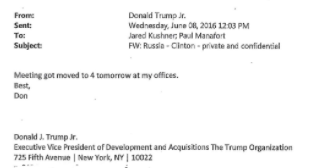 Trump Jr. forwarded the email chain — which, remember, referred to providing "incriminating" information as part of "Russia and its government's support for Mr. Trump" ― to Manafort and Kushner. This shows that top officials in the Trump campaign knew or should have known there was a Russian effort to support Trump's campaign. But they never reported it.
4. Manafort and Kushner attended the meeting, too.
They came anyway. Kushner initially failed to disclose the meeting in his application for a top-secret security clearance, but later amended his disclosure form. Manafort disclosed the encounter in response to one of the Russia-related probes.
5. Natalia Veselnitskaya was not the only Russian at the meeting.

The emails refer to two Russians attending the meeting with Kushner, Manafort and Trump Jr. — Veselnitskaya and another individual who she told the Times was an interpreter. She declined to name the person.
6. The emails suggest Trump Jr. may have broken the law, legal experts say.
Soliciting anything of value ― including opposition research ― from foreign nationals may violate campaign finance law. This looks like an example of just that sort of violation, Paul S. Ryan of Common Cause and Norm Eisen, who served as President Barack Obama's ethics lawyer, both tweeted.
7. Trump Jr. says he received "no meaningful information" from the meeting. But that's not the point.
Trump Jr. told the Times that Veselnitskaya's "statements were vague, ambiguous and made no sense" and that "no details or supporting information was provided or even offered." But whether or not Trump aides gained useful dirt on Clinton hardly matters.
The emails, and Kushner and Manafort's disclosures that they attended the meeting, show that Donald Trump's closest advisers, including his campaign chairman, were willing — eager, even — to accept secret help from the Russian government in order to damage Clinton and win the election. There's another word for that: collusion.
Popular in the Community