"I never had any damaging or sensitive information about Hillary Clinton. It was never my intention to have that," Natalia Veselnitskaya said in an interview with NBC News on Tuesday, her first remarks since The New York Times uncovered the meeting over the weekend.
"It is quite possible that maybe they were looking for such information. They wanted it so badly that they could only hear the thought that they wanted," Veselnitskaya said, speaking through a translator.
The younger Trump's story on the meeting, the first confirmed sit-down between Trump's inner circle and Russians during Trump's campaign, has continued to evolve. He initially claimed Veselnitskaya simply wanted to discuss sanctions related to an adoption policy and said he did not even know with whom he was meeting.
But he later admitted he was promised the information about Clinton before agreeing to the meeting, which was also attended by Trump's then-campaign chairman Paul Manafort and son-in-law and adviser Jared Kushner.
Veselnitskaya suggested Trump Jr. played a more central role in the meeting than he initially indicated, recalling that during the meeting, he asked her "whether I had any financial records which might prove that the funds used to sponsor the DNC were coming from inappropriate sources," referring to the Democratic National Committee.
"I never knew who else would be attending the meeting. All I knew that Mr. Donald Trump Jr. was willing to meet with me. So when all those reports came out, I tried to bring back my recollections of the meeting, and I compared them to the pictures that I saw in the newspaper articles," Veselnitskaya said, noting that she recognized Kushner and Manafort.
Of Kushner, she said that he was only present "for probably the first seven to 10 minutes, and then he stood up and left the room." She recalled that Manafort "never took any active part in the conversation" and "was always looking at his phone."
Veselnitskaya, who has represented Russian state-owned businesses and the son of a senior Russian government official, also denied having ties to the Kremlin.
"Nyet," she said, when asked if she had ever worked for or had connections to the Russian government.
On Monday, Trump Jr. hired a lawyer, Alan Futerfas, who said the story was "much ado about nothing." In a statement, Futerfas did not deny the substance of the Times' reporting but insisted there was nothing improper about the meeting.
Trump Jr. tweeted about the topic Tuesday morning, calling it a "nonsense meeting."
The president himself has been silent on the news, only commenting through a spokesman for the outside legal team representing him in the multiple investigations into whether his campaign colluded with Russia.
"The president was not aware of and did not attend the meeting," Mark Corallo said, in response to the Times' story on Sunday.
This article has been updated with more quotes from Veselnitskaya.
Before You Go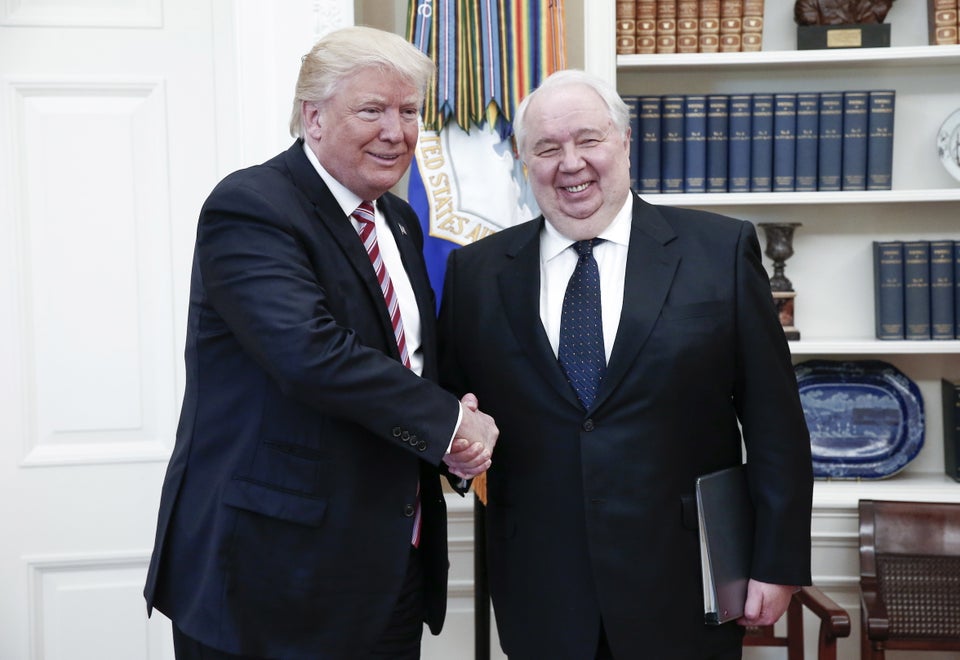 Donald Trump Meets With Russian Officials
Popular in the Community