WASHINGTON ― The Russian lawyer President Donald Trump's son, son-in-law and campaign chairman met last year with the understanding she would provide damaging information the Russian government had acquired on Hillary Clinton was simultaneously leading a lobbying effort to repeal U.S. sanctions that Russian President Vladimir Putin loathes.
Natalia Veselnitskaya, a lawyer for a powerful Russian oligarch and government official, met with Donald Trump Jr., Jared Kushner and then-campaign chairman Paul Manafort on June 9, 2016, at Trump Tower, according to emails Trump Jr. released Tuesday. Veselnitskaya never delivered the damaging information on Clinton, Trump Jr. told The New York Times. But her interests were nevertheless in sync with the Kremlin's: She was working to repeal the Magnitsky Act, a 2012 law that imposed sanctions on several Russian officials and businessmen.
Moscow was "outraged" by the Magnitsky sanctions, Putin's then-deputy foreign minister said in 2012, and the Russian government retaliated by banning Americans from adopting Russian children.
Veselnitskaya never registered as a foreign agent, and it's not clear whether she had Moscow's financial support in her campaign to reverse the American law. But her efforts were extensive. Last year, she headed a Washington-based nonprofit, the Human Rights Accountability Global Initiative Foundation, that describes itself as "dedicated to overturning the Russian adoption ban." The group provided the main lobbying thrust for powerful Russian oligarchs and top directors of state-backed entities who were allied with their government in trying to roll back the sanctions, according to lobbying disclosure forms filed with the U.S. Senate.
Veselnitskaya's group hired Rinat Akhmetshin, a Russian-American former Soviet military officer once described as a "gun-for-hire," to lobby Congress in April 2016. In May it brought on Cozen O'Connor lawyer Howard Schweitzer, a former official at the Export-Import Bank. In June, as it ramped up its lobbying campaign, her group hired former Democratic Rep. Ron Dellums of California.
The law Veselnitskaya was fighting against is named after Sergei Magnitsky, a Russian lawyer and accountant who accused Russian officials in 2008 of orchestrating a $230 million tax fraud scheme. He was accused of tax evasion and died in jail days before he would have had to be put on trial or released.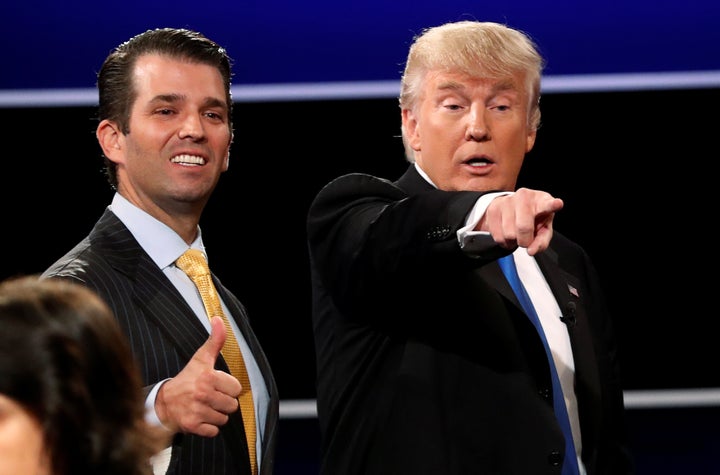 William Browder, the CEO of Hermitage Capital Management and one of Magnitsky's clients, aggressively lobbied Congress to pass sanctions to avenge his friend's death. Once a major foreign investor in Russia, Browder had fallen out of favor with Putin and is now exiled from the country.
Veselnitskaya first clashed publicly with Browder — and the Magnitsky Act — in 2013, soon after Congress enacted the law.
That September, the Justice Department accused Denis Katsyv of laundering money obtained through a Russian tax fraud scheme uncovered by Magnitsky. His company, Prevezon, hid the proceeds of the $230 million scheme in high-end real estate in Manhattan, then-U.S. Attorney Preet Bharara alleged. Katsyv, a client of Veselnitskaya's, is the son of Petr Katsyv, the vice president of state-owned Russian Railways and former vice governor of the Moscow region. 
Browder was the Department of Homeland Security's key source in Bharara's investigation of Katsyv, according to a 2014 deposition by Todd Hyman, a DHS special agent.
Top Russian officials hoped the U.S. would not win the case. If Denis Katsyv lost, it would affirm Browder's version of events and "undoubtedly would have precedential value in many countries," Yuri Chaika, the general prosecutor of Russia, warned in a letter to Kommersant Magazine in December 2015. Chaika, who was the source of the purported negative information on presidential rival Clinton, according to the emails Trump Jr. released Tuesday, also wrote in the letter that the Magnitsky Act was passed on the basis of lies spread by Browder.
The government settled the case in May, with Prevezon agreeing to pay $6 million. Katsyv did not admit to any wrongdoing.
By last summer, Browder and Magnitsky became the focus of Veselnitskaya and her nonprofit's lobbying.
In April 2016, Rep. Dana Rohrabacher (R-Calif.) traveled to Russia on a congressional trip. Rohrabacher met with top Russian government officials who handed him documents that cast doubt on the stories of Browder and Magnitsky and a letter that said Russia would relax its ban on U.S. adoptions if more congressmen would question the Magnitsky story, according to a November 2016 Politico report. Back in the U.S., Rohrabacher's staff helped introduce HRAGI lobbyists to congressmen.
Around this time, Veselnitskaya traveled to the U.S. She wasn't licensed to practice law in the U.S., but she worked with Katsyv's American legal team and traveled periodically to New York to attend hearings and assist on the case. She was chosen as Moscow's emissary in the June 2016 meeting with Trump Jr. and Trump campaign advisers in part because she was already planning to be in New York, according to emails published by The New York Times. Veselnitskaya told The Washington Post that she agreed to meet with Trump Jr. at the request of a friend ― not because she was instructed to by the Kremlin.
Veselnitskaya didn't simply organize the anti-Magnitsky group; she continued to attend events related to the Magnitsky Act throughout her summer 2016 visit to the U.S. Four days after the meeting at Trump Tower, she attended a Washington, D.C., screening of a controversial film that claimed that, rather than revealing corruption, Magnitsky was guilty of tax fraud himself. According to the film, which was directed by occasional Putin critic Andrei Nekrasov, Browder fabricated the Magnitsky narrative to make the Russian government's case against his friend appear politically motivated.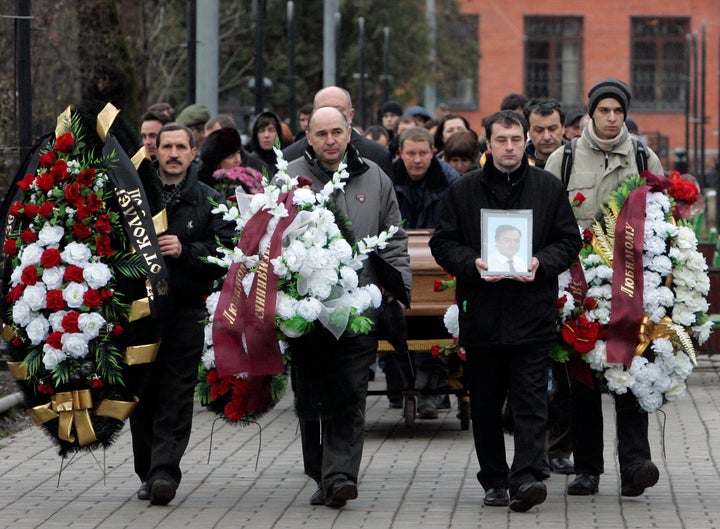 The day after the screening, Veselnitskaya attended a congressional hearing about U.S. policy toward Russia. She submitted a report to lawmakers showing how Browder "deceived the U.S. administration" into passing sanctions in honor of Magnitsky, she told the Russian state-owned media outlet Sputnik.
Browder's Hermitage Capital Management filed a complaint last July with the Justice Department accusing Veselnitskaya, Akhmetshin and others of failing to register as foreign agents for their work on behalf of HRAGI. In the complaint, Hermitage alleges that Veselnitskaya helped organize screenings of Nekrasov's film about Magnitsky.
Soon after Browder's complaint, HRAGI began amending its filings to disclose its foreign backers who would benefit from its lobbying. They included Denis Katsyv, Veselnitskaya's client; Vladimir Lelyukh, deputy to the general director of Sberbank Capital, a subsidiary of the state-owned Sberbank, the largest bank in Russia; Berryle Trading Inc., an offshore corporation registered in the British Virgin Islands by way of Switzerland; and two other individuals, Mikhail Ponomarev and Albert Nasibulin.
Browder told HuffPost he plans to testify before the Senate Judiciary Committee hearing next week on Veselnitskaya's effort to repeal the Magnitsky Act.
Veselnitskaya told The Washington Post that she planned to discuss the Magnitsky Act in her 2016 meeting with Trump Jr. but after a few minutes "it was clear we were talking about two different things." She dismissed allegations that her meeting with Trump Jr. was evidence that the Trump campaign colluded with a foreign power.  
"You don't know what to do with your Trump so you are making up stories," Veselnitskaya told the Post. "Because someone in America really wants to overthrow their president. Overthrow him, I don't give a damn. Who gave you the right to come up with this stuff?"
Calling all HuffPost superfans!
Sign up for membership to become a founding member and help shape HuffPost's next chapter
BEFORE YOU GO
PHOTO GALLERY
Russian Opposition Protest