Just hours after Donald Trump Jr. tweeted out an email conversation in which he made it clear he arranged a meeting with a Russian lawyer in an effort to influence the 2016 presidential election, he appeared on Fox News to defend himself, describing the meeting as "a nothing" that led "nowhere."
Trump Jr., who is President Donald Trump's eldest son, told Fox News host Sean Hannity that he did not tell his father about the June 9, 2016, meeting at Trump Tower with a Kremlin-linked attorney because there was "nothing to tell."
"It was such a nothing, there was nothing to tell," Trump Jr. said on "Hannity." "I wouldn't have even remembered it ... this was a wasted 20 minutes. It was a shame."
The president's son also defended his decision to accept the meeting arranged by music promoter Rob Goldstone, whom he described as a casual acquaintance. When Goldstone first emailed in early June, Trump Jr. said he set up the meeting as a "courtesy."
"In retrospect, I probably would have done things a little differently. For me, this was opposition research," he said. "I literally would not have remembered the meeting. It was a waste of time. Sometimes you do things differently for acquaintances and friends."
"This is the first time we've ever done any of this. I'm still way in the learning curve on all of this," he said.
The situation in his father's campaign at the time warranted hearing the source out, he said, noting his "sirens" didn't even go off because Russia, at the time, "wasn't this big news story."
"My takeaway, when all of this was going on, is someone has information on our opponent," he told Hannity. "Things are going a million miles an hour, you know what it's like to be on a campaign. We just won Indiana, but we're talking about a contested convention."
"Someone sent me an email," he continued. "I can't help what someone sends me."
In the June 2016 email exchange, Goldstone offered Trump Jr. a meeting he said would provide information that "would be very useful to your father."
"The Crown prosecutor of Russia met with his father Aras this morning and in their meeting offered to provide the Trump campaign with some official documents and information that would incriminate Hillary and her dealings with Russia and would be very useful to your father," Goldstone wrote to Trump Jr., referring to Democratic presidential rival Hillary Clinton, according to the emails released by the president's son.
"This is obviously very high level and sensitive information but is part of Russia and its government's support for Mr. Trump ― helped along by Aras and Emin," Goldstone added.
"If it's what you say I love it," Trump Jr. replied.
The younger Trump released the emails shortly before The New York Times published a story detailing them.
The Times reported late last week that Trump Jr. arranged a meeting with Russian lawyer Natalia Veselnitskaya two weeks after his father won the Republican presidential nomination. Then-campaign chairman Paul Manafort and Trump's son-in-law, Jared Kushner, also attended.
It is illegal to accept opposition research from foreign nationals, experts say.
Rick Hasen, an expert in campaign finance law, wrote that it was "hard to see how there is not a serious case here of solicitation."
"Trump Jr. appears to have knowledge of the foreign source and is asking to see it," he added.
Sen. Tim Kaine (D-Va.) described Trumps Jr.'s actions as "potentially treason."
Before You Go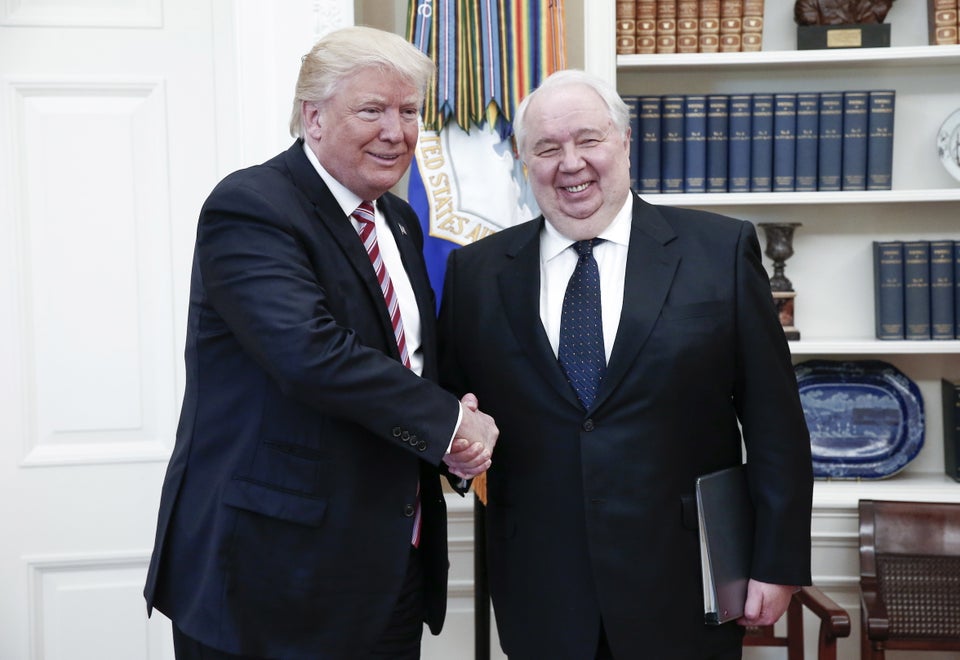 Donald Trump Meets With Russian Officials
Popular in the Community