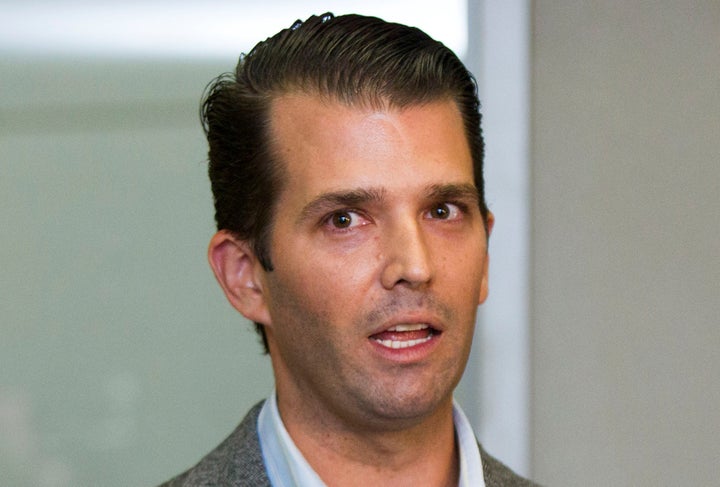 "If you can't handle some of the basic stuff that's become a problem in the workforce today, then you don't belong in the workforce," Donald Trump's son told The Opie and Anthony Show in a 2013 interview that BuzzFeed just unearthed.
"You should go maybe teach kindergarten," he said, apparently suggesting that teachers aren't part of the workforce. "You can't be negotiating billion-dollar deals if you can't handle, like, you know."
Gender-based harassment, both sexual and not, is against the law in the U.S. "It is illegal to harass a woman by making offensive comments about women in general," according to the Equal Employment Opportunity Commission.
So if the GOP presidential nominee's son can't handle not being able to make offensive comments about women, maybe he's the one unfit for the workforce.
Trump Jr. later joked that saying he'd been harassed would be "my get rich quick scheme. I'm now suing you guys because I feel uncomfortable."
Listen to the full interview here, courtesy of BuzzFeed:
Trump Jr. also deleted a 2011 tweet in which he said Sugar Ray singer Mark McGrath could "sexually harass the hell out of anyone" thanks to his looks.
Trump's father has been hit with a slew of allegations of sexual assault and harassment in recent days ― though it's far from the first time he's been accused of such behavior.
"What I found astounding is that he would so publicly—no matter who he was talking to ― that he would acknowledge that he engaged in the textbook definition of sexual assault," Vice President Joe Biden said.
Support HuffPost
The Stakes Have Never Been Higher
Popular in the Community