WASHINGTON -- The Republican Party devolved into chaos on Tuesday as its presumptive presidential nominee, celebrity entertainer Donald Trump, defended his overtly racist tirade against a federal judge of Mexican descent, endangering the GOP's already shaky standing with minorities and marking the most tumultuous launch of a general election campaign in modern political history.
With handlers no doubt desperate to rein him in, Trump read from a teleprompter on Tuesday night -- something he has ripped other politicians for doing -- after he swept the New Jersey primary, straying from his usual extemporaneous string of thoughts and delivering a more controlled, edited statement.
"Tonight we close one chapter in history and begin another," he said, moments after Queen's rock anthem, "We Are The Champions," greeted him on stage. "Some people say I'm too much of a fighter. My preference is always peace, however. And I've shown that."
But that was a far cry from the tone of his comments later in an interview with Fox News' Sean Hannity, where he delivered a concise rebuttal to the GOP establishment he bested in the primary: "Get over it."
The entire night was overshadowed by his recent attacks on U.S. District Judge Gonzalo Curiel, an Indiana native presiding over lawsuits involving Trump University. His remarks have cast a glum mood on Capitol Hill, at least in the Senate, where Republicans are scrambling to condemn Trump's racist comments while, somehow, still standing by him as their party's presidential nominee.
On the other side of the Capitol, House Speaker Paul Ryan (R-Wis.), who has urged against engaging in the kind of identity politics Trump has mastered, called Trump's attack on the judge the "textbook definition" of racism. Yet he stopped short of withdrawing his support for Trump, calling presumptive Democratic nominee Hillary Clinton the wrong direction for America.
Senate Majority Leader Mitch McConnell (R-Ky.) said he disagreed with Trump's tirade, but repeatedly refused to answer whether it was racist when pressed by NBC's Chuck Todd. That led conservative pundit Bill Kristol to accurately conclude: "Official position of the leadership of the Republican Party: Trump is an inexcusable bigot, and Trump must be our next president."
Trump's prominent surrogates found themselves similarly tormented by Trump's comments on Judge Curiel. Sen. Bob Corker (R-Tenn.), who has been mentioned as a possible vice presidential candidate, told Yahoo News that Trump had two to three weeks to fix his campaign or risk losing more support among Republicans. In a separate interview on MSNBC, Corker declined three times to say whether Trump is fit to be president.
New Jersey Gov. Chris Christie, an early endorser of Trump, dismissed the furor over what he called the "judge kerfuffle." He said Trump is "not a racist" and claimed all that truly mattered was "winning and losing."
Further down the ballot, in yet another sign of the turmoil, an Iowa state senator became the first elected official to leave the GOP over Trump. He likened Trump's rhetoric and candidacy to Adolf Hitler, citing his racist remarks and "judicial jihad" as the final straw.
Trump, in a statement Tuesday afternoon, offered the closest he has come to an apology, saying it was "unfortunate that my comments have been misconstrued." Now, though, it's time for Republicans to stop being sore losers and get over it, he said.
"Some of the Republicans -- and in all fairness they're some of the people I went through war with, and I won, and there's a lot of -- there's a lot of anxiety there," he said. "There's a lot of anger, I guess, anger they can't come back. They can't get over it. So they have to get over it, ideally. As to whether they endorse me? It's okay if they don't, but they have to get over it, they shouldn't be angry for so long."
Trump was noticeably less combative in his speech Tuesday night. He called himself a unifier, brandished his record of protecting American workers from bad trade deals, dubbed Clinton "an extension of the Obama disaster" and welcomed disillusioned Bernie Sanders supporters into his camp. He also said to buckle up for Monday, when he plans to give "a major speech" about the Clintons. "I think you're going to find it very informative, and very, very interesting," he said.
Of course, he found a way to stray from his prepared remarks.
"No TPP!" shouted an audience member at one point, referring to the Trans-Pacific Partnership trade deal.
"No PPP, you're right about that," Trump responded to cheers, apparently unaware that it's TPP. He added, for some reason, "And you mean, no PP." He then seemed to realize his mistake and spelled out the name of the trade deal.
Later Tuesday evening, Republican National Committee Chairman Reince Priebus praised Trump's speech. "Exactly the right approach and perfectly delivered," he tweeted.
It remains to be seen whether Trump can pull off a major transformation of his persona to quell the revolt in his party. The general election season is only weeks old, and Trump still has time to unify the party, properly staff his campaign, and build a modern get-out-the-vote effort that can adequately compete with Democrats. He has time. But since he became the presumptive GOP nominee, he has shown neither the inclination nor the ability to be anything but what he is: a guy who turns 70 in a week who's not used to being anyone other than himself.
Before You Go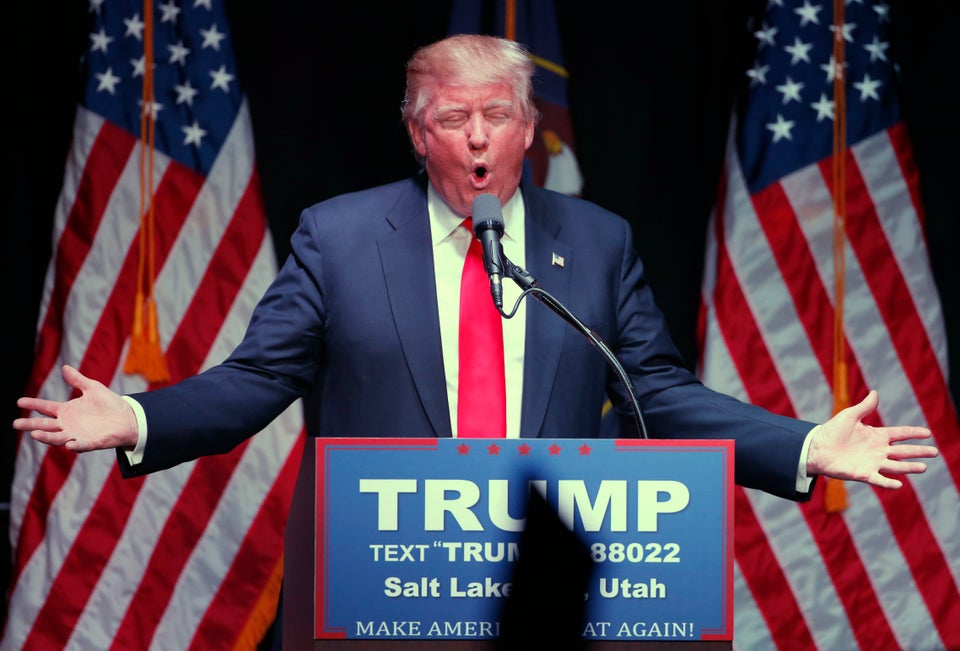 Scenes Of Hate At Donald Trump Rallies
Popular in the Community