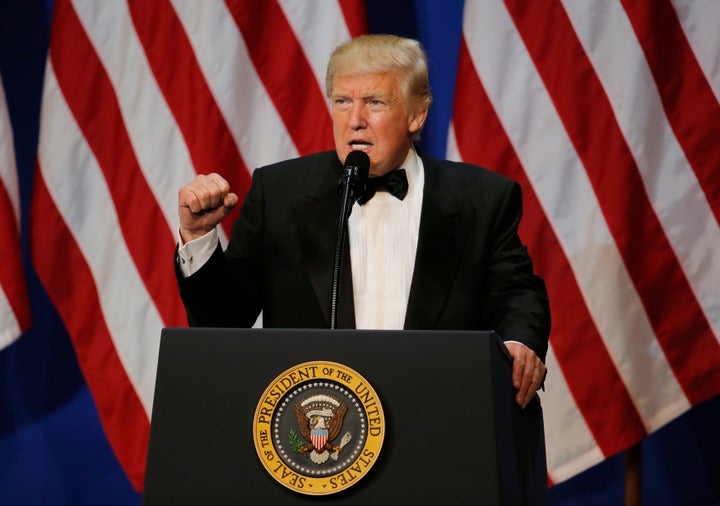 NEW YORK ― Sometimes the revolving door spins fast. Before President Donald Trump was inaugurated, Julie Lindsay, a top lawyer at Citigroup, was working for the president-elect to fill key posts at agencies that are supposed to oversee banks — including the Consumer Financial Protection Bureau, the agency that's the brainchild of bank foe Sen. Elizabeth Warren (D-Mass.).
Now, Lindsay is back at work at Citigroup, a spokeswoman for the bank told The Huffington Post on Wednesday.
Lindsay, a managing director at Citi, had been working on the Trump transition, gathering information about the policy direction and potentially drawing up lists of political appointees to serve at the governing body of the Federal Reserve, at the Consumer Financial Protection Bureau, and on the Treasury Department's Financial Stability Oversight Council. The FSOC is made up of regulators from various agencies and monitors the financial system and has broad powers to take action to ensure its stability — such as breaking up big banks like Citigroup if they become too risky.
A Citi spokesman declined to say if Lindsay was paid by the bank while she was working on the transition.
Together, the Consumer Financial Protection Bureau, the Fed, and the Treasury Department account for a huge swath of the regulatory power the government holds over the nation's biggest banks, like Citigroup. Between just the Fed and the Treasury, "almost all proposed regulation or deregulation is going to come across your desk," Jeff Hauser, the head of the Revolving Door Project at the Center for Effective Government told HuffPost.
Transition landing teams do work like gathering information about the agencies and building lists of potential candidates to fill lower-level politically appointed roles. These second and third-tier appointees do not tend to generate much news when they take their jobs, but they are crucial to the policies federal agencies pursue and how vigorously rules are enforced.
Putting a current employee of one of the nation's largest banks in a position to help pick lower-level appointees at crucial financial regulators sends a strong signal that the president-elect's new administration will push hard to undo the post-crisis banking reform law, or simply soft-pedal its enforcement. It also gives Citigroup direct, closed-door access to regulators and their thinking that goes beyond the routine dialogue between an agency and a company it oversees.
Lindsay's work for the Trump transition team staffing and gathering information about the very agencies that oversee her employer is a "coup for Citi and catastrophe for consumers," Hauser said.
Indeed, it is something of a bipartisan consensus that Citigroup employees should be involved in presidential transitions. Mike Froman, a Citi banker and former Clinton administration Treasury official, was a member of the advisory board for President Barack Obama's first transition. Froman later served as Obama's U.S. Trade Representative.
The Consumer Financial Protection Bureau has taken five enforcement actions against Citibank. In 2015, the consumer watchdog ordered the bank to pay $700 million to consumers for illegal credit card practices. In early 2016, the agency forced Citi to pay a $3 million penalty, refund a total of $16 million to consumers and agree not to collect $34 million in debt as part of two separate debt collection actions, one against Citi alone and another against Citi and debt collection law firms. And on Monday, just three days after Lindsay's work on the transition ended, the agency ordered two Citi subsidiaries to pay a total of $28.8 million for improper mortgage payment and foreclosure practices.
The Fed plays a huge role regulating U.S. banks and under the 2010 financial reform law, it runs annual stress tests meant to ensure that no bank is too-big-to-fail. Citi's capital plan for things like dividends and stock buybacks that is submitted as part of the stress test was rejected by the Fed in 2012 and 2014.
The Financial Stability Oversight Council was also created after the financial crisis to make the country's biggest banks safer. It has broad authority to monitor the financial system and can take sweeping action, such as breaking up a big bank, to protect the U.S. financial system.
Under Citi's code of conduct, employees must receive pre-approval from the bank when "engaging in outreach to public officials." A Citibank spokesman told HuffPost that Lindsay received pre-approval from the bank before going to work on the Trump transition team.
"I suspect that Julie Lindsay will be in for a raise when she returns," to Citi, Hauser said. He said the move was an example of the largely "scary and formless" way that the Trump administration could undo post-crisis financial rules.
From 2002-2005, Lindsay worked as a staffer for SEC Commissioner Cynthia Glassman, who was appointed by President George W. Bush. Before joining Citi, Lindsay worked at the law firm Hogan Lovells.
Bartlett Naylor, a financial regulation expert at the watchdog group Public Citizen, told HuffPost that Lindsay's previous work shows that she puts the interests of big banks first. A "Citi lawyer who also once staffed a conservative Securities and Exchange commissioner during a period when the seeds of the financial crisis were sown," isn't likely to have the interests of average Americans at heart, he said.
The White House referred HuffPost's questions to the transition team. A transition team spokesperson did not respond to HuffPost emails.
CORRECTION: This article originally misidentified Mike Froman as "Mark Froman."
Popular in the Community