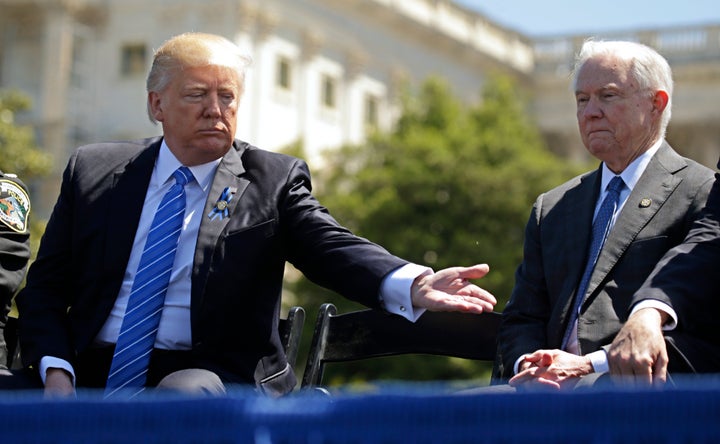 WASHINGTON ― It became pretty clear this week that President Donald Trump doesn't seem to know much about how the Department of Justice operates, or much about some of the people he nominated to key positions at DOJ. Trump's comments to The New York Times indicate he either doesn't know or doesn't care about the normal limits on the relationship between the White House and the Justice Department. And that has a lot of DOJ alums from both sides of the aisle worried.
In his remarkable interview with the Times this week, Trump said he "would have picked somebody else" if he knew before he nominated him that Attorney General Jeff Sessions was going to recuse himself from the Russia investigation, which Trump described as "very unfair to the president." Trump claimed ― inaccurately ― that the "F.B.I. person really reports directly to the president of the United States," a false assertion he called "interesting."
Trump went on to reveal that he knew very little about Deputy Attorney General Rod Rosenstein, the man he appointed to the crucial No. 2 position in the Justice Department. Trump repeatedly said that Rosenstein was "from Baltimore," and complained that there "are very few Republicans in Baltimore." (Rosenstein, in fact, is a Republican. He was born in Philadelphia, has lived in the D.C. suburb of Bethesda, Maryland, for years, and spent much of his career working in the U.S. capital, except for when he commuted to Baltimore as U.S. attorney for Maryland.)
This week certainly isn't the first time Trump violated DOJ norms. His direct overtures to former FBI director James Comey and former U.S. Attorney for the Southern District of New York Preet Bharara blurred the divisions between DOJ and the White House and made both men uncomfortable. There was the unusual sight of a U.S. attorney speaking from the White House press room. And Trump met directly with his nominee for U.S. attorney for the District of Columbia, which CNN reported on Thursday was "virtually unheard of" in past administrations.
But his comments this week on Sessions, Rosenstein and special Counsel Robert Mueller went even further beyond the pale for many Justice Department veterans. And Trump's comments came as The Washington Post reports that the president is trying to learn more about his pardon power.
It's not just Obama administration veterans who have concerns. John F. Wood, an attorney with the law firm of Hughes Hubbard & Reed who served as a counselor to the attorney general and as U.S. attorney for the Western District of Missouri during the George W. Bush administration, told HuffPost he found Trump's comments "unusual" and a break with the traditional restrictions between the White House and DOJ.
"I could not imagine President Bush saying something like that about really anyone who worked for him," Wood said. "I think it hurts morale. I think it is disruptive, and it undermines the attorney general within the Justice Department. That said, I think people also recognize that President Trump changes his mind frequently, and so you never know if next week he's gonna say something very supportive of Jeff Sessions."
While Sessions brushed off resignation talk on Thursday morning, Bharara said he thinks Trump's comments make it next to impossible for him to do his job.
Former acting Attorney General Sally Yates said that Trump's attack on Sessions' recusal on Russia "reveals yet again his violation of the essential independence of DOJ, a bedrock principle of our democracy."
And former Attorney General Eric Holder said that Trump can't "define or constrain" the Mueller investigation. Doing so would create constitutional, and criminal, issues, he said.
Wood said Trump's comment on Sessions "probably makes people a little bit nervous" about taking positions in the administration, but there are certain positions such as U.S. attorney that are "highly sought after," despite Trump's statements. "But I have heard that there are some positions that the Justice Department is having some trouble filling," Wood said.
He said that while he thinks that many Trump White House staffers are more aware of the limitations on DOJ contacts, the president is not.
"I think it's certainly correct that the president is not really familiar with the traditional lines between the Justice Department and the White House," Wood said. "The president himself is used to shooting from the hip and doesn't know that there's some things that he's better off not getting involved in."
In a series of tweets Saturday, Trump insisted he had "complete power" to pardon and questioned why the Justice Department wasn't investigating Hillary Clinton or former FBI director James Comey.
Support HuffPost
The Stakes Have Never Been Higher
Before You Go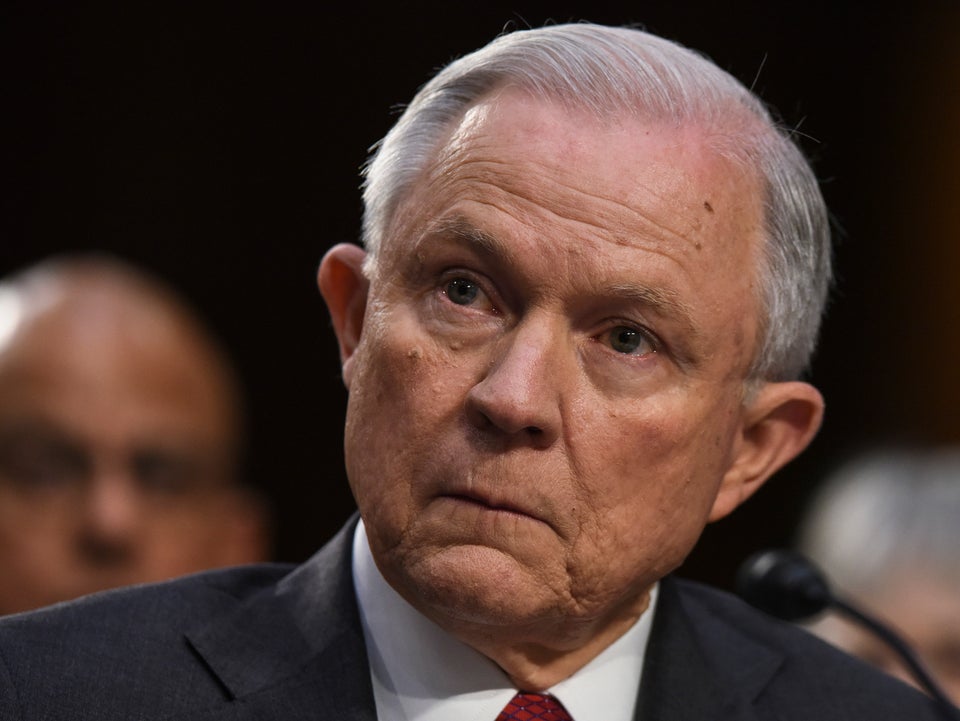 All The People Trump Attacks In His New York Times Interview
Popular in the Community