President Donald Trump strolled out of the White House Friday morning for an impromptu interview with Fox News' Steve Doocy, during which the president suggested he's envious of the attention given to North Korean dictator Kim Jong Un.
"He speaks and people sit up at attention," Trump said. "I want my people to do the same."
Trump later told reporters he was joking.
"I'm kidding. You don't understand sarcasm," Trump said.
Trump has lavished praise on Kim since their historic summit earlier this week, calling the North Korean leader "strong" and brushing aside his brutal history of human rights abuses.
"He's a tough guy," Trump told Fox News' Bret Baier on Wednesday. "Hey, when you take over a country, tough country, with tough people, and you take it over from your father, I don't care who you are, what you are, how much of an advantage you have. If you can do that at 27 years old, I mean that's one in 10,000 that could do that. So he's a very smart guy. He's a great negotiator. But I think we understand each other."
Trump spoke on a number of topics during the Friday interview, which he announced on Twitter shortly before his appearance. He again touted his election win, 584 days after he defeated Democratic presidential nominee Hillary Clinton.
He also continued to bash former FBI Director James Comey, who was the subject of a report released Thursday by the Justice Department's inspector general. The report found Comey broke FBI and DOJ rules in his handling of the Clinton email investigation.
Trump suggested Comey's actions were "criminal acts."
"What he did was criminal, what he did was a terrible thing to the people, what he did was so bad, in terms of our Constitution, in terms of the well-being of our country," Trump said. "What he did was horrible."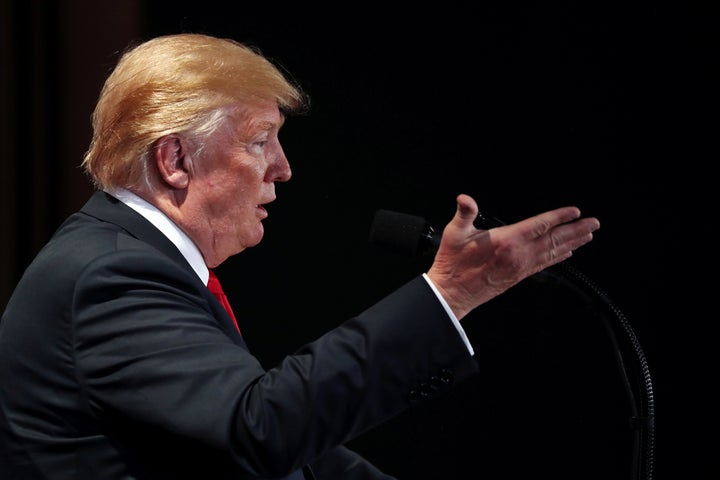 After ending his interview with Fox, Trump addressed questions shouted from reporters in a chaotic gaggle outside the White House. Trump seemed to confirm that he dictated the infamous statement to The New York Times about his son Donald Trump Jr.'s 2016 meeting with Russians at Trump Tower.
"Let's not talk about it. You know what that is? It's irrelevant. It's a statement to The New York Times," Trump said. "It's not a statement to a high tribunal of judges."
Trump also defended retired Army Lt. Gen. Michael Flynn, his former national security adviser who pleaded guilty to lying to the FBI.
"I feel badly for General Flynn. He's lost his house; he's lost his life," Trump said. "And some people say he lied and some people say he didn't lie. I mean, really, it turned out maybe he didn't lie."
He verbally tussled with reporters over the controversial family separation policy that Trump enacted in an attempt to deter illegal immigration, blaming Democrats for the policy.
"[Attorney General Jeff Sessions] is following laws, very simply. That was given to us and forced upon us by Democrats," Trump said, seemingly ignoring that there is no law that says migrant children need to be separated from their parents.
Alana Horowitz Satlin contributed to this report. This story has been updated with more details from Trump's remarks to reporters.
Popular in the Community