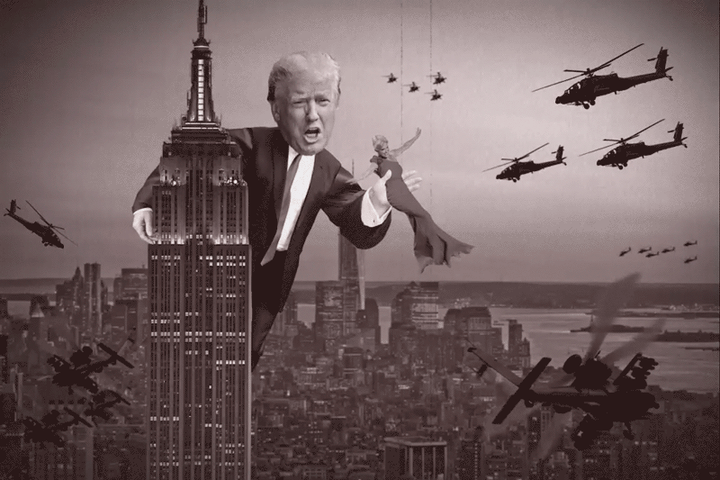 In the poster for the upcoming film "Kong: Skull Island," a large, terrifying figure looms over the horizon. A glowing orange sun with a yellow top surrounds the monster as though a halo might, casting an ominous figure.
The film, another installment of the many "King Kong" films out there, is coming to theaters this weekend, a bit more than a decade after the last major reboot in 2005.
"King Kong: Skull Island" has an estimated budget of around $190 million, and is expected to gross around $50 million in the U.S. and Canada alone during this opening weekend. It stands to become a blockbuster.
The legendary story of the oversized, mythical gorilla will play out on screen for viewers as the public contends with an ongoing spectacle in the White House. Interestingly, President Donald Trump, has a long history with the story of the famous primate.
At the 2002 Academy Awards, Trump appeared in a short video segment created by filmmaker Errol Morris that focused on the favorite movie moments of the featured individuals. Speaking alongside notable faces such as Iggy Pop and Mikhail Gorbachev, Trump had a particularly telling answer for his cherished movie memory.
"Seeing King Kong try and conquer New York," he said, with a small grin.
Back when he was better known as a bloviating figure of New York real estate, Trump gained an ownership stake of the Empire State Building, the same one associated with King Kong in the 1990s. He attempted to win control of the entire building, but was ultimately thwarted as his stake was bought out.
In 2005, he publicly attended Universal Studios' premiere of the Peter Jackson–directed reboot with wife Melania.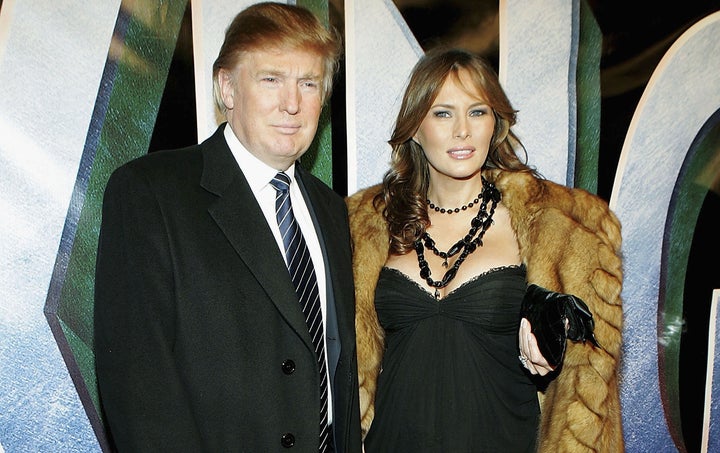 Yet the 2016 presidential campaign led artists and political commentators alike to align Trump and the Empire State–dominating film icon even further.
"Trump is like King Kong in that they both broke free of their shackles and like grabbing white women without asking," he said.
Around the time that scandal erupted, Trump himself tweeted a message containing imagery reminiscent of King Kong.
As a method of protest to Trump's misogynistic and xenophobic rhetoric during his campaign and beyond, artists have frequently aligned the man with the city-conquering Kong.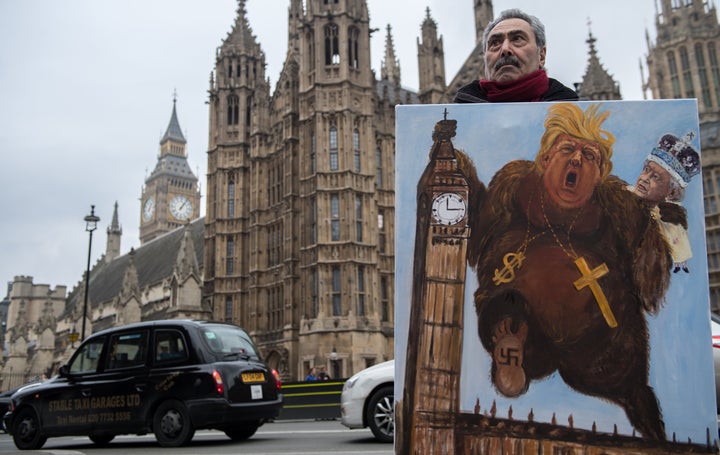 In January, Madonna shared a depiction of Trump as King Kong atop the Statue of Liberty.
A political cartoon by Michael de Adder depicted Trump as a shackled Kong — the moment in the original film just before Kong violently reacts to the jarring flashes of photographers and breaks free of his restraints.
The star of "Skull Island," Brie Larson, has even suggested that her new film contains a message that directly advocates against Trump's aggressive tendencies — especially toward the media. 
"I make movies as a form of activism," she wrote in an Instagram caption. "I believe we learn from what we see in our leaders. I'm proud to play Mason Weaver in @kongskullislandmovie because she represents the many journalists who risk their lives everyday to share with us the truth. Weaver leads with compassion and believes that unity cannot be obtained through aggression."
Whether you take your entertainment in the form of a gorilla blockbuster or The New York Times, it's hard not to notice the fascinating timing of it all.
Calling all HuffPost superfans!
Sign up for membership to become a founding member and help shape HuffPost's next chapter
BEFORE YOU GO