The president has grown frustrated with Nielsen's action on immigration since she assumed her post last December, the Post, citing five current and former officials, said. Homeland Security has been embroiled in several high-profile conflicts this year, including the Trump administration's much-criticized decision to separate migrant families at the border and place young children in immigrant detention centers.
Nielsen emerged as a vocal defender of Trump's "zero tolerance" immigration policy, prompting the president to praise her on Twitter. But the White House later rolled back the child separations amid fierce criticism from both sides of the aisle.
DHS press secretary Tyler Houlton said Monday that Nielsen was still working with the president on his immigration efforts, despite the Post's report.
"The Secretary is honored to lead the men and women of DHS and is committed to implementing the President's security-focused agenda to protect Americans from all threats and will continue to do so," Houlton wrote in a statement to HuffPost.
The White House has not yet responded to a request for comment.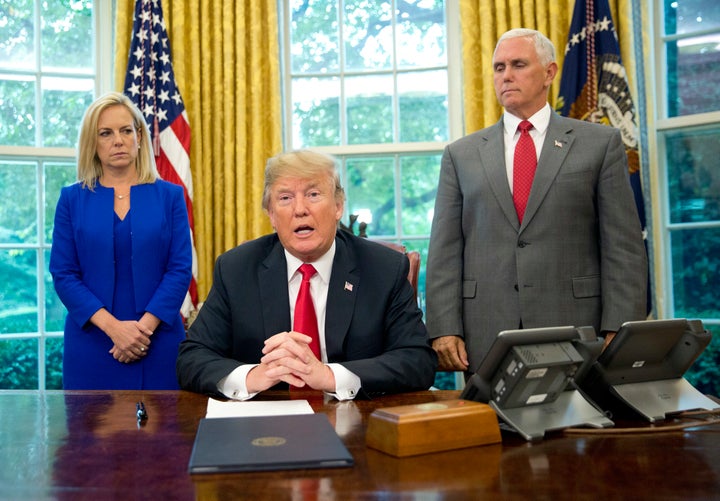 Trump has moved quickly to shake up his administration following the midterm elections, which ushered back in Democratic control of the U.S. House. He fired Attorney General Jeff Sessions last week after more than a year of criticism due to the man's decision to recuse himself from special counsel Robert Mueller's investigation of the 2016 presidential election. Others also appear to be on rocky ground, and the Post noted that some officials believe chief of staff John Kelly's future is also in doubt.
Kelly was instrumental in installing Nielsen to her post and has regularly moved to defend her against Trump's ire. Last month, the chief of staff got into a heated argument outside the Oval Office with national security adviser John Bolton over her performance, according to multiple reports.
Nielsen had reportedly come close to resigning after Trump berated her in front of other Cabinet members in May, angry with her leadership on immigration policy. Sources told The New York Times she drafted a resignation letter at the time but never delivered it.
Several members of the Homeland Security Advisory Council also resigned their positions over the family separation policy in July, calling the move "morally repugnant, counter-productive and ill-considered."