It was a big night for the Russian leader, to whom Trump has promised: "If he says great things about me, I'm going to say great things about him." It's actually very rare that Trump makes an upfront payment in a contract, so maybe he really is "pivoting"!
Naturally, however, many observers were left wondering things like, "Why did Trump go on Russia's state-owned news channel?" Or, "How did they not know how this would go over?" The Trump campaign's day-after excuses boil down to: "We were duped by one of the world's most cunning men, Larry King."
Jason Miller, a Trump spokesman, told CNN the interview was recorded as a podcast and was a favor to King, adding, "Mr. Trump was never told it would be shared anywhere else." Miller later said Trump wouldn't have agreed to do the interview had he known it would be aired on RT.
Got it. Makes sense. Obviously, Trump never would have gone on the RT America show if he had even a whiff of suspicion that it could have possibly ended up airing on RT America. Trump knows better. He's a shrewd negotiator who is always two steps ahead, man.
How could anyone have known that King's show was going to be aired on RT America? It would have taken some kind of supergenius to divine that mystery ― a mastermind vetter with a nose for well-hidden facts and access to something like, say, Wikipedia.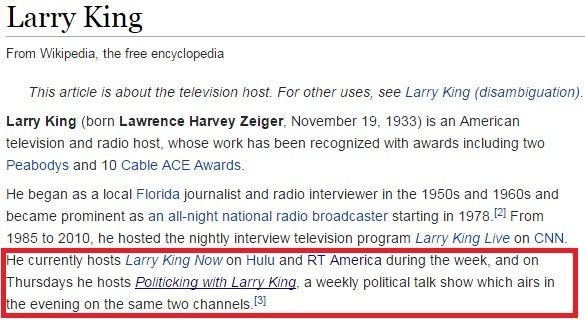 Obviously, the wily minds at RT America do not make it easy for people to figure this out. You really have to peel the onion, maybe even go so far as to watch one episode of King's show.
At least people finally know the truth about this RT America show produced by an RT America host that airs on RT America.

~~~~~
Jason Linkins edits "Eat The Press" for The Huffington Post and co-hosts the HuffPost Politics podcast "So, That Happened." Subscribe here, and listen to the latest episode below.
Popular in the Community