A Las Vegas rally for Republican presidential hopeful Donald Trump turned ugly Monday night, the eve of a Republican presidential debate, after multiple protesters interrupted the candidate's speech.
According to reporters at the event, held at the Westgate Las Vegas Resort and Casino, protesters clashed with security guards as they were escorted from the room. Some of the protesters appeared to be Black Lives Matter activists and gun control supporters.
At one point, as security guards attempted to remove a black man from the rally, an attendee said, "Light the motherfucker on fire!"
More color from MSNBC's Benjy Sarlin:
This isn't the first time a rally for Trump has turned ugly. A black protester was hit, kicked and pushed to the ground at a rally in Alabama last month.
During his speech, which lasted for more than an hour and was generally well received by a large crowd, Trump basked in the glory of new polling data showing him advancing his lead over his rivals for the GOP nomination. He said he was going to win in Iowa and do so "big" in New Hampshire, promising he would "never be a politician."
"This is not going to be a waste of anybody's time," Trump said of his campaign.
Of his surging rival, Sen. Ted Cruz (R-Texas), who appears poised to overtake Trump in Iowa, the businessman had only pleasantries.
"I like Cruz, he's a good guy," Trump said.
Trump criticized politicians for being beholden to well-funded super PACs.
"The super PACs totally control the candidate," he said. "That's what sick about the system."
Most of his derision, however, was centered on the press, which was penned in a holding area near the back of the room.
"I staged that," Trump said at one point, as security guards escorted a protester out of the event. "It was the only way I could get the cameras to pan the crowd."
He misstepped near the end of the speech, when he urged residents of Nevada, which holds caucuses, to vote in a primary.
"When you have your primary, go out and vote please!" Trump said, garnering cheers and applause.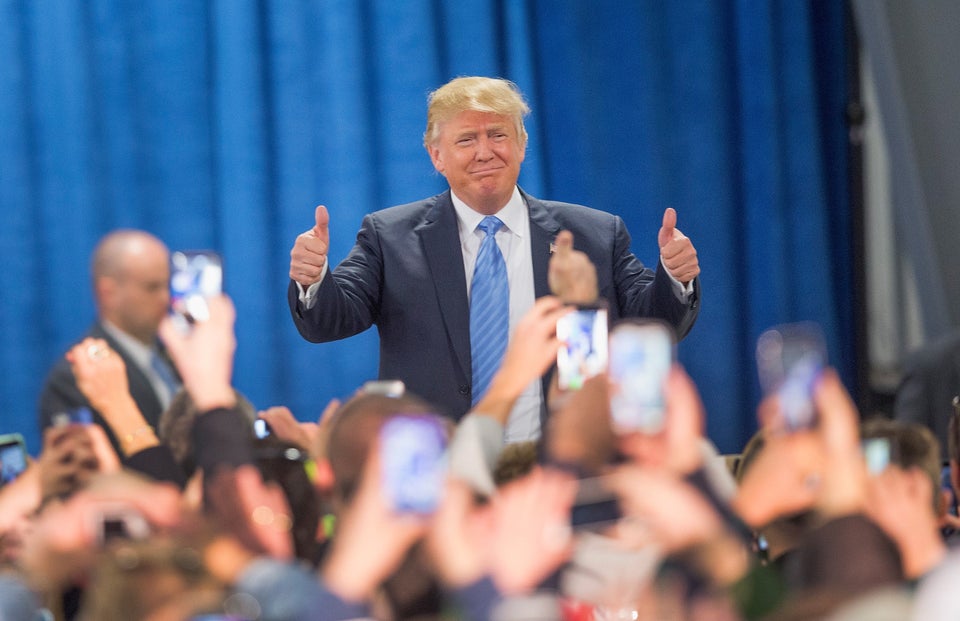 Donald Trump On The Campaign Trail
Popular in the Community