WASHINGTON -- The GOP's imminent nomination of Donald Trump has inspired Democrats to suggest they could retake the House in November. But civic engagement organizations that work with Latinos are warning Democrats that they need to do more to secure their votes to win down-ballot races, even with a nominee at the top of the ticket who frequently says nasty things about them.
Latinos are the fastest-growing group of voters in the country, according to the Pew Research Center. The number of eligible Hispanic voters has grown 17 percent since 2012, to 27.3 million eligible voters in 2016. While Trump said at a rally Wednesday that "the Hispanics are liking Donald Trump," polling has shown the opposite. Just 9 percent of those polled had a "very" or "somewhat" favorable opinion of Trump in a recent poll of voters in battleground states.
But Latino civic engagement groups warn that voters won't automatically link the reality television star to other GOP candidates who are on the ballot.
"Trump has the potential of being a motivating factor," said Arturo Vargas, executive director of the NALEO Education Fund, but "people need to be informed that there's more than just the presidency on the ballot."
"This is where voter mobilization, voter education, is so key," he added. "If you want to get people to vote in down ballot races you have to invest resources in making sure people understand that, and what their choices are, and not just thinking that if they're going to vote against Trump they're going to get to the end of the ballot," past the presidential candidates.
Rafael Collazo, the national political director for the National Council of La Raza's Action Fund, echoed Vargas' concerns.
"As much energy as there is, and as much commitment as there is in the work that we do around electoral organizing, there still is going to need to be investments made," he said. "Rhetoric, and headlines, and the initial energy we've seen around naturalization and voter registration in the beginning of this year doesn't mean anybody can take the Latino vote for granted."
Democrats would need to capture 30 additional seats to gain a majority in the House, which is a tall order considering they gained just 21 seats when now-President Barack Obama beat Sen. John McCain (R-Ariz.) by seven points in 2008. (And that was before Republicans captured a slew of state legislatures in 2010, helping them dominate the redistricting process that year, which in turn made it easier for them to win elections.)
There are 32 districts with Republican incumbents listed on the Democratic Congressional Campaign Committee's "Red to Blue" program, which identifies promising candidates in races the committee believes can flip in November, within a broader pool of over 60 districts the DCCC is competing in this cycle. But "there are no new districts that magically came on our battlefield because of Donald Trump," cautioned Meredith Kelly, the national press secretary for the DCCC.
"The 2010 redistricting created a limit to districts that are at all competitive for Democrats," she added. "It is just not an ever-expanding battlefield. There are certainly districts where we have known that we had the potential to be successful and that had some core Democratic elements, and Trump has allowed us to land some high-level, exciting recruits in those districts. But he's by no means the only factor."
Those sorts of recruits include former Colorado state Sen. Gail Schwartz, who got into the race to unseat Republican Rep. Scott Tipton relatively late. Tipton, whose district is roughly a quarter Latino but who hasn't faced a strong challenge in past election cycles, has said he would support Trump (though he "has not supported everything Donald Trump has said or done.")
"We've talked to Gail Schwartz in the past and local Democrats have urged her to run before," Kelly said. "She sensed that opportunity and there's a reason she got in this year, but it doesn't mean Colorado's 3rd didn't always have some of those important elements that make them competitive for us."
Democrats hadn't mounted as strong a challenge to Tipton in the past, even with its high proportion of Latinos, but that is changing this year, with the potential for his oppenent to go hard on Tipton's Trump association. House Majority PAC, the super PAC backing Democrats, has reserved more than $130,000 worth of television ads in Grand Junction, and upped its investment in the Denver television market, to target Tipton and boost Schwartz.
Other House Republicans who may be vulnerable have done more to distance themselves from Trump. Rep. Carlos Curbelo of Florida, who has said he will not support the presumptive nominee, told CNN he was "grateful" that House Speaker Paul Ryan (R-Wis.) has so far refrained from endorsing Trump. (Registered voters who are Latino make up 60 percent of Curbelo's district.)
GOP Rep. Will Hurd (Texas) has said he won't endorse Trump until he "shows he can respect women and minorities." (Fifty-seven percent of registered voters in his district are Latino.) And Rep. Mike Coffman of Colorado, who represents a district where Latinos comprise 20 percent of registered voters, has said Trump "needs to change his tone" toward women, minorities and veterans to earn his support. This gives the candidates wiggle room to eventually endorse Trump if he starts to talk about people of color and women in a less hostile manner, but it won't help them win over Latinos who fear Trump's policy positions.
Other incumbents in potentially competitive districts haven't been as hesitant about Trump. Jeff Denham, who represents a California district where over 27 percent of registered voters are Latino, has said he would support the Republican nominee. And Rep. Cresent Hardy (Nevada) has said that the businessman's tone toward people of color doesn't bother him. (Fifteen percent of registered voters in Hardy's district are Latino.)
Democratic presidential candidate Hillary Clinton is already setting up a shadow general election campaign infrastructure in states like Nevada, Florida and Colorado. But Latino-oriented organizations are frustrated that resources for their voter engagement efforts are scarce outside those states, though only a quarter of the Latino electorate lives in the traditional presidential battleground states.
"I've been asked by funders, 'Why are you spending your time in Texas and California? You should be working in Florida and Colorado and Nevada,'" said Vargas. "That's where all the money is going, but half of my electorate lives in California and Texas," he said.
"One of the reasons why we have such a challenge in Latino voter turnout is because those people are consistently ignored," he continued. "We're doing all we can on a shoestring budget, because we have virtually been abandoned by the funding community for our voter engagement work."
CLARIFICATION: This story has been updated to include more specific information on the 60-plus districts the DCCC is competing in this cycle.
Before You Go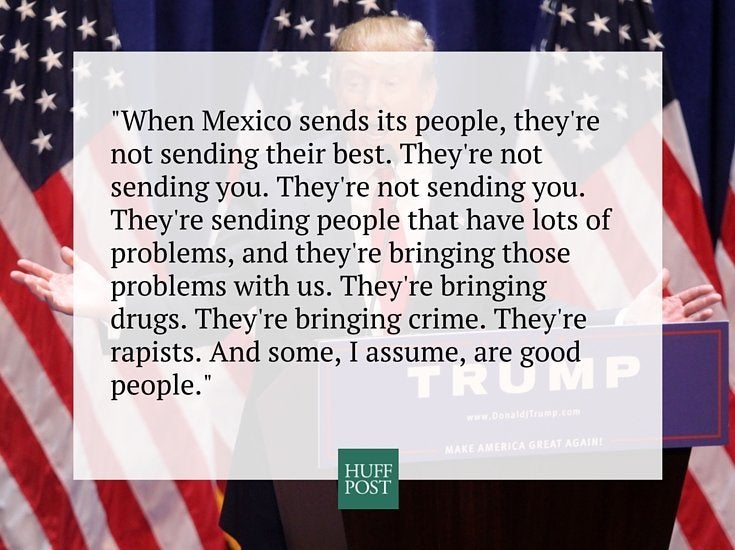 9 Outrageous Things Donald Trump Has Said About Latinos
Popular in the Community