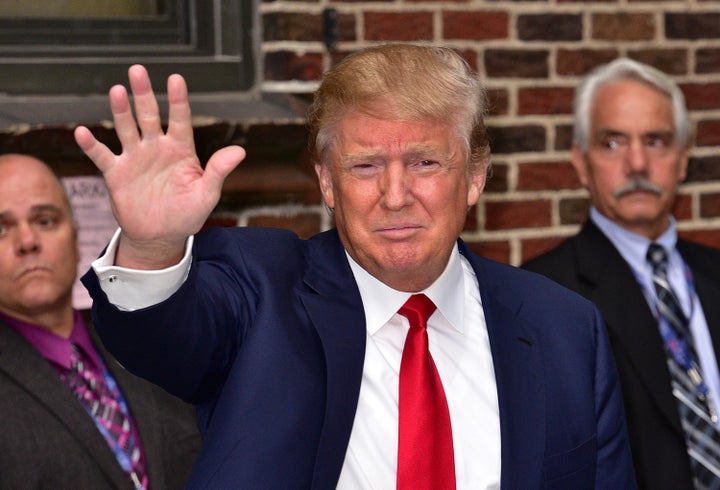 WASHINGTON -- The presidential campaign of Donald Trump on Tuesday threatened legal action against a politically oriented clothing outlet for using the GOP front-runner's name, which is trademarked, in its domain name and merchandise.
StopTrump.us sells t-shirts and other apparel online "as a way to creatively respond to the attacks from Donald Trump to immigrants from Mexico and Latin America." Its merchandise features Trump's name and face along with slogans such as "Donald Is Dumb," "Stop Trump" and "America Is Already Great." The Boston-based website, which describes itself as a "social enterprise," donates a portion of its profits to select charities, including the Hispanic Scholarship Fund.
Alan Garten, Trump's general counsel, says the website and its commercial activities violate the presidential candidate's trademark. In a Sept. 22 cease-and-desist letter shared with The Huffington Post, Garten accuses the website's owner (President Entertainment, LLC) of cyber-piracy and demands that they immediately stop using Trump's name.
"Mr. Trump considers this to be a very serious matter and has authorized our legal team to take all necessary and appropriate actions to bring an immediate halt to your blatant and unauthorized use of his trademark," he wrote in the letter.
An attorney for President Entertainment did not immediately return a request for comment.
Associates of the wealthy businessman, who is CEO and president of The Trump Organization, have moved aggressively to protect Trump's brand by acquiring thousands of web domains that incorporate his name. At least 3,153 domains -- many of them negative -- were registered to Trump's general counsel, Business Insider reported last month.
But unlike efforts to protect his brand, Trump's move to stifle political speech stands on more shaky legal footing.
"Trump does not have a legitimate claim here," Eugene Volokh, a UCLA law professor who specializes in First Amendment, told HuffPost.
Volokh, who examined StopTrump.us, said it would be "clear to a reasonable observer" that the owners aren't doing anything that would confuse the public about the intent of the merchandise -- to criticize Trump.
Under federal law, trademark owners like Trump may assert claims against potential infringers for instances of "confusion" or "dilution," Volokh explained. Confusion applies if the public would confuse the product being sold as coming from the trademark owner; dilution kicks in if the alleged violator somehow tarnishes or "harms the reputation of a famous mark."
But the very text of the statute appears to shield StopTrump.us from both kinds of claims, Volokh said, since it expressly excludes from suits products that serve the purpose of "identifying and parodying, criticizing, or commenting upon the famous mark owner or the goods or services of the famous mark owner."
If this were ever litigated, which seems unlikely, the owners of StopTrump.us might also feel inclined to raise the First Amendment as a defense, Volokh said. But the trademark law that applies here "has been written and has been interpreted with an eye toward the First Amendment," he added.
So it looks like this is a losing case for Trump, who appears to be on a cease-and-desist binge lately. On Tuesday, a lawyer for the magnate's campaign threatened "a multimillion dollar lawsuit" against the conservative Club For Growth in response to a political ad attacking the candidate.
Popular in the Community