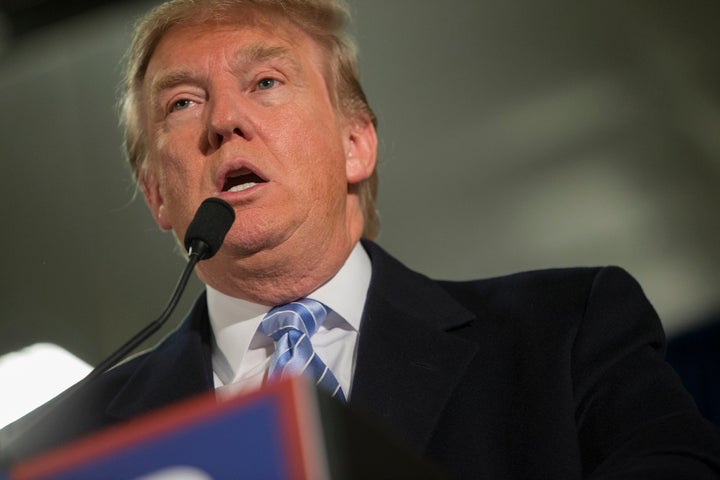 Late last week, NBC News released a poll declaring, "Trump More Than Doubles National Lead." Similar headlines across the national press made it seem inevitable that businessman and entertainer Donald Trump will win the Republican nomination for president. Despite warnings that these national primary polls are meaningless, Trump's dominance should be worth something, right?
Maybe not. Numbers deeper in the same poll paint a much shakier picture of the race. NBC and The Wall Street Journal, in addition to asking respondents to pick their favorite candidate, have been asking a much more interesting question since last March -- whether respondents could see themselves supporting each individual candidate. 
Here's how that works. The interviewer says the following to the survey-taker: "Next, I'm going to mention a number of people who are seeking the Republican nomination for president in 2016. For each one, please tell me, yes or no, whether you could see yourself supporting that person for the Republican nomination for president in 2016. If you don't know the name, please just say so." And then they read a candidate name, and the respondent says yes, no or "don't know the name." Then the same for the next candidate, and so on.
The results from this question show that a majority of Republicans who say they'll vote in the primary could see themselves supporting Sen. Ted Cruz (Texas), Sen. Marco Rubio (Fla.), Trump or neurosurgeon Ben Carson. New Jersey Gov. Chris Christie and businesswoman Carly Fiorina are just below the majority support mark.
Trump doesn't get top marks according to this question. Ted Cruz receives the most possible support right now. The numbers have been fluid over time, with some candidates rising and some falling, but Trump has never led in the number of voters who say they could support him -- although he has often been second.
Early last year, former Florida Gov. Jeb Bush and Rubio held the highest potential support, followed by Rubio and Carson over the summer. By fall Carson was dominating, but as his numbers fell, the top spot has gone to Cruz. With the exception of Bush's rapid decline in the fall, the candidates holding the top slots have been remarkably consistent even as their exact order changes. Trump, Cruz, Rubio and Carson hold the broadest appeal.
Why is this information better than the classic pick-one vote choice question? Think about it -- when pollsters are asking Republicans who they would vote for, they are asking something along these lines:
"If the Republican primary [or caucus] for president were being held today, which one of the following candidates would you favor/vote for -- Jeb Bush, Ben Carson, Chris Christie, Ted Cruz, Carly Fiorina, Jim Gilmore, Mike Huckabee, John Kasich, Rand Paul, Marco Rubio, Rick Santorum or Donald Trump?"
Read that out loud. Seriously, read all of those names out loud. Now, think about trying to answer that question after hearing 12 names listed -- or worse, trying to answer it a few months ago when there were 17 candidates. If you're not in Iowa or New Hampshire, don't care about politics or just haven't been paying attention, what name are you going to pick out? Probably a name that caught your attention; someone that you know. Perhaps Donald Trump, whose name recognition is the highest of all candidates.
But what happens when voting actually starts? Despite the number of claims out there among the pundits, no one actually knows. These numbers show that there's a lot of support for at least four of the candidates and Trump faces some serious competition.
The NBC/WSJ poll was conducted by Public Opinion Strategies (a Republican polling firm) and Hart Research Associates (a Democratic firm) from Jan. 9-13. The margin of error for the responses among the 400 Republican primary voters is plus-minus 4.9 percentage points. For this full poll, click here.
PHOTO GALLERY
The Faces of Donald Trump
Calling all HuffPost superfans!
Sign up for membership to become a founding member and help shape HuffPost's next chapter