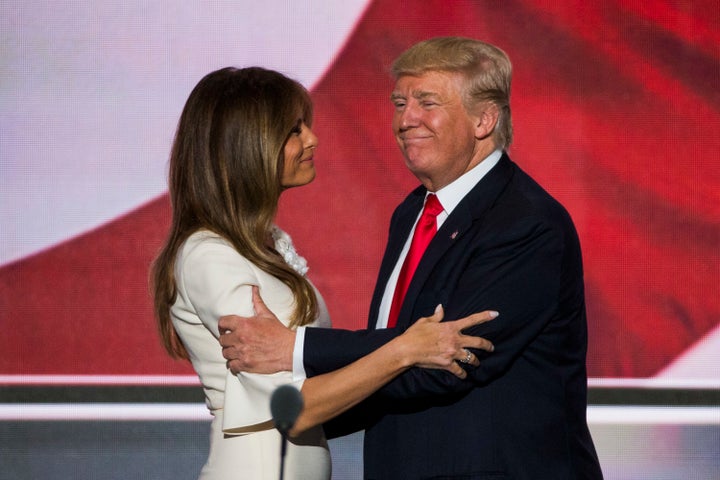 Melania Trump was probably pregnant when her husband Donald Trump casually discussed groping women on a hot microphone in 2005.
She gave birth to their son Barron on Mar. 20, 2006.
The Republican nominee made the remarks about women that have plunged his presidential campaign into chaos while he was on his way to tape a cameo on the daytime soap opera "Days Of Our Lives" that would air on Oct. 24, 2005.
The cameo was taped in September at the earliest, said Washington Post reporter David Fahrenthold, who first reported on the leaked video of Trump's comments on Friday. Melania Trump was already pregnant at the time.
The GOP nominee was not always respectful of Melania Trump during her pregnancy.
"I mean, she really has become a monster — in all the right places," he told Howard Stern in December 2005.
"I mean monster in the most positive way," Trump added. "She has gotten very, very large — in all the right places."
It is not clear if he made the pass at the married woman he discussed on the hot microphone while Melania Trump was pregnant as well.
But it would not be unheard of for him.
Jill Harth, who accuses Trump of aggressively pushing himself on her despite her repeated rejections, told The New York Times that he pursued calendar models from her company while his second wife, Marla Maples, was pregnant with their daughter Tiffany.
During an interview with the talk show "Soap Talk," Arianne Zucker, the "Days Of Our Lives" star with whom Trump appeared in a scene, recalled flirting with the former reality TV personality during their time together at the end of 2005.
"I did flirt with Donald," Zucker said. "He's my new best friend."
"He is cute, isn't he?" Lisa Rinna, then-co-host of "Soap Talk" said.
"He is so cute and charming," Zucker responded.
Rinna, the co-host, has soured on Trump in the interim.
Less than 24 hours after they went public, Trump's 2005 remarks on the hot microphone ahead of the taping with Zucker have set off a political firestorm that threatens to sink the brash businessman's candidacy. Top Republicans have almost universally condemned his comments and several current and former officials have called for his resignation as GOP nominee.
In the explosive video, Trump can be heard talking to then-"Access Hollywood" host Billy Bush about aggressively hitting on a married woman.
Trump then explains that he is using Tic Tac mints ahead of greeting Zucker, just in case he feels tempted to kiss her.
He confessed to kissing women without their permission, which he said they allowed because he is a "star."
"Grab them by the pussy," Trump added. "You can do anything."
Ryan Grim contributed reporting.
This article has been updated to include new details about Trump describing his wife as a "monster" when she was pregnant.
Popular in the Community