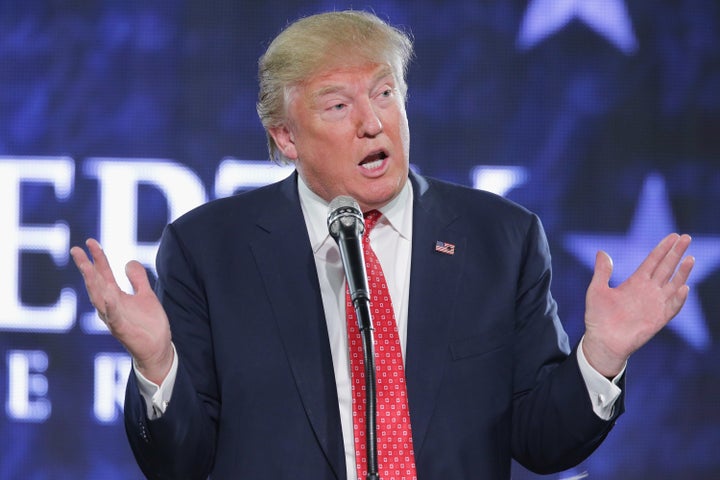 The group, Liberty United Against Trump, released a statement earlier this week arguing that the school's president, Jerry Falwell Jr., had linked the school and Trump. The group noted that any member of the school's faculty would be fired for bragging about kissing and groping women the way that Trump has.
"A recently uncovered tape revealed his comments bragging about sexually assaulting women," the statement, which also serves as a petition, reads. "Any faculty or staff member at Liberty would be terminated for such comments, and yet when Donald Trump makes them, President Falwell rushes eagerly to his defense ― taking the name 'Liberty University' with him. 'We're all sinners,' Falwell told the media, as if sexual assault is a shoulder-shrugging issue rather than an atrocity which plagues college campuses across America, including our own."
Polling data indicates that fewer than 100 Liberty students voted for Trump in the Republican primary, according to the statement.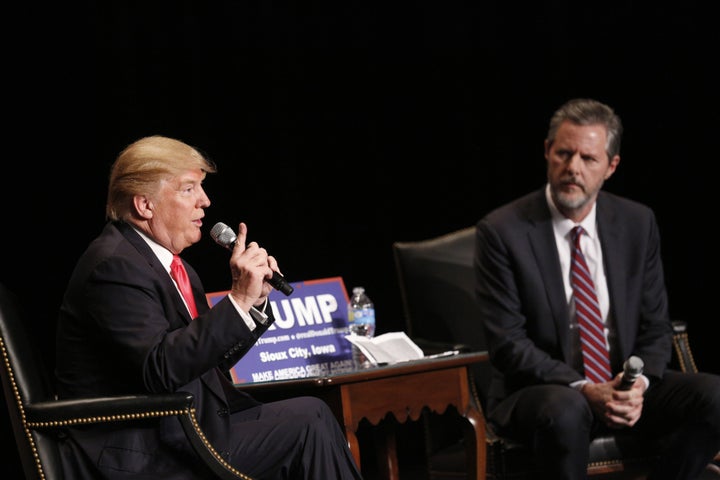 Caleb Fitzpatrick, a group spokesman who is junior studying economics and finance, said he and about 10 other students felt compelled to release the statement after The Washington Post published a 2005 video last Friday in which Trump boasts about making unwanted advances on women. People had begun associating Liberty with Trump, Fitzpatrick said, and the students wanted to make it clear that there were a diversity of political viewpoints on campus.
"So often we run into people that say, 'Oh you go to Liberty, that's that Trump school, right?' When when you walk around campus, the students, we don't embody anything that Trump advocates for," Fitzpatrick told The Huffington Post. "We're not taught to value the things that Trump values. And so when the tapes came out last week, we felt like that was the straw that broke the camel's back."
"There are other students here, and we all believe in a bunch of different things," he added.
"We're not taught to value the things that Trump values."
About 2,500 people, including some faculty members, have signed the petition since it went up Wednesday afternoon ― 1,100 of whom have provided verified Liberty University email addresses. Some faculty members have privately encouraged the group, Fitzpatrick said, but were hesitant to sign the statement. He believes they might be afraid of retribution.
Most people at the university don't stand by Trump's rhetoric, according to Liberty United Against Trump, but Falwell's very public support has made it seem as if the school as a whole endorses the candidate.
"President Falwell eagerly uses his national platform to advocate for Donald Trump," the petition says. "While he occasionally clarifies that supporting Trump is not the official position of Liberty University, he knows it is his title of president of the largest Christian university in the world that gives him political credentials."
Falwell said in a statement that he praises the students for speaking out, but criticized the petition specifically. He is always clear that he offers his own endorsement and not that of the school, he said.
"The student statement also falsely claims that I am 'touring the country' and associating Liberty University with Trump," he said. "The fact is I traveled with the Trump campaign only one weekend in January and I always make it clear to the media that my endorsement of Trump is my personal endorsement only and that I am not speaking for Liberty University, its students, faculty or staff."
But Fitzpatrick said it's impossible to separate an endorsement from Falwell and an endorsement from Liberty.
"He's associated with Liberty," he said. "The reason his endorsement is worth so much is he's the president of the largest Christian university in the world."
Falwell pointed to students applauding for Trump's running mate, Indiana Gov. Mike Pence, when he spoke at the school as evidence that they support Trump.
But clapping for Pence isn't the same thing as standing by Trump, Fitzpatrick said.
"I mean, we applauded when Bernie [Sanders] was here," he said. "We hear from a bunch of different speakers all over the political spectrum. I'm really excited that he came and spoke to the students and shared his values, and for the most party a lot of Liberty students agree with Gov. Pence on a lot of things."
The group doesn't plan to take further steps against Falwell or the Trump campaign.
"We're kind of moving on, because we believe we've done our job. That the world has seen and heard us raise our voices," he said. "That was our endgame, was just informing people. There's no candidate that we want to endorse."
Popular in the Community